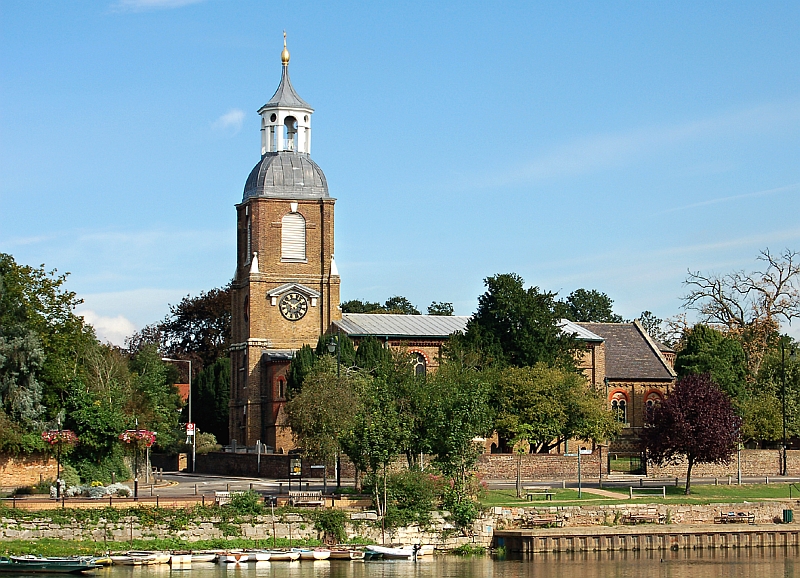 St Mary's Church, Sunbury. Listed Building. S. S. Teulon. 1856. Surrey. Text by Jacqueline Banerjee. Photograph above taken by Phil Beauchamp, who also very kindly provided some of the information. Additional photographs below by George P. Landow. [You may use the latter without prior permission for any scholarly or educational purpose as long as you (1) credit the photographer and (2) link your document to this URL in a web document or cite the Victorian Web in a print one. Click on these for larger images.]
St. Mary's Church, Sunbury, stands in a lovely spot beside the River Thames in what is now administratively a part of Surrey. Nikolaus Pevsner felt that here Teulon descended on a previously "guileless building and recast it vigorously." He claims that "the effects of his steamroller sensitivity are here particularly revolting: a heavy chancel with round-headed windows, multi-coloured brick decoration everywhere, even, to add 'interest,' to the tower. A gloomy, depressing interior with iron-ornamented gallery" and so on (see Nairn et al. 470). Unfortunately, Pevsner visited in 1969 when the church was in disuse, just a few years prior to its restoration in 1972. Not only have the church's fortunes revived since then, but taste has changed in recent years, so that the "rogue architects" of the mid-Victorian period are now better appreciated. What J. Mordaunt Crook, in his introduction to Eastlake's History of the Gothic Revival, calls "architectural eccentricity" is valued these days, rather than looked at askance (14).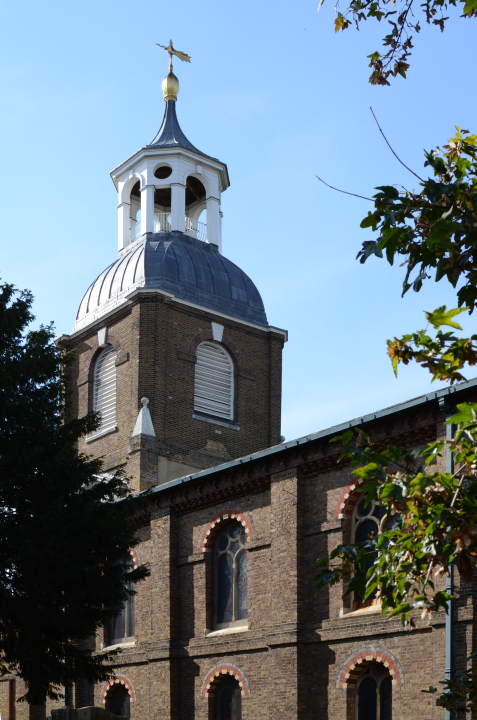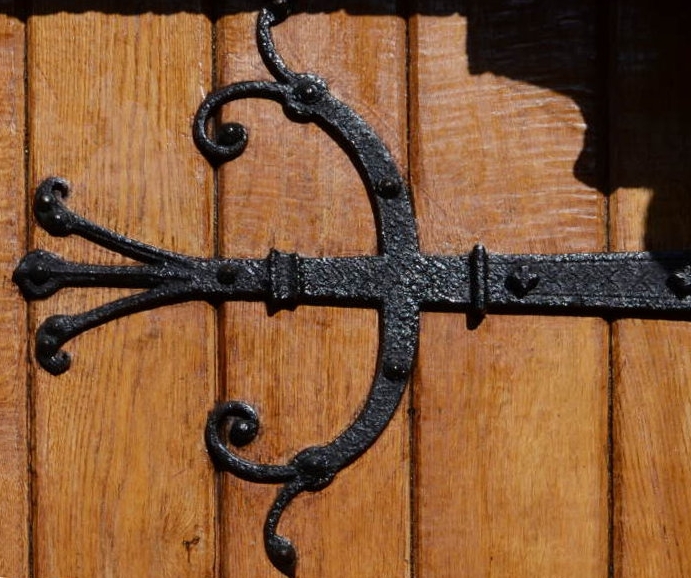 Left to right: (a) Close-up of distinctive tower and belfry. (b) Two-light window. At the south-east end of the church, this has "round-columned jamb shafts ... under foliage caps" (Listing text). Teulon used coloured bricks in the remoulded windows along the nave, although the church's history points out that these were "not part of his instructions" (9). (c) Finely wrought ironwork on the west door . In 1871 Teulon had constructed a porch here, but it was removed during the 1972 restoration "to give better access from the churchyard" ("History," 11).
The church in its "guileless" pre-Teulon state has a literary association. One cold, dark, misty evening, Bill Sikes trundles past here in a cart with Oliver Twist, on the way to the failed robbery at Chertsey: "As they passed Sunbury Church, the clock struck seven. There was a light in the ferry-house window opposite: which streamed across the road, and threw into more sombre shadows a dark yew-tree with graves beneath it" (Ch. 21). Dickens would have passed this way often on his rides down the river while staying in Richmond, not only to make observations for his novel, but also to visit friends in both Esher (where the literary couple William and Mary Howitt once lived) and Chertsey (home of the theatrical entrepreneur Albert Smith). The yew-tree he mentions is till there.
Related Material
Sources
"Church of St Mary the Virgin, Sunbury." British Listed Buildings. Web. 2 Ocober 2011.
Crook, Mordaunt J. Introduction. A History of the Gothic Revival. By Charles Locke Eastlake. Reissued by Leicester University Press, 1970. 13-57.
Nairn, Ian, Nikolaus Pevsner,and Bridget Cherry. The Buildings of England: Surrey. Harmondsworth: Penguin, 2nd ed. 1971.
---
Last modified 29 September 2012