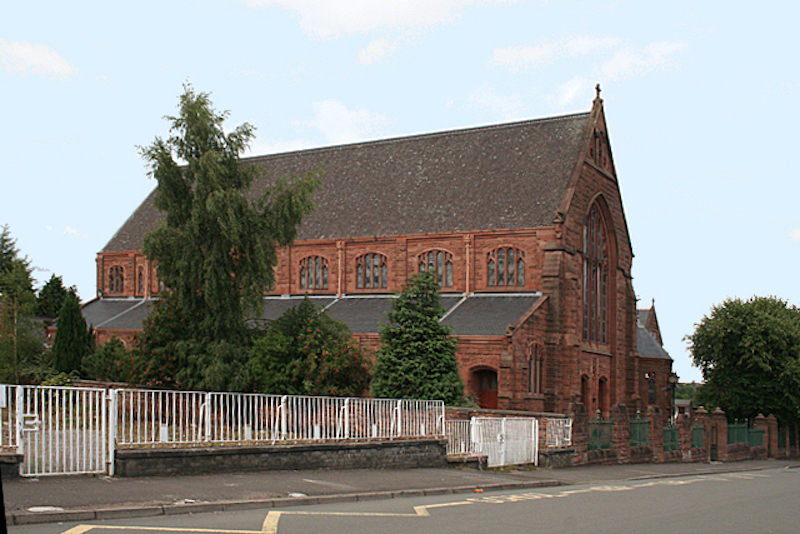 The Church of Our Lady of Good Aid, Motherwell Cathedral (RC) by Peter Paul Pugin (1851-1904). This Category B listed building was opened on 9 December 1900, with a capacity of 1000 (see his obituary in The Builder). It is described in the listing text as a "[g]abled, basilica-plan, gothic" church, of "bull-faced red sandstone with ashlar margins," and is one of the many churches built by the Pugin & Pugin firm from 1880 onwards for the Diocese of Glasgow. It is on Coursington Road, in Motherwell North, N. Lanarkshire, Scotland.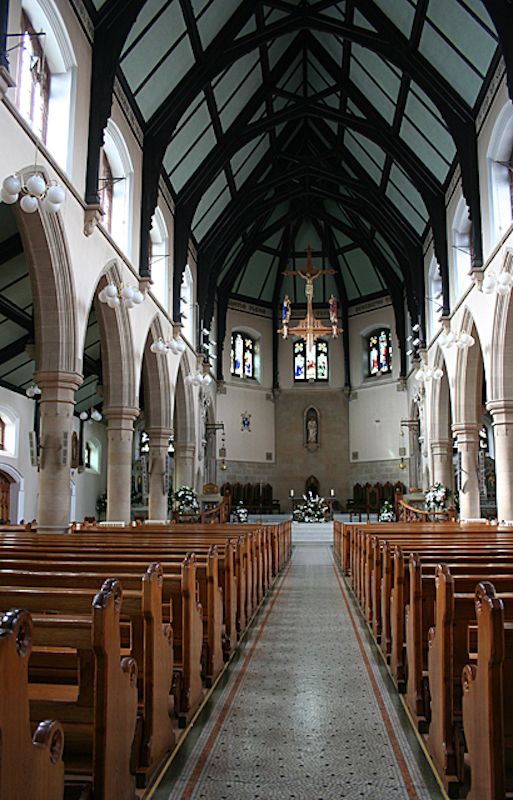 According to the cathedral website, the church was refurbished in 1984 "to meet the needs of the modern liturgy in a cathedral." But from the listing text, we learn that the church still has its original Pugin & Pugin woodwork, including the pews, as well as some of the original tiling in the baptistry.
Rosemary Hill feels that only Peter Paul's elder half-brother Edward Welby Pugin "achieved any real distinction" as an architect (495), and it is interesting to note that even at this late stage Peter Paul Pugin was following the architectural pattern laid out by him. The "statement of interest" at the end of the listing text reads,
The Basilica plan had become the British Catholic standard by 1860 after E. W. Pugin and always laid out according to a set formula that is: 1. West end porch or narthex supporting a gallery for the choir and organ, 2. Baptistery or mortuary chapel at west end of aisles, 3. Wide aisles with widely spaced arcades to nave, 4. Shallow chancel to east end with side altars and altars to east end of aisles, 5. Spacious sacristies.
The church became a cathedral in 1947 (Pepin 263).
Photographs by Anne Burgess, originally posted on the Geograph website, and available for reuse on the Attribution-ShareAlike 2.0 Generic (CC BY-SA 2.0) license, the first one slightly modified here for perspective and colour. Many thanks! Text by Jacqueline Banerjee. [Click on all images for larger pictures.]
Related Material
Bibliography
Hill, Rosemary. God's Architect: Pugin and the Building of Romantic Britain. London: Penguin, 2008.
"Motherwell, Coursington Road, Our Lady of Good Aid, Roman Catholic Cathedral Including Presbytery, Boundary Wall, Gatepiers and Railings." British Listed Buildings. Web. 23 October 2019.
Obituary of Peter Paul Pugin. The Builder, Vol. 86 (Jan-June 1904): 316. Google Books Web. 21 October 2019 (very limited view).
Our Lady of Good Aid. Web. 23 October 2019.
Pepin, David. Cathedrals of Britain. Oxford: Shire, 2016.
---
Created 23 October 2019