Introduction
Although all three of A. W. N. Pugin's sons became architects, only the eldest had anything like his father's gift (see Hill 495). Trained by his father and having inherited his father's practice in 1852, Edward Welby Pugin went into partnership with George Coppinger Ashlin (a native of Cork, who married his sister Mary in 1867) from 1860-1869, and later worked with his brother Peter Paul Pugin and half-brother Cuthbert Pugin. He was solely or partly responsible for the Roman Catholic cathedrals in Shrewsbury, Northampton and Cobh (Ireland), and more than a hundred Roman Catholic churches and chapels, most of them in England but more than twenty in Ireland, a few in Scotland, one in Wales and one in Belgium (Our Lady, Dadizeele, 1857-67, in partnership with Baron Jean-Baptiste de Bethune; see Hyland). As a result, he became an important figure in his own right: "his style and plans became normative for Roman Catholic churches in the British Isles in the second half of the nineteenth century" (O'Donnell).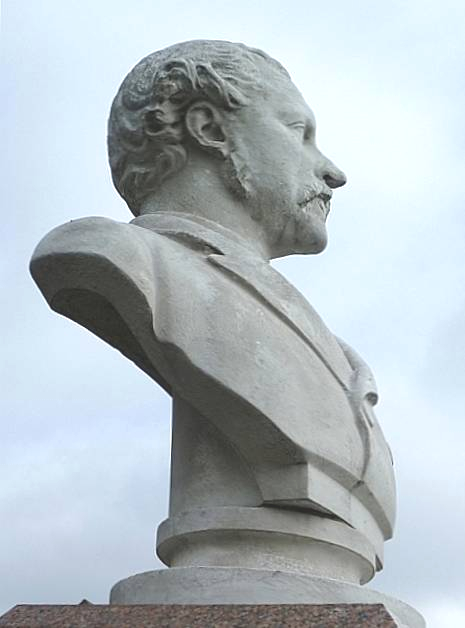 Edward Welby Pugin by Owen Hale. [Click on thumbnail for larger image and links to other views.]
For his work in Ireland, E. W. Pugin was awarded a papal knighthood in 1858. He never married, and when the Pugin family moved back to The Grange in Ramsgate, he added to and altered the family home, and had a studio in St Edward's Presbytery there, working at the side oriel window overlooking the courtyard. He also designed or part-designed educational and religious institutions, orphanages, country houses, terraces and other residences (including the spectacular Castle of Loppem, near Bruges in Belgium, also with Bethune), and furniture. He died in London in 1875.
As the eldest of Pugin's sons, E. W. Pugin seems to have inherited some of his father's talent without his genius, something of the scale of his vision without its refinement, and much of his edginess without his passionate enthusiasm. Roderick O'Donnell draws attention to his skills as a draughtsman and watercolourist, but adds that "his drawings are characterized by a frenetic, nervous line." His tendency to over-elaboration and extravagance of detail, fully indulged in the Granville Hotel which bankrupted him in 1872, seems all too High Victorian now. John Newman in the "Buildings of England" series can be scathing about him (e.g. see his comments on this "gargantuan" hotel, 429). Yet, at the very least, his buildings have presence. On a small scale, as in the chantries he designed at St Augustine's Abbey Church, Ramsgate, and St George's Roman Catholic Cathedral, Southwark, the effect could be very impressive. On a truly grand scale, too, as in his Belgian castle, he could achieve dramatic effects. Edward Pugin was a prolific architect whose contribution to church and country house architecture in the Victorian period needs to be more fully recognised. — Jacqueline Banerjee.
Ecclesiastical Buildings and Interiors
Domestic Architecture
Decorative Arts and Design
References
Blaker, Catriona. Edward Pugin and Kent: His Life and Work within the County. The Pugin Society, 2012. [Review by Jacqueline Banerjee].
Blaker, Catriona. The Pugins: A Ramsgate Town Trail. 2nd ed. The Pugin Society, 2009.
Hill, Rosemary. God's Architect: Pugin and the Building of Romantic Britain. London: Penguin, 2008.
Hyland, G. J. The Life and Works of E. W. Pugin, Architect, 1834-75. Ramsgate: The Pugin Society, 2021. [Review and link to the Pugin Society.]
Newman, John. North East and East Kent (Pevsner Architectural Guides: The Buildings of England). 3rd ed. London: Penguin, 1983.
O'Donnell, Roderick. "Pugin, Edward Welby (1834-1875)." Oxford Dictionary of National Biography. Online ed. Web. 7 Dec. 2010.
---
Last modified 17 November 2019