Photographs by Rita Wood, unless otherwise stated. [You may use the images without prior permission for any scholarly or educational purpose as long as you (1) credit the photographer and (2) link your document to this URL in a web document or cite it in a print one. Click on the thumbnails for larger pictures.]
Exterior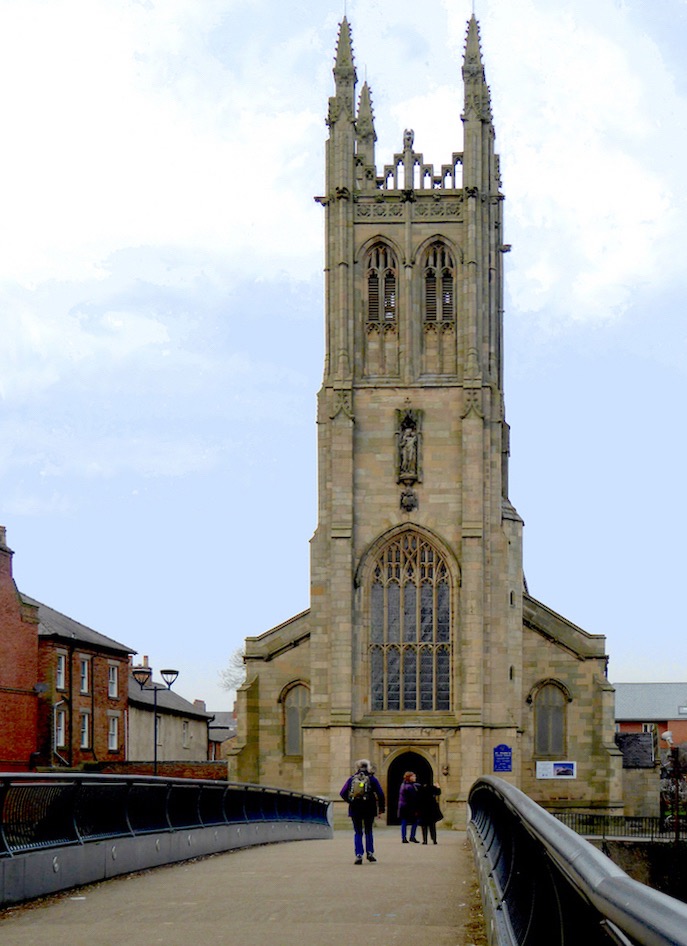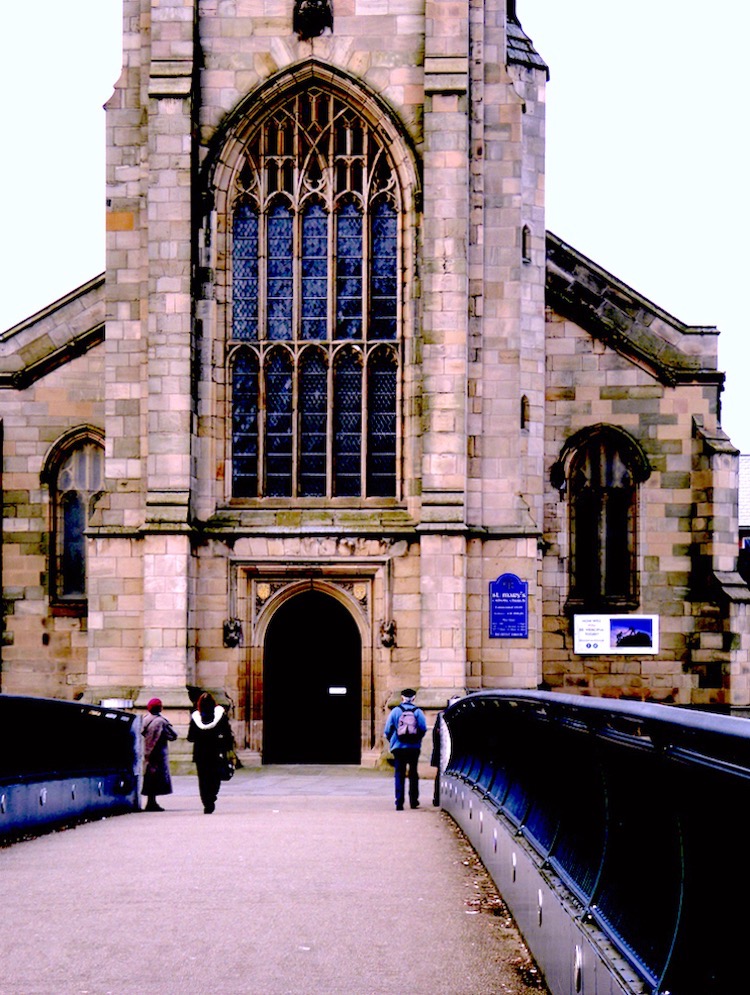 St Mary's Roman Catholic Church, Bridge Gate, Derby, by A. W. N. Pugin (1812-1852), with George Myers (1803-1875) as his builder, and with "large donations" from Lord Shrewsbury (Fisher, Gothic Forever, 63). The foundation stone of this Grade II* listed church was laid on Queen Victoria's coronation day, 28 June 1838, and the church was opened on 9 October 1839. But the unusually large and highly decorated Lady Chapel was not added until the mid-1850s: this was the work of Edward Welby Pugin, who also replaced his father's altar in the sanctuary with a typically ornate one of his own. The stained glass in the apse was also changed, with John Hardman Powell's work replacing William Warrington's original. The stencilling and gilding of both chapel and Sanctuary came even later, as part of the 1980s' restoration, but it was based on the original scheme. Although its spire was never completed, the tall ashlar-faced tower is impressive. The church, which Pugin greatly regretted having had to build with a "most uncanonical" orientation (154), is on a narrow plot between Darley Lane and Arthur Street, and can be approached from the road bridge over the Derby inner ring road.
Interior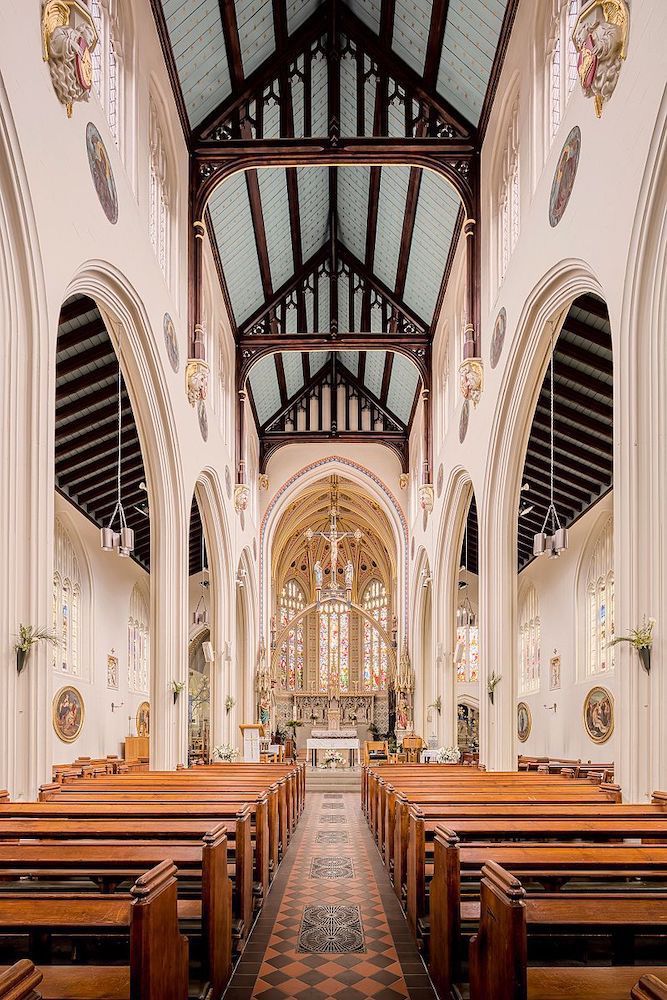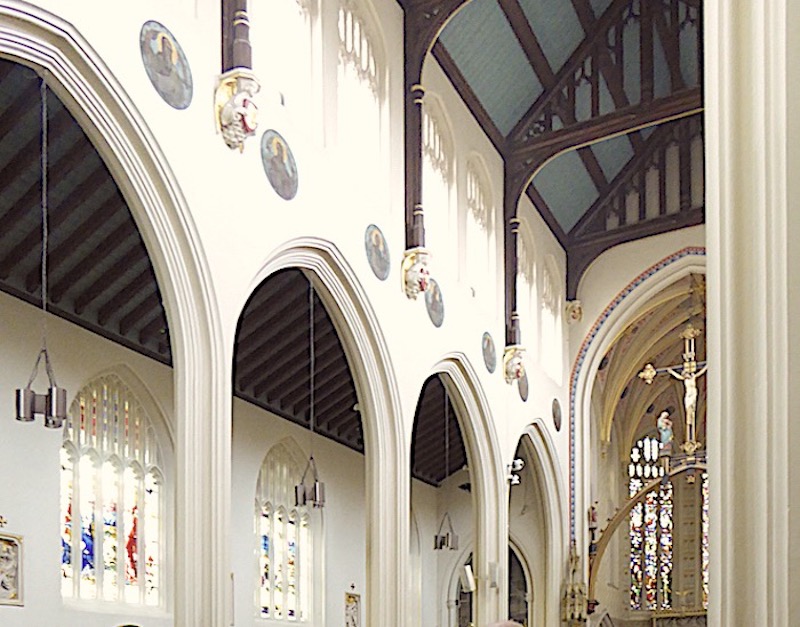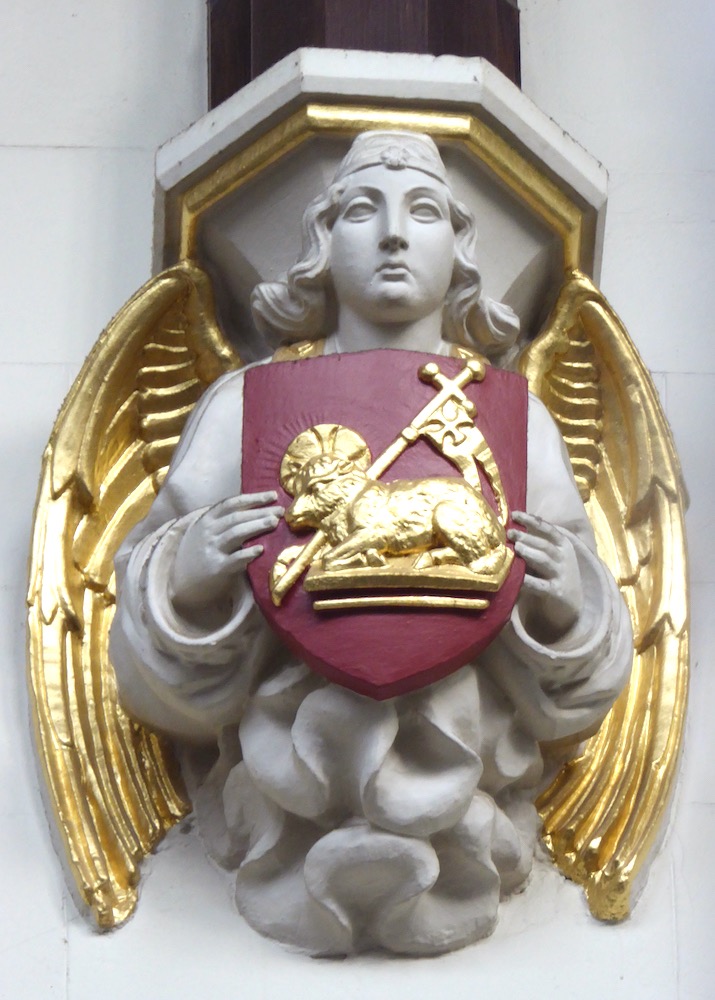 Left to right: (a) The nave, looking towards the sanctuary. [Photograph by Michael D. Beckwith, originally posted on Wikipedia, and available for reuse, with attribution, on the Creative Commons licence.] (b) Looking across towards the north aisle. (c) One of the heraldic corbels on the roof's wall posts: an angel with an Agnes Dei shield.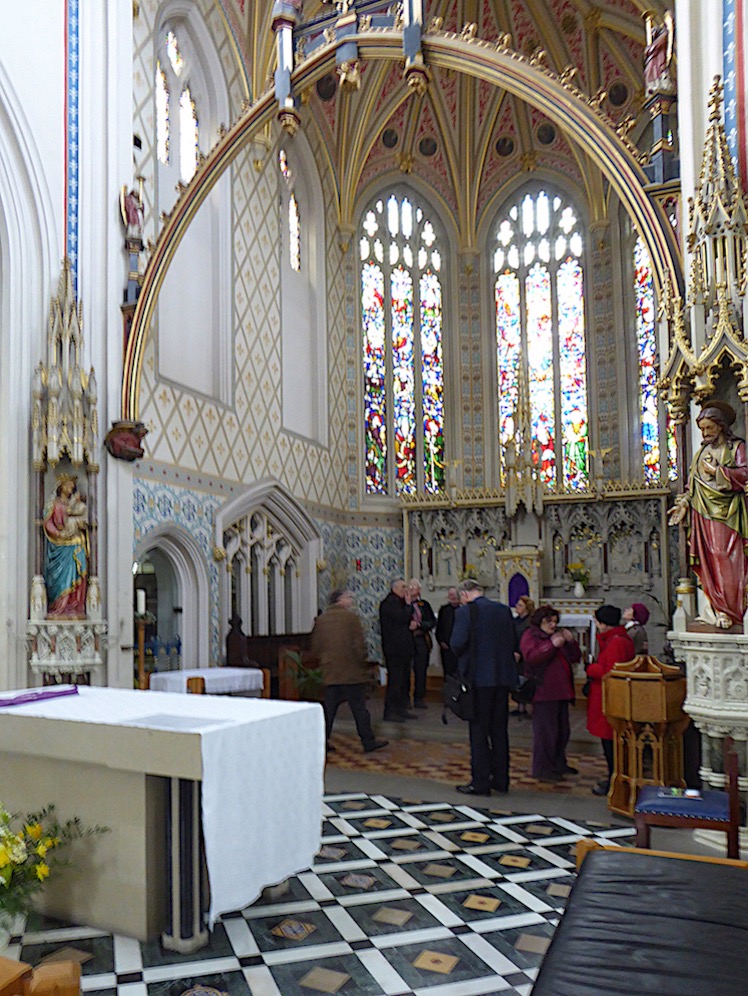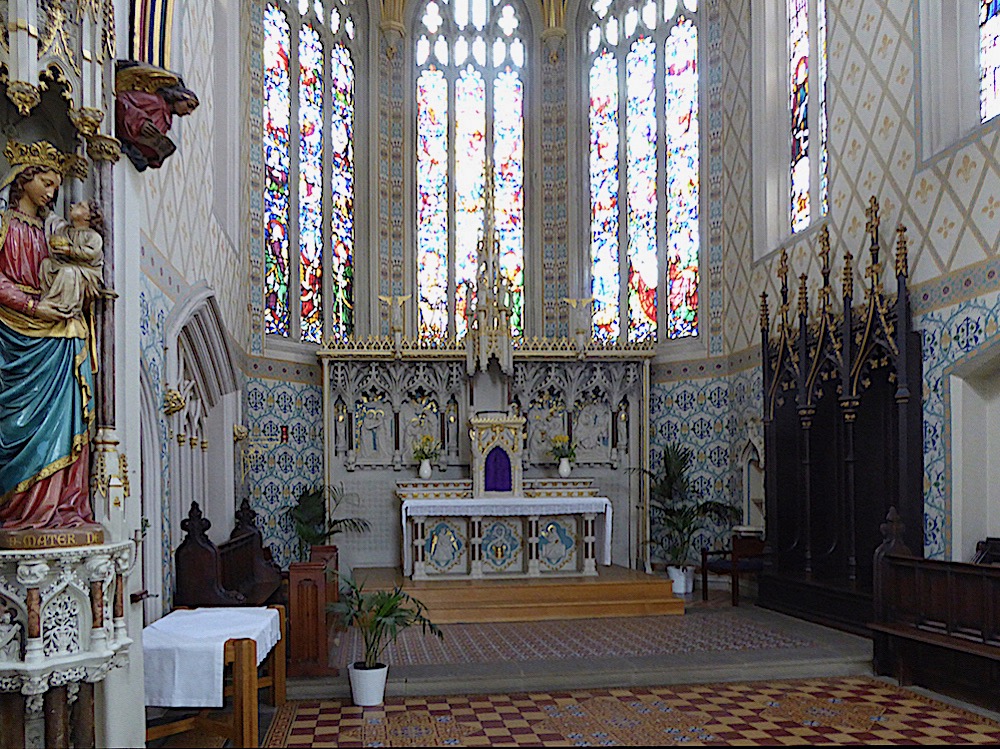 Left: Looking into the sanctuary, its arch flanked by the figures of the Virgin Mary and Jesus in canopied niches. Right: The sanctuary, with Edward Pugin's elaborately carved Caen stone altar and Hardman's stained glass east windows, showing the Virgin and Child at the centre of many Biblical figures.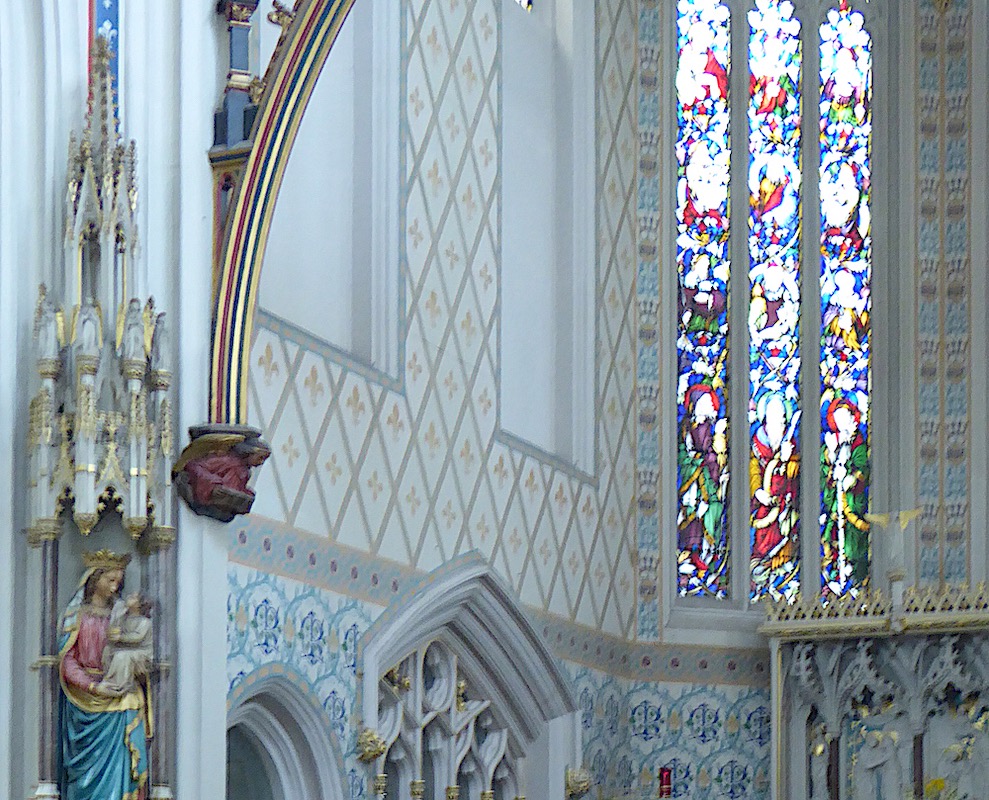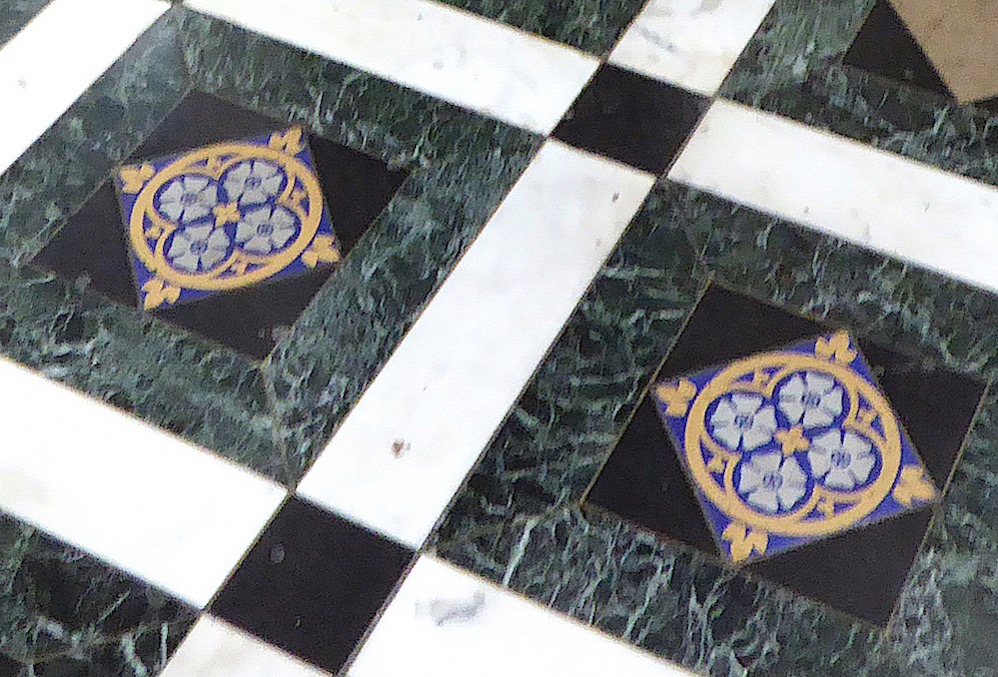 Left: Closer view of the stencilling and other decoration. Right: The floor tiling pattern in this part of the church.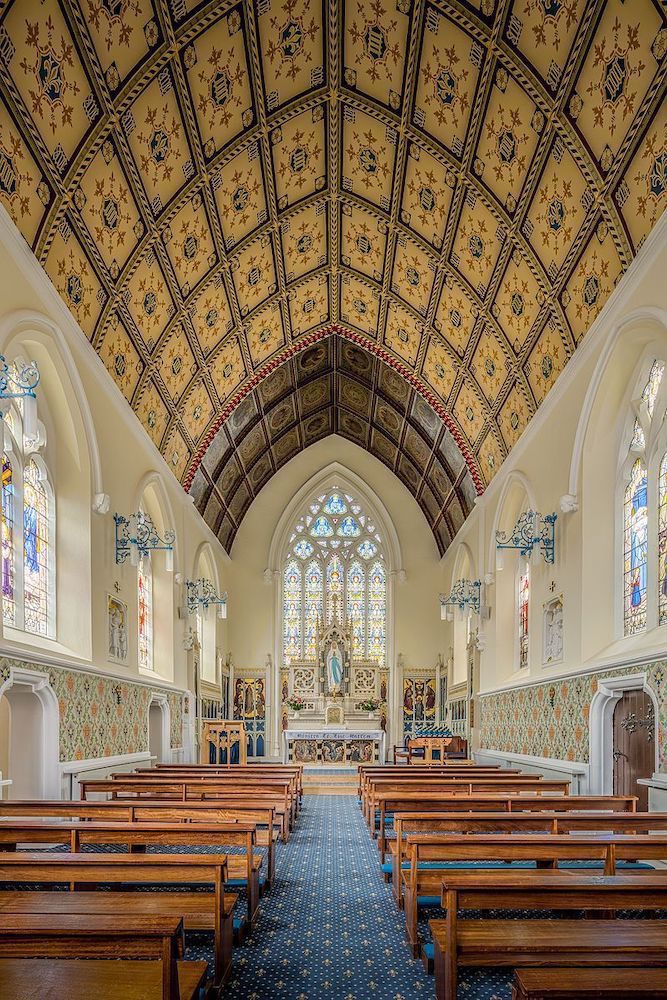 The Lady Chapel. [Photograph by Michael D. Beckwith, originally posted on Wikipedia, and available for reuse, with attribution, on the Creative Commons licence.]
There is a small and pretty south aisle chapel, and this long chapel on the north, designed by Pugin's son Edward Welby Pugin, and dedicated to Our Lady of Lourdes. Nikolaus Pevsner and Elizabeth Williamson describe it as being "in his father's late manner, Dec[orated], with stencilled wall decoration" (171). It has an impressive ceiling, and a splendid display of Hardman's stained glass, which was added much later: Michael Fisher tells us that one of Dunstan Powell's "very last commissions" was for the set of eight large windows installed here (Guarding the Pugin Flame, 236). Dunstan Powell (1861-1932) was Pugin's grandson through his daughter Anne's marriage to John Powell. To add to the family involvement, the altar here was designed by Peter Paul Pugin.
As the church's own website points out,
The opening of St Mary's Church, Derby, in October 1839, marked a significant moment not simply for Derby Catholics but also for 19th century English Catholicism. It was the beginning of the fruits of Catholic emancipation, and in the words of Dr Wiseman marked "the real transition from chapel to church architecture amongst us." ["History"]
And although Pugin went off in a huff because the church's grand opening departed from tradition (see Hill 219), St Mary's was highly significant for him, too: it was "the first Pugin-Myers church to be built" (Spencer-Silver 48). Before it was even finished, he was commissioned to build St Chad's Cathedral in Birmingham.
Bibliography
"Derby — St Mary." Taking Stock: Catholic Churches of England & Wales (a project of the Catholic Bishops' Conference of England and Wales). Web. 9 February 2020.
Fisher, Michael. "Gothic For Ever": A. W. N. Pugin, Lord Shrewsbury, and the Rebuilding of Catholic England. Reading: Spire, 2012 [Review].
_____. Guarding the Pugin Flame: John Hardman Powell, 1827-1895. Downton, Salisbury: Spire, 2017 [Review].
Hill, Rosemary. God's Architect: Pugin and the Building of Romantic Britain. London: Penguin, 2007 [Review].
"History." St Mary's Church and Parish. Web. 9 February 2020.
Pevsner, Nikolaus, rev. Elizabeth Williamson. Derbyshire. Buildings of England series. 2nd ed. with corrections. London: Penguin, 1986.
Pugin, A. W. N. The Collected Letters of A. W. N. Pugin, Vol. 1. 1830-42. Ed. Margaret Belcher. Oxford: Oxford University Press, 2001.
Spencer-Silver, Patricia. Pugin's Builder: The life and Work of George Meyers. Hull: University of Hull Press, 1993.
---
Last modified 7 February 2020