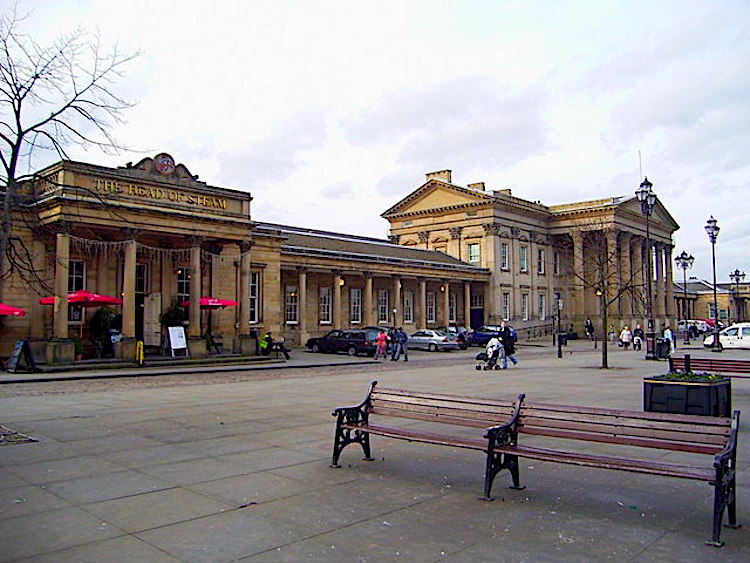 Huddersfield Railway Station, taken from Railway Street, © Stanley Walker.
The eminent York architect James Piggot Pritchett (1789-1868) was responsible for many buildings beyond York too, perhaps the best known of which is Huddersfield Railway Station in West Yorkshire, built 1846-50. Its sandstone ashlar has been cleaned of the black industrial pollution, and the Grade I listed building looks very impressive, standing on slightly rising ground with the generous public open space of St George's Square in front.
The two-storey central part of the station building has eleven bays, with a grand portico, complete with pediment with the all-important station clock at the centre of the tympanum. The wings have a nine bays each, contributing greatly to its presence, and then there are five-bay blocks at each end, making a very solid statement of its importance. Simon Jenkins numbers it among Britain's finest stations:
Nowhere is British railway architecture so honoured as in Huddersfield, one of the few stations fit to rank with the great union termini of the Continent. Pevsner ranked it "among the best" of stations, and Betjeman declared it "the most splendid facade in England." The main entrance presides over St George's Square with a princely confidence, focus of what is a rare survivor of a north-country commercial town plan. [247]
The heritage listing text helps to explain its preeminence: "The grandeur of the station is the result of its being built at the joint expense of the Huddersfield and Manchester Railway and Canal Company (absorbed by the LNWR in July 1847) and the Manchester and Leeds Railway." But of course the real credit goes to the architect, who showed what he could do when funds were available, and there was no need to adapt to a particular historic context, as he was often required to do in York itself.
Photograph by Stanley Walker first posted on the Geograph website, and available for reuse on the Attribution-ShareAlike 2.0 Generic (CC BY-SA 2.0) Creative Commons licence. Text by Rita Wood and Jacqueline Banerjee. [Click on the image to enlarge it.]
Bibliography
Huddersfield Railway Station." Historic England. Web. 6 June 2022.
Jenkins, Simon. Britain's Best 100 Railway Stations. London: Penguin, 2017.
---
Created 4 June 2022