Sky-blue steel-girdered vastness. Towering volume of sound, Pigeons looking unconfused, about their pigeon business, Nobody did train stations like the Europeans, and the British, she thought, best of all. Faith in infrastructure, coupled with a necessity-driven gift for retrofitting. . . . Gazing around like a child, Milgrim, his face lit with a boy's delight in the blue-girded drama, the Dinkey toy grandeur of the great station. [William Gibson, Zero History (2010)]
General views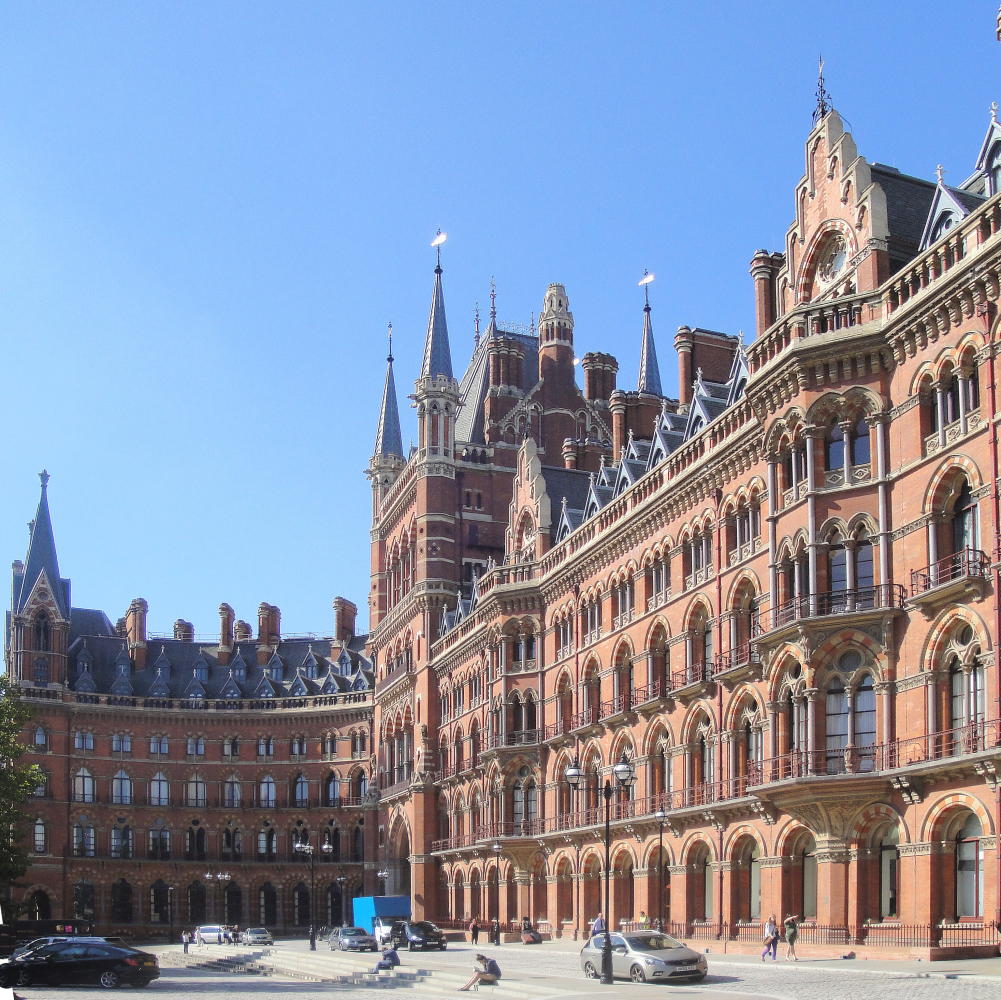 Station exterior
Station interior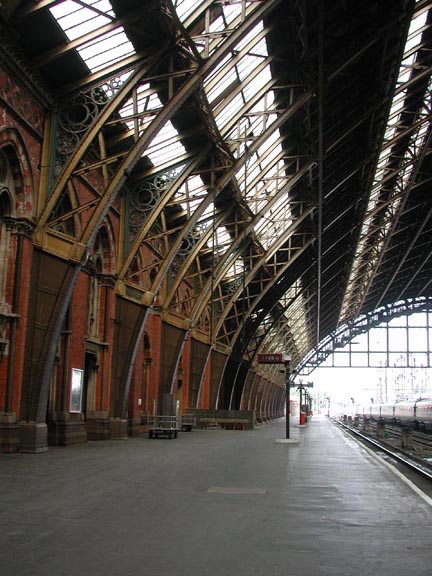 Hotel exterior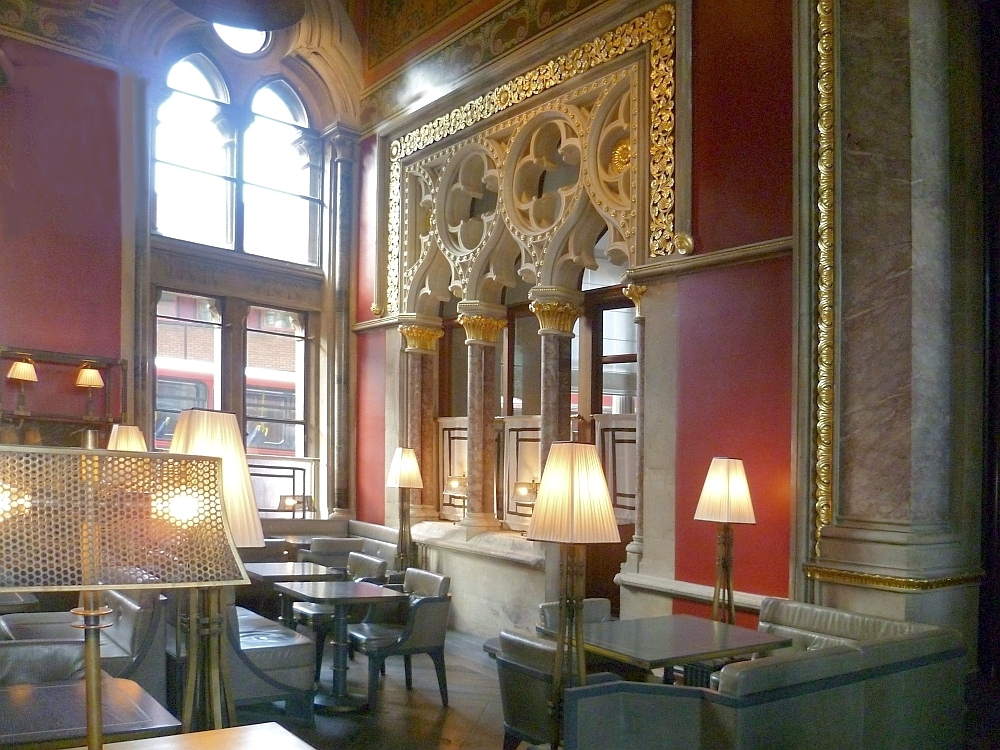 Hotel interior
Bibliography
Bloomfield, Ruth. "Models, Bigwigs, Rockers: All Aboard. A Victorian-era landmark draws professionals seeking to ride the transformation of a grimy London district." Wall Street Journal (October 26, 2012): M3. Print.
Bradley, Simon. St Pancras Station. Rev. and updated ed. London: Profile, 2011. Print.
Clark, Kenneth. The Gothic Revival: An Essay in the History of Taste. London: Penguin (Pelican), 1964. Print.
Brooks, Chris. The Gothic Revival. London: Phaidon, 1999. Print.
Crook, J. Mordaunt. The Dilemma of Style: Architectural Ideas from the Picturesque to the Post-Modern. Chicago: University of Chicago Press, 1987. Print.
Dickens, Charles. Dickens's Dictionary of London 1888. Moretonhampstead, Devon: Old House Books, 2001. [Information on this reprint of the guide to London written by the novelist's son.] Print.
Lansley, Alastair, et al.. The Transformation of St Pancras Station. London: Lawrence King, 2008. Print.
Mee, Arthur. London: Heart of Empire and Wonder of the World. The King's England Series. London: Hodder and Stoughton, 1937. Print.
Meeks, Carol L. V. The Victorian Railroad Station: An Architectural History. New Haven: Yale UP, 1956.
19c British Library Newspapers (Gale; via library portal). Web. 26 October 2012.
"Frederick J. Sang (fl. 1840-1884)." Christie's. Web. 26 October 2012.
"St Pancras Station and Former Midland Grand Hotel, Camden." British Listed Buildings. Web. 26 October 2012.
Scott, Sir George Gilbert, R.A. Personal and Professional Recollections, edited by his son, G. Gilbert Scott, F.S.A.. London: Sampson Low, Marston, Searle, & Rivington, 1879. Internet Archive. Web. 26 October 2012.
Simmons, Jack. The Victorian Railway. Corrected paperback ed. London: Thames & Hudson, 1995. Print.
Stamp, Gavin. Lost Victorian Britain: How the Twentieth Century Destroyed the Nineteenth Century's Architectural Masterpieces. London: Aurum Press, 2010. Print.
Thorne, Robert. In St. Pancras Station, by Jack Simmons, revised by Robert Thorne. Republished 2d ed. London: Historical Publications, 2003. Print.
Williams, Frederick Smeeton. The Midland Railway: Its Rise and Progress; A Narrative of Modern Enterprise. London: Strahan, 1876. Internet Archive. Web. 26 October 2012.
---
Last modified 12 September 2015