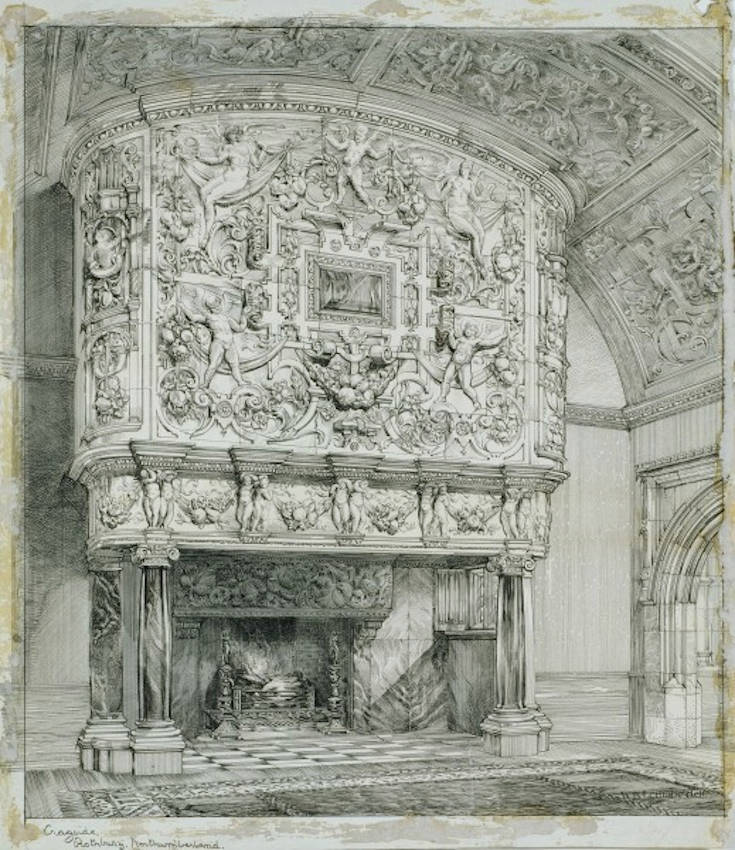 Perspective drawing for a chimney-piece
W. R. Lethaby (1857-1931)
Pen in black ink on wove paper
540 X 470 mm
c.1883
(Finished work:) Italian marbles
Drawing-room, Cragside, Rothbury, Northumberland
© Royal Academy of Arts, reproduced here by kind permission.
Another commentator also notes that this "elaborately carved marble fireplace ... is a perhaps surprising early work from the critic who would later eschew useless decoration," but rightly points out that "Lethaby embodied numerous artistic contradictions" (MacCarthy). In fact, the French Renaissance style, here evoked with a host of cherubs, two female figures seated on swags, and swags and scrolls containing a plethora of fruit, flowers and leaves, seems to have had a special appeal for Lethaby. He had been influenced by the same style in his prize-winning design for the Soane competition a few years before. Moreover, Lethaby was also fascinated by the work of William Burges (see Rubens 56), who loved nothing better than to design a chimney-piece that was the focus of the whole room.
Perhaps it is wrong, too, to focus only on the decorative aspect. The structural elements provide relief, and are more typical of the architect whose turn-of-the-century work and teaching would herald modernism: the clear outlining of the chimney-piece with its supporting pilasters and columns; above them the stepped cornice, with the lowest rank of cherubs acting as sets of corbels; on the hood itself the bold central rectangle emphasized by its elaborate frame, and, at each side, the curved panels again emphasizing the structure. The top too is curved and stepped, with the ceiling of the inglenook echoing it in its lines as well as in its rich sculptural detail. The chimney-piece is not simply elaborate in its design, but rational as well.
Related Material
References
"Cragside, Cartington." British Listed Building. 6 October 2013. (NB, Cartington is the civil parish within which the house is situated.)
Kay, John. "W. R. Lethaby at the Central School." William Morris Journal. 6.3 (Summer 1985): 36: 26-30. Web. 6 October 2013.
MacCarthy, Fiona. "Lethaby, William Richard (1857-1931)." Oxford Dictionary of National Biography. Online ed. Web. 6 October 2013.
Rubens, Godfrey. William Richard Lethaby: His Life and Work. 1857-1931. London: The Architectural Press, 1986. Print.
---

Victorian
Web

Visual
Arts

Archi-
tecture

W.R.
Lethaby

Next
Last modified 6 October 2013