First photograph © Coxlease School, reproduced here by kind permission of the school board. Remaining images scanned by the author from Gertrude Jekyll and Sir Lawrence Weaver's book on Gardens for Small Country Houses (see bibliography). The scanned images (only) can be used without prior permission for any scholarly or educational purpose, provided you credit the source, and link your document to the Victorian Web or cite it in a print one. Click on the images to enlarge them.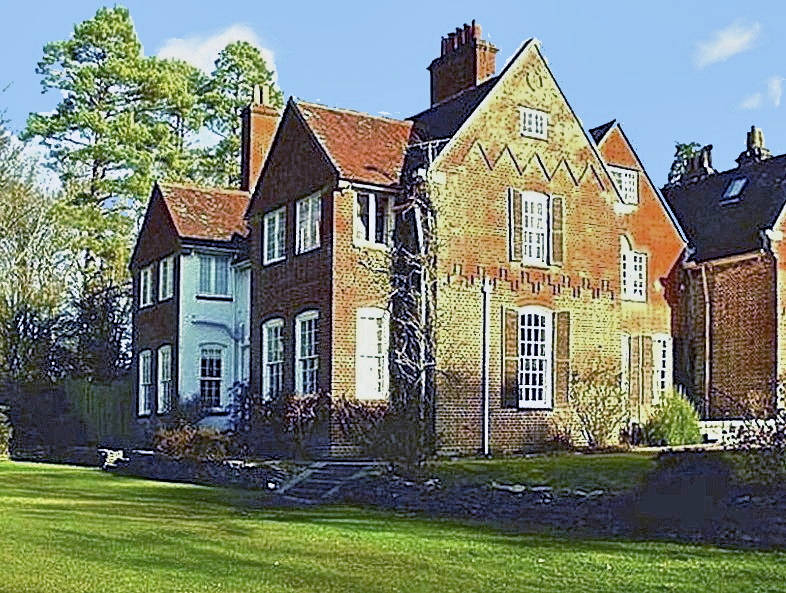 High Coxlease, Lyndhurst (partial view). Designed by W. R. Lethaby (1857-1931). 1900-1901. Brick, part colour-washed and with inlaid patterning on the façade; stone dressings; some tile-hanging on the service bay gable (see "List Entry"); pantiled roof. Grade II* listed, a high listing for what was seen as a small country house. Situated in the New Forest, this house was built for the heir of a Tyneside shipping empire, and former MP for Tynemouth, Thomas Eustace Smith, who had returned from self-imposed exile in Spain following family involvement in a scandal (the divorce of Sir Charles Dilke). His wife, who had been an important patron of the arts, had by now become "an accomplished gardener" (Rubens 146), and had plenty of scope for this activity here.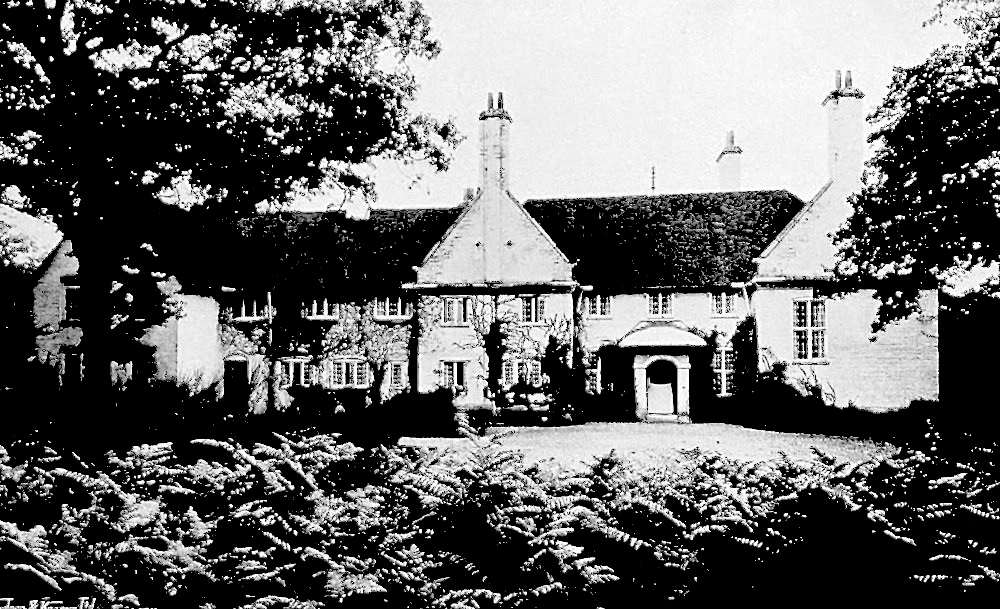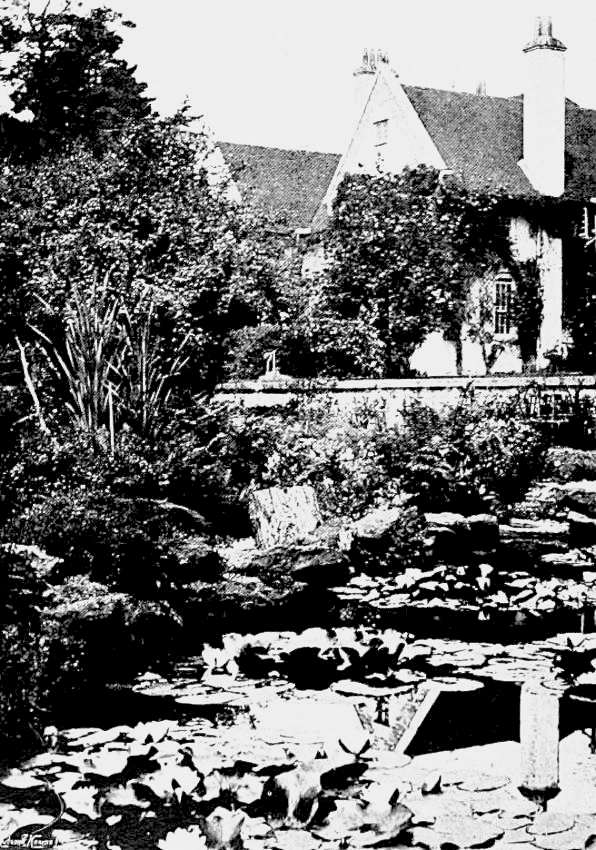 Left: The entrance front. Source: Jekyll and Weaver, fig. 15, p. 14. Right: In the rock and water garden, High Coxlease. Source: Jekyll and Weaver, fig. 17, p. 15.
The main part of the house has three two-storey bays, and, with its gabled wings set back, appears very plain. Godfrey Rubens describes it as "more formal and even simpler than anything Lethaby had previously built" (147). Visiting rather later, after Smith's death but when his wife was still in residence, Gertrude Jekyll and her co-author Sir Lawrence Weaver approved of the simplicity of the house, as being entirely suitable to the context — something Lethaby would certainly have intended:
The picture of the entrance front shows the drive fringed with bracken and the roof framed in foliage, and, indeed, it is impossible to make anything like a general survey of the house save through a foreground broken by trees. This setting of the wild has been respected in a wise spirit. As the ground slopes southward the lawn is bounded by a retaining wall, beyond which a delightful rock and water garden has been made..... In the rather flat rock garden which frames the pool, choice examples of interesting saxifrages with encrusted leaves find a congenial place, and their silvery foliage makes an attractive feature during those winter months when other plants, are at their worst.... Such surroundings demand a house which has simplicity for its dominant note, and no less can be said of the building which Professor Lethaby set there in 1901. Plain white walls and chimneys, red roofs, a lead-covered porch of curiously interesting shape, and gables of moderate pitch these are elements always satisfying if rightly disposed. (15-16)
As for the interior, we have the word of the architect's wife, Edith Lethaby, that High Coxlease was convenient and comfortable. She was much impressed by the views from the south-facing rooms, commenting on the "vaulted dining room with yellow walls and white wood trimming" and some "beautiful plaster decorations" modelled by her husband, "so different from ordinary plaster work" (qtd. in Rubens 147).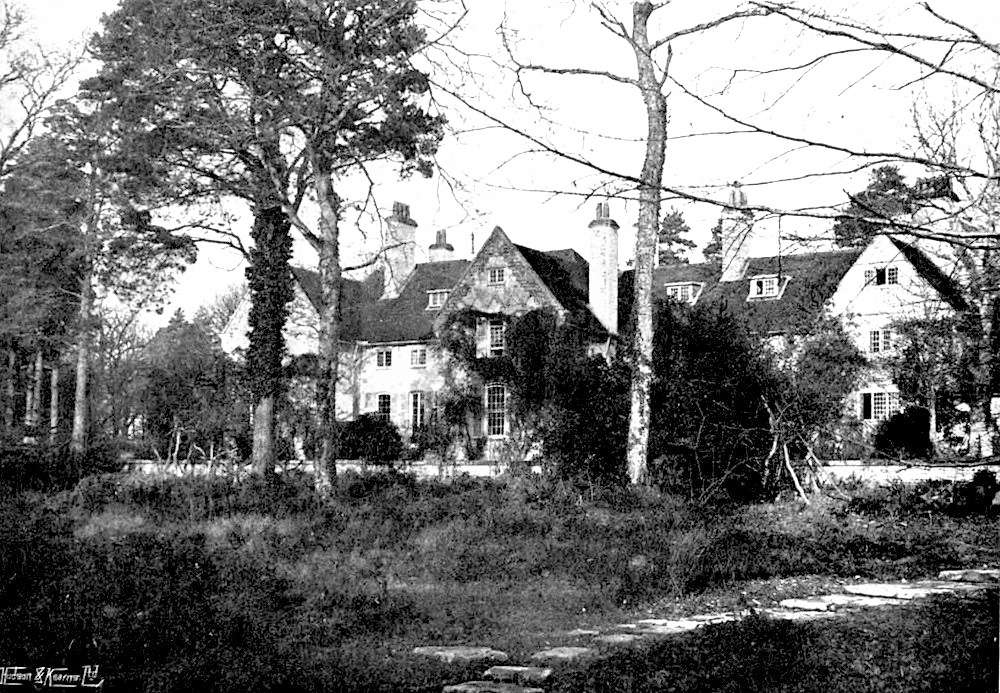 The more picturesque south side of High Coxlease. Source: Jekyll and Weaver, fig. 16, p. 14.
Despite the pared-down simplicity of the front of the house, the south side of High Coxlease, showing its wings, dormers and plethora of tall chimneystacks, is pleasantly picturesque, and still has the look of an Arts and Crafts house. It shows that Lethaby continued to be influenced by Norman Shaw and his friend Philip Webb, as he had been in earlier country house commissions. The house has been altered at the back and on one side (see Rubens 301), but still looks lovely, and makes perfect premises for the school that now occupies it.
References
Jekyll, Gertrude, & Sir Lawrence Weaver. Gardens for Small Country Houses. 3rd ed. London: Country Life, 1914. Internet Archive. 8 October 2013.
"List Entry" English Heritage. Web. 8 October 2013.
Rubens, Godfrey. William Richard Lethaby: His Life and Work. 1857-1931. London: The Architectural Press, 1986. Print.
Wilcox, Timothy. "Smith, Martha Mary [Eustacia] (1835–1919)." Oxford Dictionary of National Biography. Online ed. Web. 8 October 2013.
---
Last modified 18 October 2013