ppropriately enough Leighton House, with its distinctive domed Arab Hall, was at the heart of the late Victorian artists' colony in this part of Kensington. Surrounding the President of the Royal Academy in the immediate neighbourhood was a whole bevy of important and aspiring artists. G.F. Watts and Luke Fildes, for instance, both lived closeby for many years. Fildes lived a couple of minutes' walk away at 31 Melbury Road (then numbered 11), from 1878 until his death in 1927. His house, designed by Richard Norman Shaw, still stands but has been converted into flats.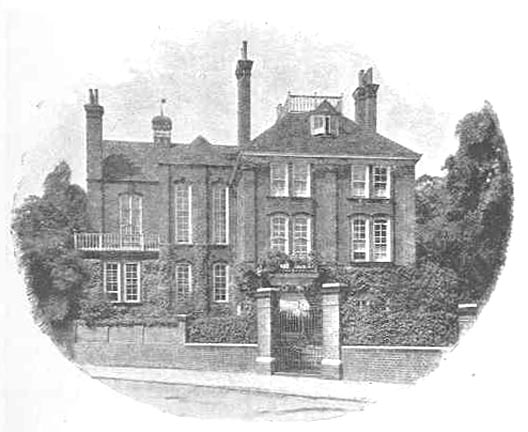 Left: Leighton House. Right: Luke Fildes's house, then no. 11 Melbury Road. [Cick on these and the following images to enlarge them, and for more information about them.]
On the same road was G.F. Watts's London residence and studio from 1876 to 1903. This was at 6 Melbury Road, then named "Little Holland House" after the original house in the grounds of Lord Holland's Kensington home, which had been demolished in 1875 to make way for Melbury Road and the residential properties along it. Watts had been a long-term house-guest at the original Little Holland House, where he had spent his brief married life with his first wife, the actress Ellen Terry. It was at his Melbury Road studio that Watts worked on one of his most famous sculptures, Physical Energy. A copy of this was erected close by in Kensington Gardens. Sadly, Watts's house was pulled down and replaced in 1965 by a block of flats.
A lesser light now, but very popular then, the marine painter, Colin Hunter lived just behind Leighton House, having commissioned his own new studio-house, Lugar Lodge, from another eminent architect, fellow-Glaswegian J. J. Stevenson. Caroline Dakers gives a good picture of the interior:
The walls were painted in a "brick-red," the woodwork was chocolate brown, the ceiling timbers of oak, stained like walnut; the gallery and staircase were constructed of walnut and the south windows were covered with a hanging of old tapestry. A glasshouse attached to the studio at the southern end provided additional light during the winter months. It contained Hunter's "props," including sou'westers and smocks.... [173]
Just living among fellow-artists of a high calibre seemed to enhance reputations and inspire good work. Two years after moving into Lugar Lodge, for example, "Hunter's Their Only Harvest was bought by the Chantrey Bequest (he was paid £735 for the painting); in 1881 he sold The Mussel Gatherers to Fildes' wealthy German patron, G.C. Schwabe; he was elected an Associate of the Academy in 1884 the year that he sold The Herring Market at Sea to Manchester City Art Gallery (173).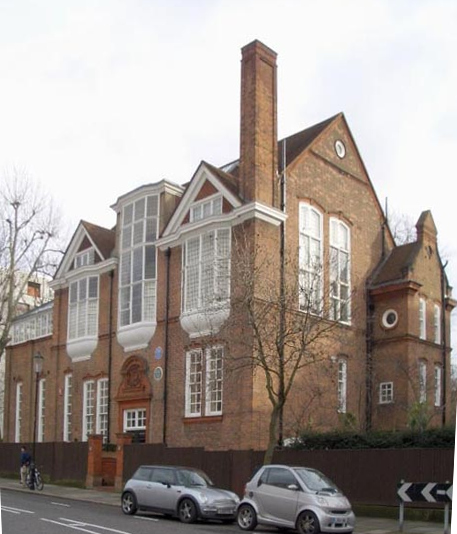 Homes of Hamo Thornycroft (left) and Marcus Stone (centre) and William Burges (right) in Melbury Road.
Close to Watts's house on one side were a semi-detached pair of properties built for the sculptor William Hamo Thornycroft, whose compelling statue of Oliver Cromwell stands outside Westminster Hall. There is now a blue plaque to Thornycroft at 2a. The adjacent property, built for the sculptor to let, has since been replaced by flats. Nearby, at 8 Melbury Road, lived Marcus Stone, the painter and illustrator. This redbrick house with its three oriel windows has survived intact. So has No. 9 (now no. 29) Melbury Road, William Burges's Tower House with its distinctive tower reminiscent of the architect's work on Castell Coch near Cardiff.
Among those who arrived later, the Pre-Raphaelite William Holman Hunt moved into no.18 in 1903 to write his memoirs. He died there in 1910. This house remains as well, and, like Fildes's, Thornycroft's and Stone's, has an English Heritage blue plaque. In winter, when the trees are bare, the studio of Leighton House can be seen clearly from behind, half way along Melbury Road. No wonder these artists were able to share models, such as the Italians Gaetano Meo and Angelo Colarossi.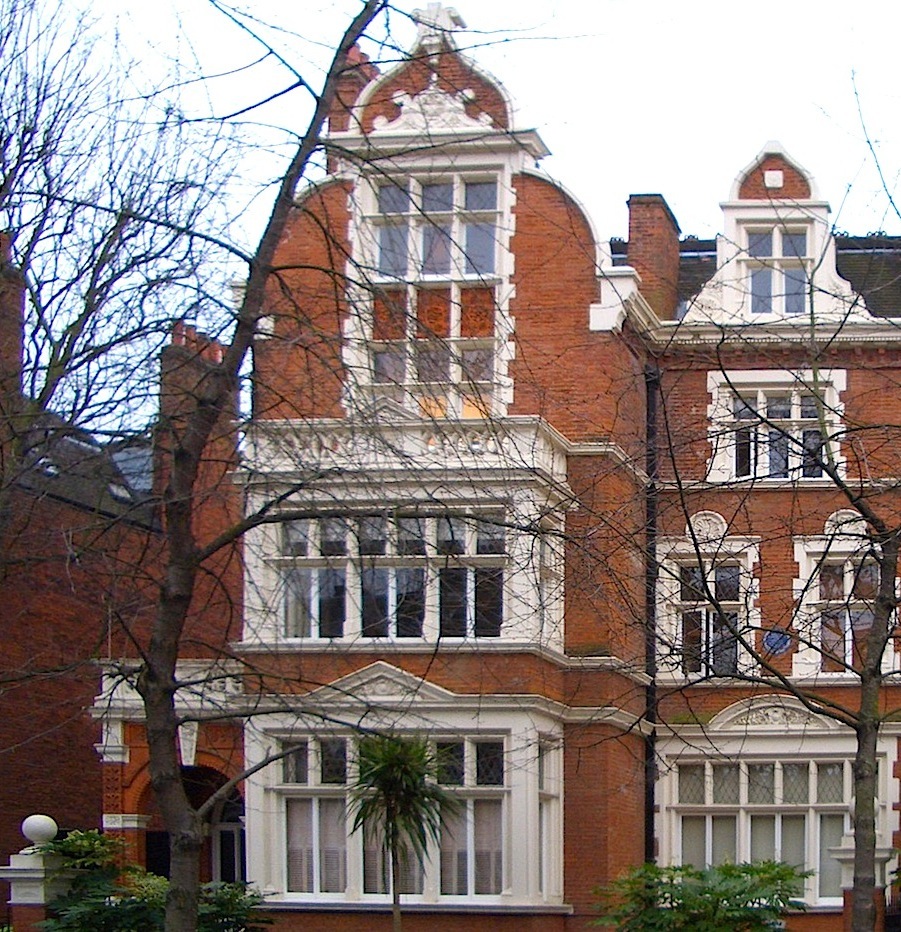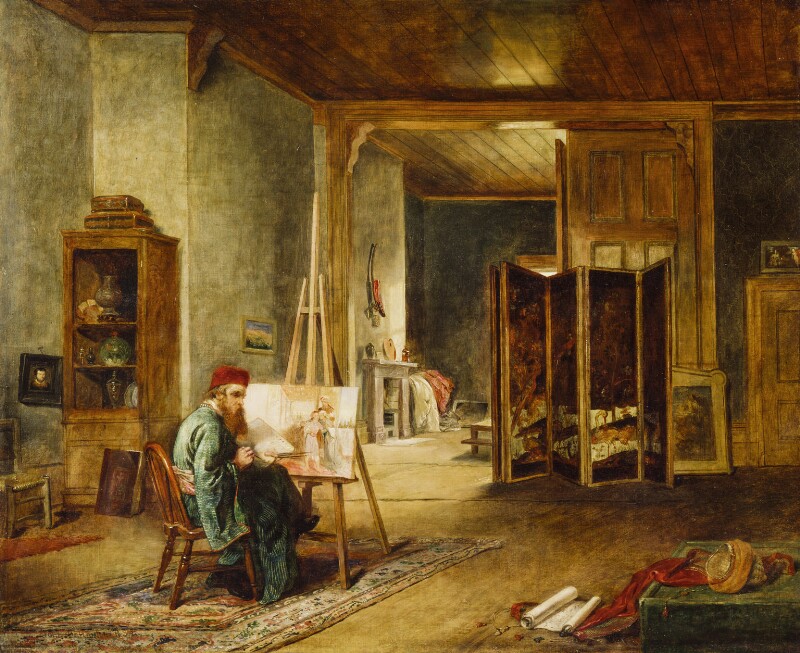 Left: William Holman Hunt's home. Right: Hunt in his studio, painted by John Ballantyne.
These are just a sample of the artists' homes here. Close by, as well, were the many other artists' homes in the Campden Hill area, while, within walking distance too, at 2 Palace Gate roughly opposite Kensington Palace, lived John Everett Millais (from 1878-1896), who in the last months of his life would succeed Leighton as president of the Royal Academy. At about the same distance on the other side, at The Grange on North End Crescent in West Kensington, lived Edward Burne-Jones.
The little area next to Holland Park was the very heart of artistic life in the late nineteenth century. Melbury Road is, as it was from the beginning, a very good London address. Although some of the fine old buildings have been lost, the road retains its atmosphere. In 2006 a large house on it was on sale for an asking price of £7 million, and a 2/3-bedroom flat in a listed building for £2,350.000.
Links to related materials
Bibliogrpahy
Dakers, Caroline. The Holland Park Circle, Artists and Victorian Society. New Haven: Yale University Press, 1999.
---
Created 15 March 2006

Last modified 28 October 2022