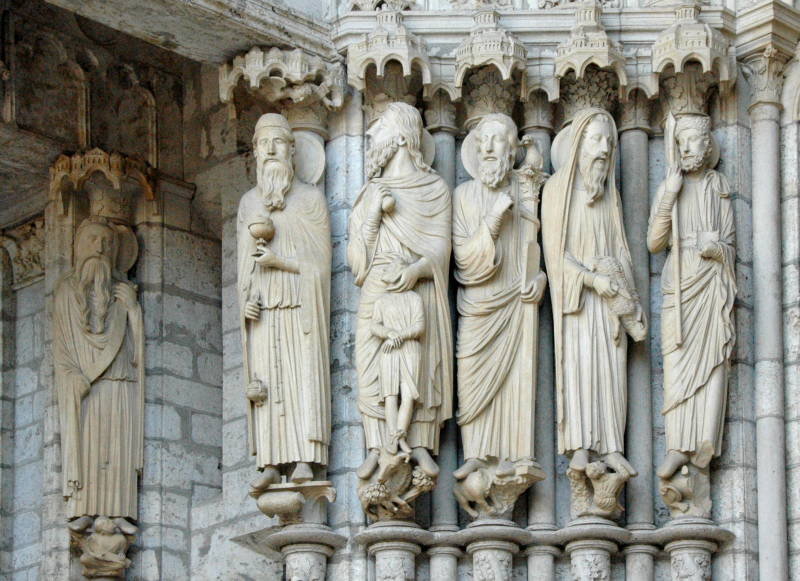 Old Testament Types of Christ. 1200-25. North Front, Chartres Cathedral. Photographs by George P. Landow 2010. You may use any of these images without prior permission for any scholarly or educational purpose as long as you (1) credit the photographer and (2) link your document to this URL in a website or include it in a print document.]
According to Malcolm Miller's masterful explanation, the jamb figures
are in chronological order from left to right, from Melchizedek, priest-king, with a chalice containing bread and wine to Peter, facing him, whose chalice (broken) contains Christ's blood and flesh through His sacrifice, which is the subject prefigured, prophesied, and symbolized by the intervening figures. Next to Melchizedek stands Abraham, a protective paternal hand beneath the chin of his son Isaac who he is prepared to sacrifice, as Christ will be sacrificed by His father. The ram is caught in a thicket beneath Isaac's tied feet, as the object sacrificed, is a symbol of Christ. Moses, the law-giver, points to the brazen serpent, with which he healed those bitten by poisonous snakes during the plague of serpents, as Christ will heal humanity's spiritual wounds upon the cross (John 3:14). Aaron (or Samuel) kills a lamb, the most common of the animal symbols representing the Sacrifice of Christ, the Lamb of God. King David, especially in Psalm 22, prophesied Christ's passion and here carried a spear and the crown of thorns. [45]
[Links in the quoted passage lead either to (a) details of the image above or (b) to Victorian uses of these same types by Hunt, Rossetti, and Ruskin that show the continuity of such traditional symbolism in the age of Victoria.]
Bibliography
Landow, George P. Victorian Types, Victorian Shadows; Biblical Typology in Victorian Literature, Art, and Thought. Boston and London: Routledge & Kegan Paul, 1980 [full text]
Miller, Malcolm. Chartres Cathedral. Photographs by Sonia Halliday and Laura Lushington. 2nd ed. Andover, Hampshire: Pitkin Publishing, 1996.
---
Last modified 1 July 2010