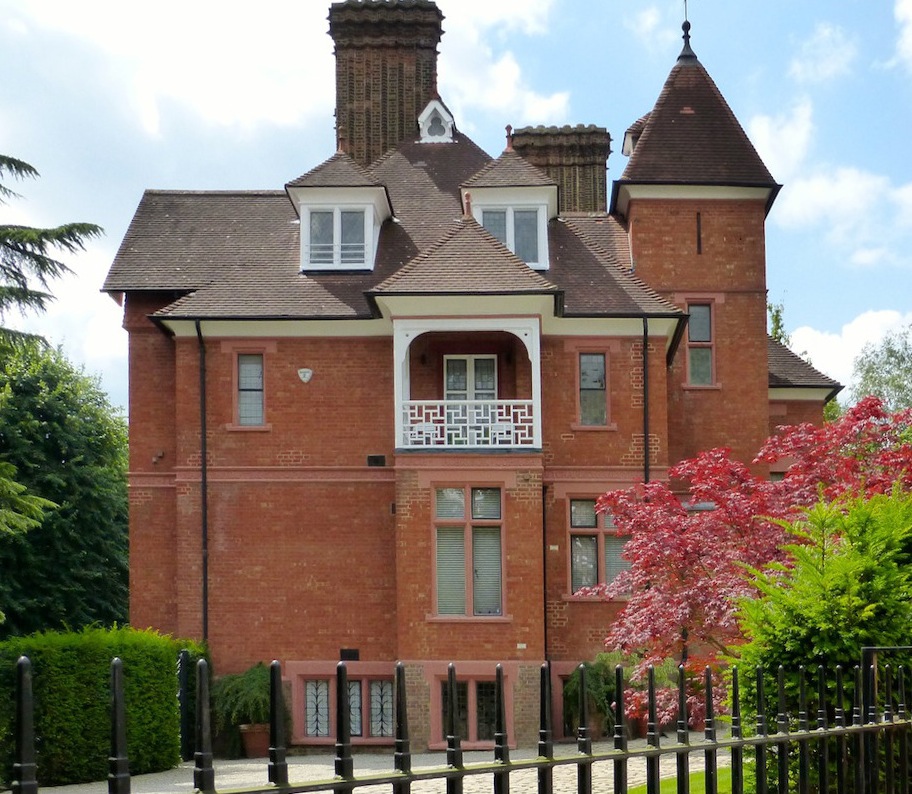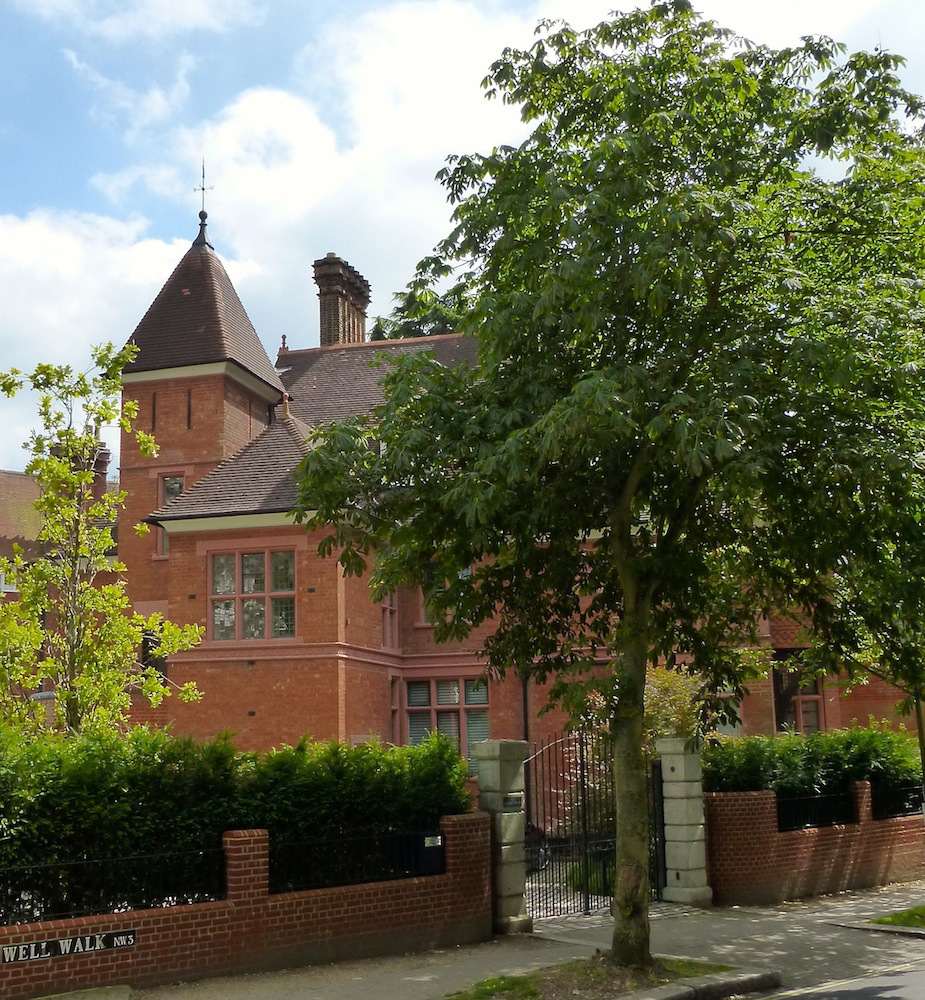 Left: The house from East Heath Road, Hampstead. Right: The house from Well Walk, showing its main entrance.
(Former) Thwaitehead (now Klippan House), on the corner of East Heath Road and Well Walk, Hampstead, London NW3, designed by Ewan Christian and built by the noted Norfolk firm of Cornish and Gaymer, whose full names appear in the text running between the first and second storeys. This Grade II listed building is of red brick, with some tile hanging, coved cornices picked out in cream, and pinkish "dressings of Lascelles patent concrete" (listing text). The latter medium is also used for the band carrying the text. The most noticeable features, however, are the pyramidal tower with steps to its entrance; the wooden fretwork balcony — perhaps by Robinson Cornish, who was known for his woodwork (e.g. see Pevsner and Wilson 412); and the very tall, decoratively detailed chimney stacks.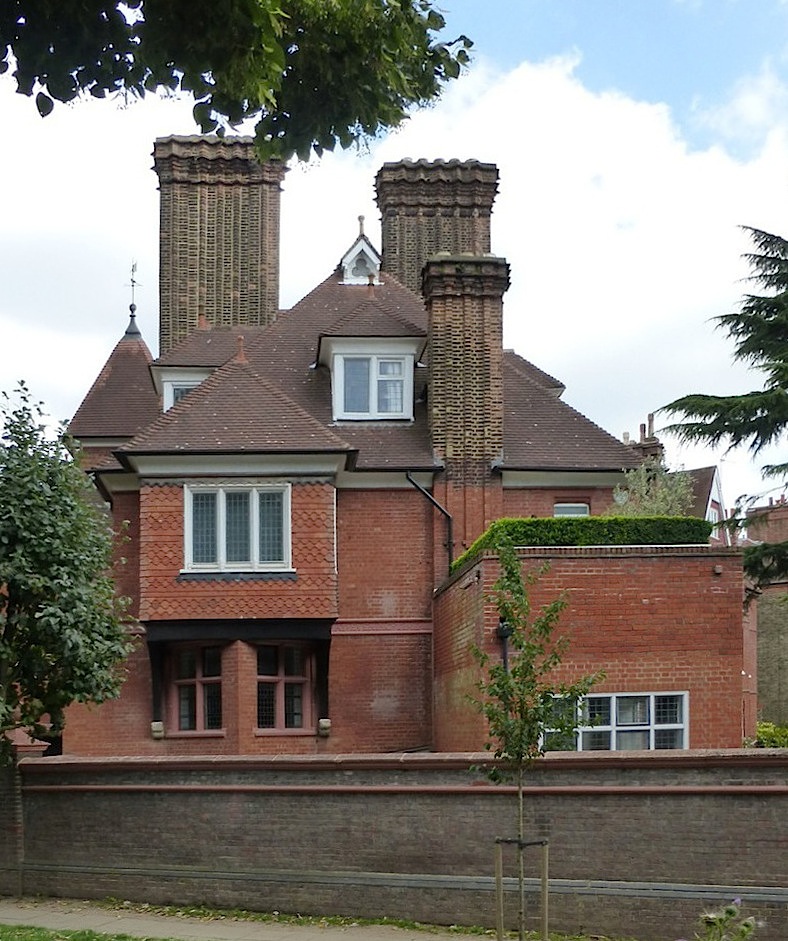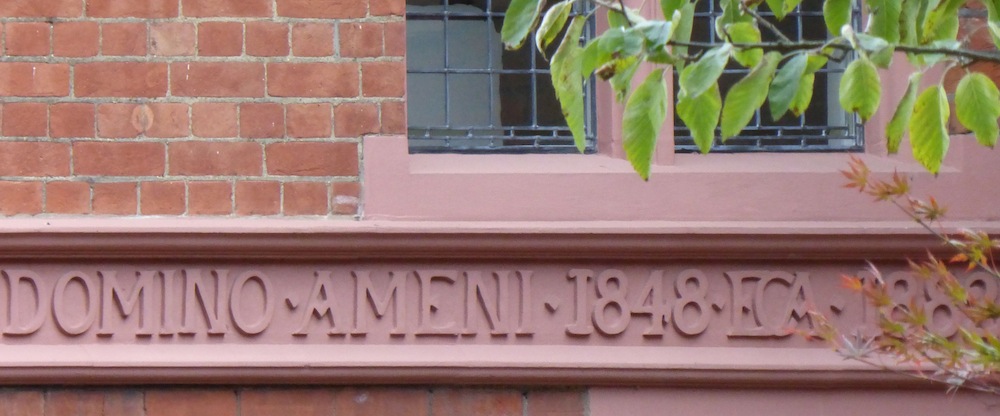 Left: Side view, from further down Well Walk; the house is set at an angle to both roads. Right: Part of the band of text.
The end of a piece of text is shown here (the word should surely be "Amen!" not "Ameni") the date 1848 (the year the Christians got married), their combined initials (his wife's name was Annie) and 1882 (probably the date they moved in). Some other parts of the band read, "Unto you that fear my name shall the Sun of righteousness arise" (Malachi 4, 2), and the motto, "God's providence is mine inheritance." It is hard to read the whole of it because it goes round corners: the house is picturesquely irregular. There is a debt here to Philip Webb, whose Red House had similar features on a smaller scale (even Webb's terrace at 91-101 Worship Street houses) in the East End made a feature of dormers and striking chimney stacks); also, more recently, to Richard Norman Shaw, whose country houses like Leys Wood also featured an irregular ground-plan, dormers, and very tall chimneys.
The varied roof-line, with dormers on different sides, and a tiny ornamental one at the apex of the larger gable. The chimneys here are almost on an industrial scale, their domestic nature indicated by their ornamentally ridged stacks and layered dog-tooth tops.
According to the listing text, some fine internal features, such as oak-panelled doors, Art and Crafts-style fireplaces, some original windows with more texts etc, still remain, and it would seem that the recent restoration has uncovered and preserved more such features while largely modernising the house. There is also "some delicate ironwork on the garden side" (Cherry and Pevsner 225). The fact that this was once criticised as the architect's "horrible self-inflicted home at Hampstead" (Turnor 101) just shows how prejudiced the earlier twentieth century was against Victorian buildings.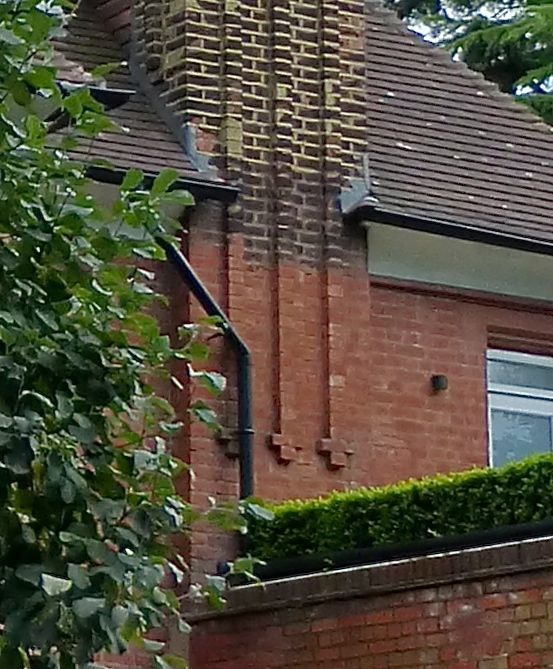 The ridges on this chimney stack rise from crosses in the middle of the second storey.
The house once overlooked Hampstead Heath, but large blocks of flats built opposite it on East Heath Road soon obscured the view. Nevertheless, this was and is a lovely area in which to live, and a number of well-known people have lived — and doubtless still do live — there.
Photographs and text by Jacqueline Banerjee. [You may use the images without prior permission for any scholarly or educational purpose as long as you (1) credit the photographer and (2) link your document to this URL or cite it in a print document.]
Related Material
Sources
Belsize Architects: Klippan House. Web. 28 July 2014.
Cherry, Bridget, and Nikolaus Pevsner. London: North. New Haven and London: Yale University Press, 2002.
Cherry, Martin. "Christian, Ewan (1814-95)." Oxford Dictionary of National Biography. Online ed. Web. 28 July 2014.
"Ewan Christian." DSA (Dictionary of Scottish Architects). Web. 19 July 2014.
"Klippan House, Camden." British Listed Buildings. Web. 28 July 2014.
Pevsner, Nikolaus, and Bill Wilson. Norfolk 2: North West and South . New Haven and London: Yale University Press, 2002.
Turnor, Reginald. Nineteenth Century Architecture in Britain. London: Batsford, 1950.
---
Last modified 28 July 2014