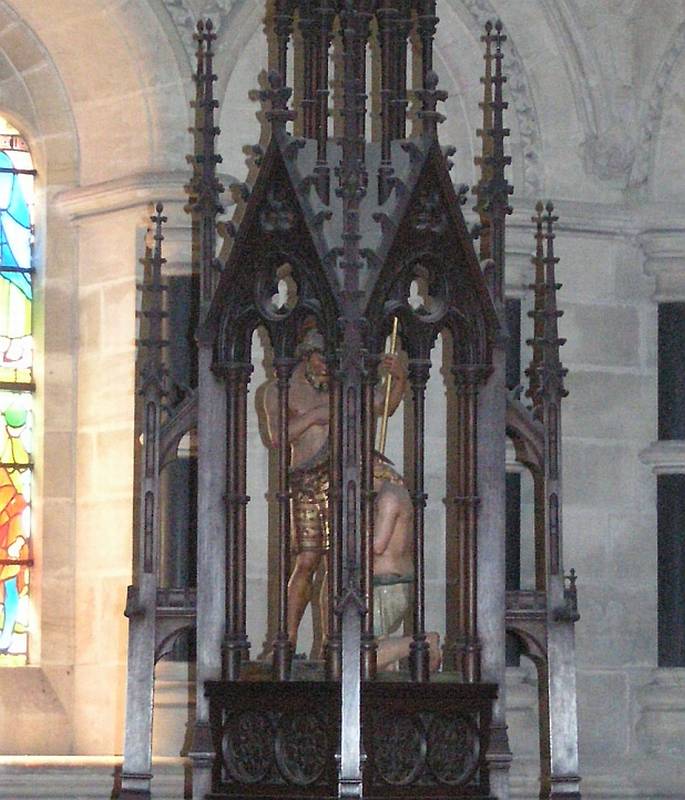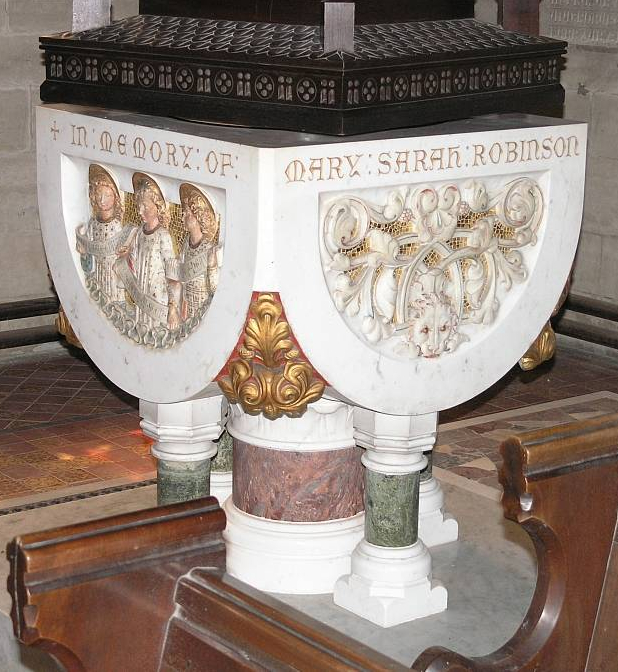 Left: The Baptism of Christ, within the font canopy of the church of Christ the Consoler. The church is on the estate of Newby Hall, Skelton, Yorkshire, and was built and decorated to the designs of the architect William Burges. The wooden font cover was executed by John Walden, a Covent Garden craftsman and furniture maker associated with Burges at Cardiff Castle, and his own Tower House as well (e.g., see Tilbrook 34). This tableau, and the beautifully carved font, are all presumably by the stone-carver and sculptor Thomas Nicholls, since they are not attributed to anyone else — unlike the alabaster reredos in this church, which is known to have been produced by James Redfern. The church was completed in 1876. Right: Font, showing colonetted base, main panel and inscription. Mary Sarah Robinson was the daughter of the first Marquess of Ripon and his wife, and the granddaughter of Lady Mary Vyner of Newby Hall. She had died in infancy, at just under a year old. The inscription explains that she was born 16 July 1857, and died on 3 July 1858. The normal procedure was for Burges to sketch the design himself, and leave Nicholls to develop it in detail. Like the font at the sister church of St Mary, Studley Royal, this is of Tennessee marble, but here of course the colour is white rather than purple (Leach and Pevsner 701).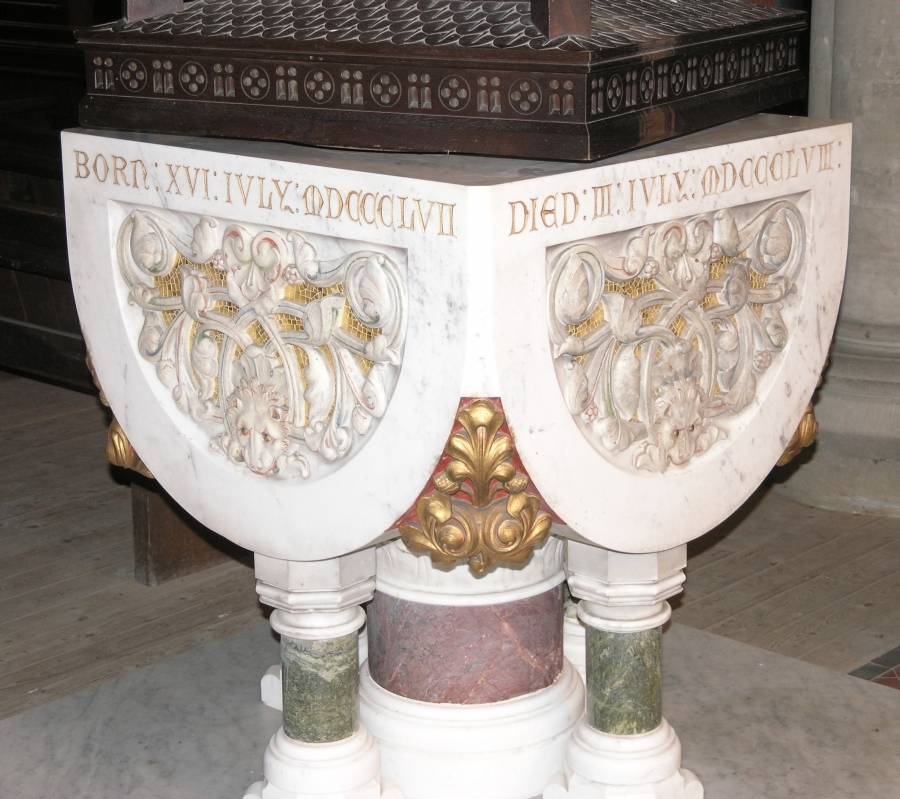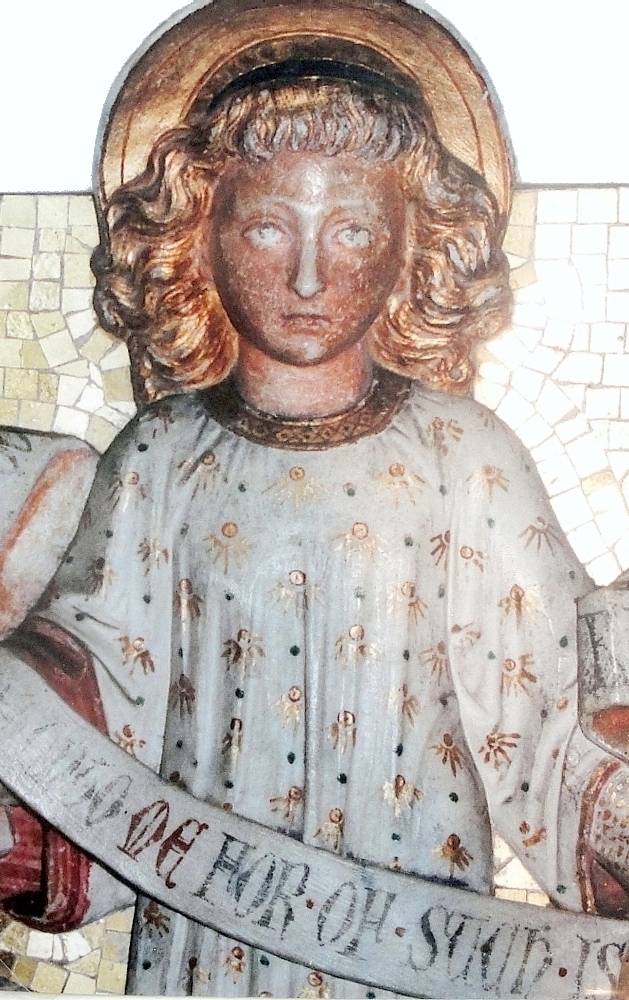 Left: The intricate interlacing design found on three of the panels. The scrolling foliage makes a beautiful display against a background of tesserae, the whole impact being heightened by the touches of gold and red. At the bottom of these panels is a lion's head, probably a reference to the Lion of Judah in the Book of Revelations, in Christianity a symbol of Christ. St Mary's has a Lion of Judah as one of its features. Right: Close-up of the child-angel in the middle. The angel looks poignantly solemn and bears a scroll with the central words of the text of which each angel holds a part: "Suffer little children ... to come unto me: for of such is the kingdom of heaven" (Matthew 19,14).
Related Material
First three Photographs by Colin Hinson, of the Genuki: Yorkshire Genealogy website, who has kindly contributed them in large resolution. They should not be reused without his permission. Last photograph on the right by Robert Freidus. You may use this image without prior permission for any scholarly or educational purpose as long as you (1) credit the photographer and (2) link your document to this URL in a web document or cite the Victorian Web in a print document. Formatting by the author.]
Bibliography
the peerage.com.. Web. 5 December 2011.
Leach, Peter, and Nikolaus Pevsner. Yorkshire West Riding, Leeds, Bradford and the North. The Buildings of England series. New Haven & London: Yale University Press, 2009.
Tilbrook, Adrian A. Truth, Beauty and Design: Victorian, Edwardian and Later Decorative Art.. London: Fischer Fine Art, 1986.
---
Last modified 5 December 2011