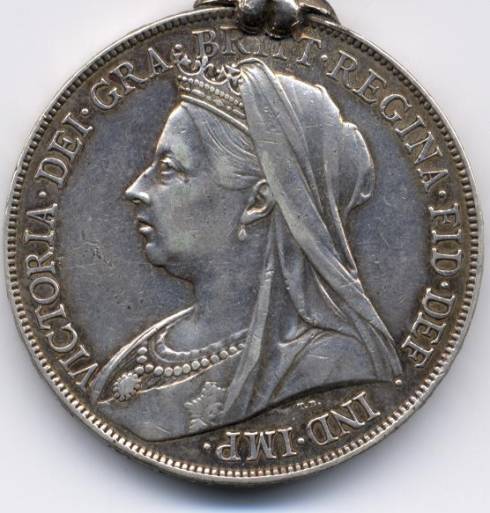 The Queen's Head
Sir Thomas Brock, K.C.B., R.A. 1847-1922
Silver
c. 1893
Photograph and text kindly provided by John Sankey, whose copyright they remain.
In 1891 the Chancellor of the Exchequer appointed a committee to recommend a new coinage to replace the unpopular Golden Jubilee coins designed by Sir Edgar Boehm. The chairman was a banker but the most influential member was Sir Frederic Leighton, President of the Royal Academy. Seven artists were invited to submit designs and the committee selected Thomas Brock's "dignified and distinctive" design of the Queen's head (qtd. in Stocker 73). At the committee's request, Brock replaced the small crown and laurel wreath with a tiara and veil and added the letters IND IMP (Empress of India). The new coinage was authorised by royal proclamation on 30 January 1893 and was widely welcomed. The gold and silver coins were minted from 1893 but the copper coins were not issued until 1895. Brock ensured that his role in the coinage would be recorded for posterity by having his initials TB engraved immediately below the Queen's bust.
Reference
Stocker, Mark. "The Coinage of 1893." The British Numismatic Journal. Vol. 66 (1996).
---

Victorian
Web

Queen
Victoria

Visual
Arts

Sculpture

Thomas
Brock

Next
Last modified 14 August 2010