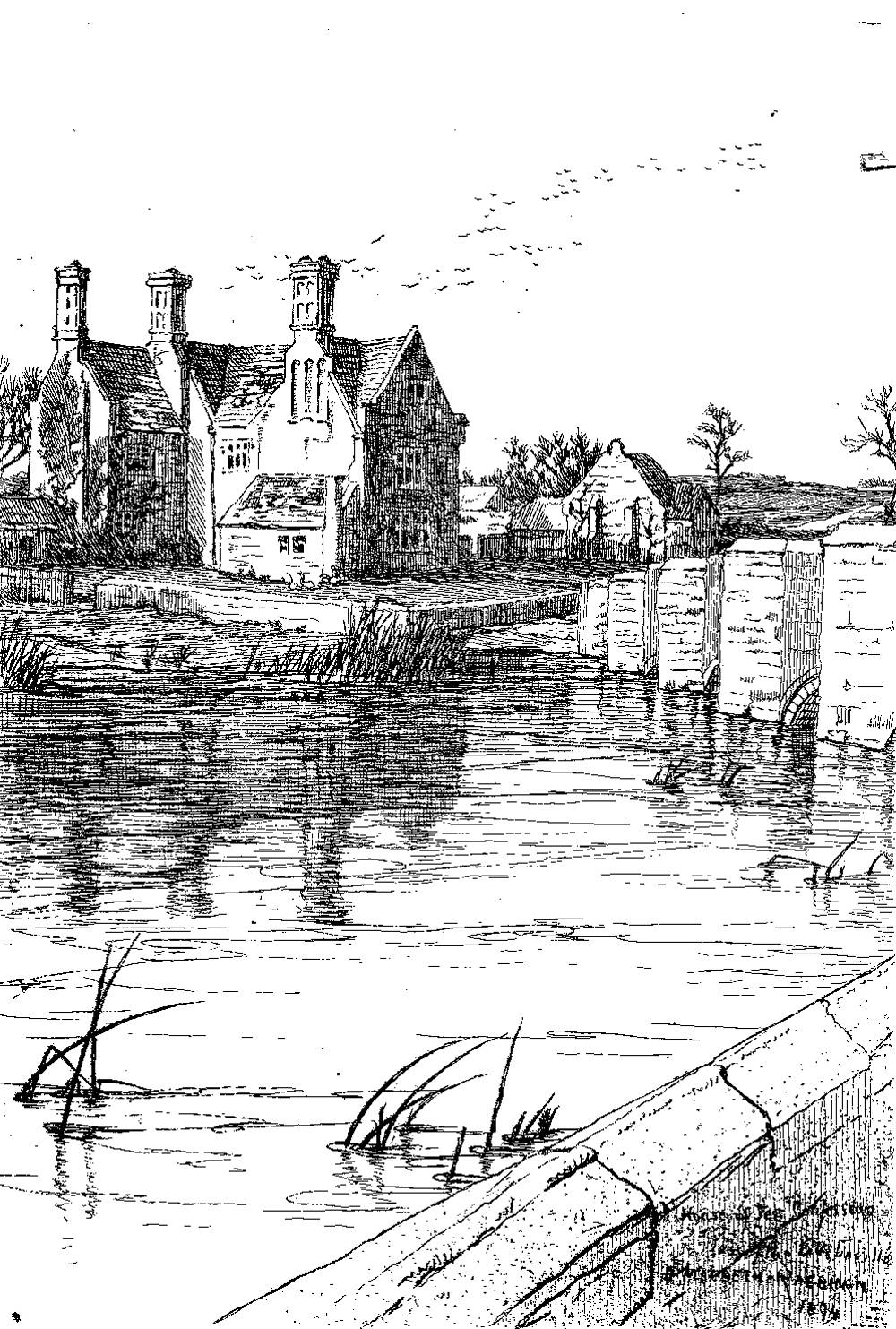 Frontispiece: The "Wellbridge Manor House" of the Story
Henry Macbeth-Raeburn
1897
Etching
12.3 x 8.5 cm
Just prior to p. 281, Ch. 34 in Hardy's Tess of the D'Urbervilles: A Pure Woman faithfully presented.
Text on facing page "Immediately behind the bridge stood the house . . . once a fine manorial residence." — Page 281.
Scanned image and text by Philip V. Allingham.
[You may use these images without prior permission for any scholarly or educational purpose as long as you (1) credit the photographer and (2) link your document to this URL in a web document or cite the Victorian Web in a print one.]
Passage Illustrated
They drove by the level road along the valley to a distance of a few miles, and, reaching Wellbridge, turned away from the village to the left, and over the great Elizabethan bridge which gives the place half its name. Immediately behind it stood the house wherein they had engaged lodgings, whose exterior features are so well known to all travellers through the Froom Valley; once portion of a fine manorial residence, and the property and seat of a d'Urberville, but since its partial demolition a farmhouse.
"Welcome to one of your ancestral mansions!" said Clare as he handed her down. But he regretted the pleasantry; it was too near a satire.
On entering they found that, though they had only engaged a couple of rooms, the farmer had taken advantage of their proposed presence during the coming days to pay a New Year's visit to some friends, leaving a woman from a neighbouring cottage to minister to their few wants. The absoluteness of possession pleased them, and they realized it as the first moment of their experience under their own exclusive roof-tree.
But he found that the mouldy old habitation somewhat depressed his bride. — Ch. 34, "The Consequence," p. 281.
Commentary
In the original serialisation in the Graphic in October 1891, E. Borough Johnson, a member of Hubert Von Herkomer's design team, had highlighted Angel's rejection of Tess after her confession that she had been raped by Alec Durberville in She slid down upon her knees beside his foot in the fourteenth weekly number. In contrast to Johnson's melodramatic handling of the chief event in that weekly instalment, Macbeth-Raeburn, likely at Hardy's direction, has provided a pleasing study of Woolbridge Manor, a seventeenth-century great house in East Stoke, just outside the village of Wool, in Dorset, which the publisher has positioned not as a frontispiece but as an illustration introducing events that transpire in chapter 34. Here in "Phase the Fourth," after their wedding, Angel Clare and his new wife, Tess Durbeyfield, arrive to spend their honeymoon. The keynote is idyllic, in contrast to the eruption of contrary emotions that Tess's confession provokes. the incident may well be regarded as a turning point in their relationship since Angel's puritanical response directly leads to their misfortunes in the second half of the novel.
In Johnson's sequence of plates, Angel's respectable, dark, middle-class suit through repetition has by now rendered his figure familiar to the serial reader, but the second plate for the October 10th instalment reveals another side to Angel's character and a new desperation in Tess, whose face is a mask of agony rather than a realistic depiction. This three-quarter page illustration emphasizing the dramatic poses of the two figures occurs on the same page as the incident in Ch. XXXV illustrated, in the first chapter of "Book Fourth . . . The Woman Pays" (422). As in Hardy's text, the scene is played out in front of a great fireplace redolent with associations of previous centuries, its "polished andirons" (XXXIV: 422), high mantel-shelf and grate, casting a lurid glow and grinning fender suggestive to Tess's imagination of the "Last Day." As the reader completes the third book and regards the picture on the right-hand page, he or she is in no doubt as to Angel's reaction to the "confession" that Tess has finally been able to deliver regarding her "visit with D'Urberville to the supposed registrar, [and] her abiding sense of the moral validity of the contract .. . ." However, the artist has been unable to surmount the difficulty of presenting the scene objectively, instead of from Tess's emotional perspective, as in the text. In consequence, Johnson delivers melodramatic cliché rather than psychological drama. To evoke the viewer's sympathy for Tess the artist has placed her on her knees, entreating a forgiveness that Hardy makes plain she need not beg of a man who admits to having "plunged into eight-and-forty hours' dissipation with a stranger." In a position of submission implying her feelings of moral culpability, Tess leans toward Angel and clutches at his jacket, but he coolly brushes her aside. The collar, watch-chain, and pocket handkerchief are the accoutrements of a gentleman, but Angel's conduct here is hardly gentlemanly.
None of this high drama is evident in Macbeth-Raeburn's quiet exterior, so that it establishes that this will be an important setting in the story without revealing the nature of events which will transpire there. It is a delightful "Wessex" scene that complements the text but does not carry anything much of the narrative. Macbeth-Raeburn's illustration may well have been made from a contemporary photograph, but the illustrator has reduced it to its essentials as a line drawing, showing the approach that Angel and Tess make on their wedding day by positioning the viewer at the start of the bridge across the Frome. Although the scene seems sunny and tranquil, the lowering reflection of the dark mass of the house in the water may portend future tragedy.
In Hardy's January 1895 Preface, the novelist acknowledges that his "Wessex" is now a region well established in the minds of contemporary readers, and endeavours to explain the relationship between actual and fictitious place names; among these pairs of names he includes "Woolbridge" versus "Wellbridge":
In the present edition it may be well to state, in response to inquiries from readers interested in landscape, pre-historic antiquities, and especially old English architecture, that the description of these backgrounds in this and its companion novels has been done from the real. Many features of the first wo kinds have been given under their existing names' for instance, the Vale of Blackmoor or Blakemore, Hambledon Hill, Bulbarrow, Nettlecombe Tout, Dogbury Hill, High-Stoy, Bubb-Down Hill, The Devil's Kitchen, Cross-in-Hand, Long-Ash Lane, Benvill Lane, Giant's Hill, Crimmercrock Lane, and Stonehenge. . . . . The scheme was not greatly elaborated, but, whatever its value, the names remain still.
In respect of places described under fictitious or ancient names — for reasons that seemed good at the time of writing — discerning persons have affirmed in print that they clearly recognize the originals" such as Shaftesbury in 'Shaston', . . . Wool Bridge in 'Wellbridge' . . . . I shall not be the one to contradict them; I accept their statements as at least an indication of their real and kindly interest in the scenes. T. H. January 1895 [three months ahead of the date of publication], p. xi-xii.
Relevant illustrations from the 1891 serialisation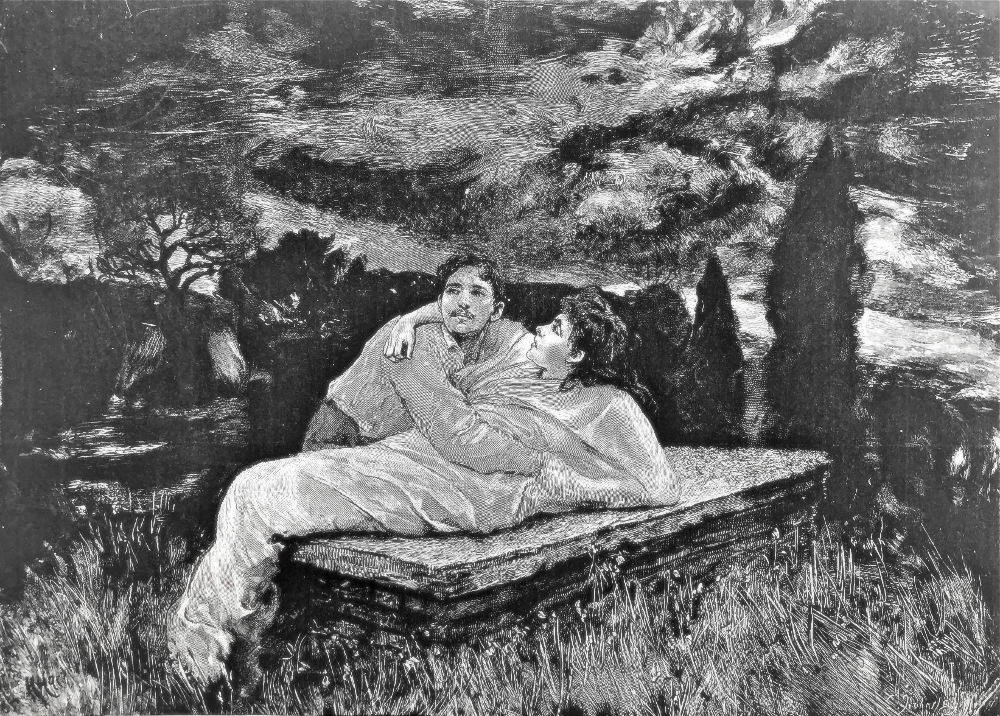 Left: Ernest Borough Johnson's dramatic realisation of Angel Clare's reaction to Tess's confession, She slid down upon her knees beside his foot (10 October 1891). Right: Hubert Von Herkomer's atmospheric rendering of the subsequent scene in which Clare in sleepwalking psychologically "buries" his bride, They reached the cloister-garth, where were the graves of monks. Upon one of these graves he carefully laid her down (10 October 1891). [Click on the images to enlarge them.]
Bibliography
Gatrell, Simon. Hardy the Creator: A Textual Biography. Oxford: Clarendon, 1988.
Hardy, Thomas. Tess of the D'Urbervilles: A Pure Woman. Illustrated by Hubert Von Herkomer, Ernest Borough Johnson, Joseph Syddall, and Daniel A. Wehrschmidt. The Graphic. 4 July—26 December 1891.
Hardy, Thomas. Tess of the D'Urbervilles: A Pure Woman. Illustrated by Henry Macbeth-Raeburn. Volume One in the Complete Uniform Edition of the Wessex Novels. London: Osgood, McIlvaine; 1895 in the US, 1897 in GB.
Kay-Robinson, Denys. The Landscape of Thomas Hardy.Exeter: Webb & Bower, 1984.
Millgate, Michael. Thomas Hardy: A Biography Revisited. Oxford: Oxford U. P., 2004.
Pinion, F. B. A Hardy Companion. Trowbridge, Wiltshire: Macmillan, 1968.
Purdy, Richard L. Thomas Hardy: A Bibliographical Study. Oxford: Clarendon, 1954, rpt. 1978.
Seymour-Smith, Martin. Hardy. London: Bloomsbury, 1994.
Turner, Paul. The Life of Thomas Hardy. A Critical Biography. Oxford: Blackwell, 1998.
Vann, J. Don. "Tess of the D'Urbervilles in the Graphic, 4 July—26 December 1891." Victorian Novels in Serial. New York: Modern Language Association, 1985. Pages 88-89.
Wright, Sarah Bird. Thomas Hardy A to Z: The Essential Reference to His Life and Work. New York: Facts on File, 2002.
---

Victorian
Web

Illus-
tration

Henry
Macbeth-Raeburn

Thomas
Hardy

Next
Last modified 14 January 2017