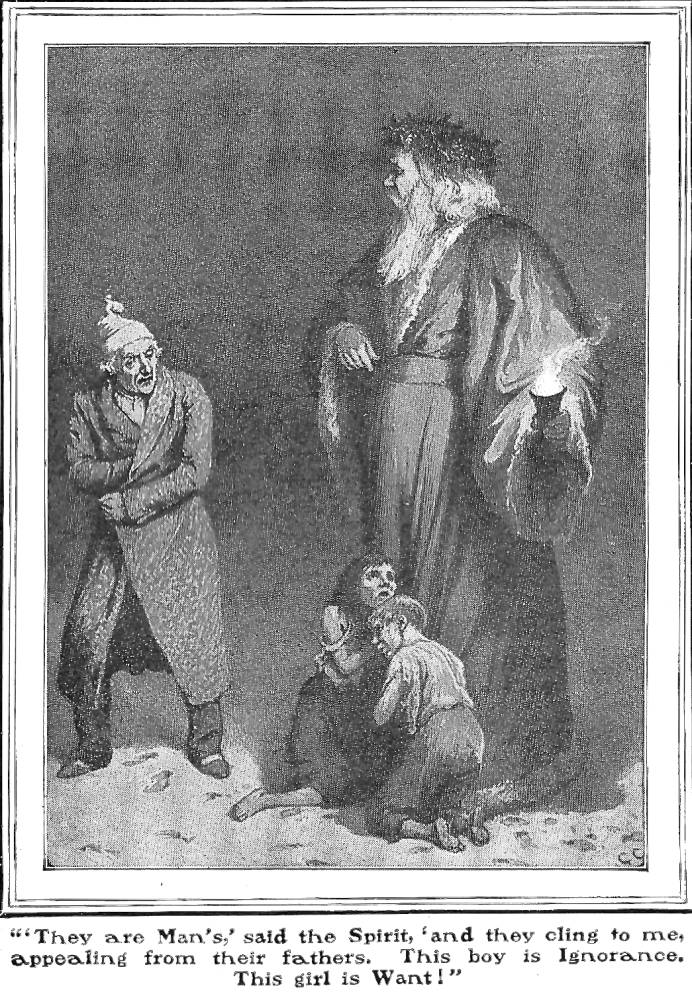 The Spirit and the Children: "They are man's," said the Spirit. "And they cling to me, appealing from their fathers. This boy is Ignorance. This girl is Want!"
Charles Green
c. 1912
10.4 x 7.6 cm. framed
Dickens's A Christmas Carol, The Pears' Centenary Edition of The Christmas Books, vol. 1, page 102.
Scanned image and text by Philip V. Allingham.
[You may use this image without prior permission for any scholarly or educational purpose as long as you (1) credit the person who scanned the image and (2) link your document to this URL in a web document or cite the Victorian Web in a print one.].
Passage Illustrated
It was a long night, if it were only a night; but Scrooge had his doubts of this, because the Christmas Holidays appeared to be condensed into the space of time they passed together. It was strange, too, that while Scrooge remained unaltered in his outward form, the Ghost grew older, clearly older. Scrooge had observed this change, but never spoke of it, until they left a children's Twelfth Night party, when, looking at the Spirit as they stood together in an open place, he noticed that its hair was grey.
"Are spirits' lives so short?" asked Scrooge.
"My life upon this globe, is very brief," replied the Ghost. "It ends to-night."
"To-night!" cried Scrooge.
"To-night at midnight. Hark! The time is drawing near."
The chimes were ringing the three quarters past eleven at that moment.
"Forgive me if I am not justified in what I ask," said Scrooge, looking intently at the Spirit's robe, "but I see something strange, and not belonging to yourself, protruding from your skirts. Is it a foot or a claw?"
"It might be a claw, for the flesh there is upon it," was the Spirit's sorrowful reply. "Look here."
From the foldings of its robe, it brought two children; wretched, abject, frightful, hideous, miserable. They knelt down at its feet, and clung upon the outside of its garment.
"Oh, Man, look here! Look, look, down here!" exclaimed the Ghost.
They were a boy and a girl. Yellow, meagre, ragged, scowling, wolfish; but prostrate, too, in their humility. Where graceful youth should have filled their features out, and touched them with its freshest tints, a stale and shrivelled hand, like that of age, had pinched, and twisted them, and pulled them into shreds. Where angels might have sat enthroned, devils lurked, and glared out menacing. No change, no degradation, no perversion of humanity, in any grade, through all the mysteries of wonderful creation, has monsters half so horrible and dread.
Scrooge started back, appalled. Having them shown to him in this way, he tried to say they were fine children, but the words choked themselves, rather than be parties to a lie of such enormous magnitude.
"Spirit, are they yours?" Scrooge could say no more.
"They are Man's," said the Spirit, looking down upon them. "And they cling to me, appealing from their fathers. This boy is Ignorance. This girl is Want. Beware them both, and all of their degree, but most of all beware this boy, for on his brow I see that written which is Doom, unless the writing be erased. Deny it!" cried the Spirit, stretching out its hand towards the city. "Slander those who tell it ye. Admit it for your factious purposes, and make it worse. And abide the end."
"Have they no refuge or resource?" cried Scrooge.
"Are there no prisons?" said the Spirit, turning on him for the last time with his own words. "Are there no workhouses?"
The bell struck twelve. ["Stave Three: The Second of The Three Spirits," p. 101-102]
Commentary
The finalé of the six scenes that Green has produced for the third stave fills the page, and serves as the fin de siecle illustrator's homage to the book's original John Leech, whose simple but eloquent tailpiece for "Stave Three: The Second of the Three Spirits" is yet to be equalled as an appeal to the Victorian social conscience, although a number of illustrators have attempted moving versions of the Leech wood-engraving. Although Green might not have seen Sol Eytinge, Junior's full-page wood-engraving of Scrooge's encounter with the realistically drawn, allegorical figures, Want and Ignorance, his approach is similar as he emphasizes the massive form of the Christmas Spirit and places the suffering children, products of the neglect of the exploitative capitalist system, at the giant's feet.
Whereas the Eytinge version substitutes a tenement slum for a factory as the backdrop for the midnight scene, Green merely offers footprints in the snow (foreground) to imply an outdoor setting; the impenetrable darkness certainly implies that the scene occurs at night, and the snow combined with Scrooge's pulling his dressing-gown close about him indicates that December is the date, but the artist provides no buildings of any sort. The white-bearded Spirit of Christmas Present, gesturing towards the children who cling to his ankles, dominates the scene, dwarfing Scrooge in his nightcap and slippers — and presumably late-nineteenth-century pyjama-bottoms rather than a nightgown.
In his composition, Green (undoubtedly anticipating the reader's familiarity with the Leech original) has reversed the positions of the spirit guide and dreamer, has replaced standing, emaciated children with shivering (but equally poorly clothed) and supine waifs who cling to one another, and has eliminated the Spirit's admonitory gesture. The absence of the informing context of the blighted trees and lit factory buildings blunts somewhat the social criticism implicit in the accompanying text. However, Green's giving the Spirit a markedly white beard and drooping torch whose flame throws the children into chiaroscuro effectively implies that the termination of his existence is "drawing near" as the church chimes ring three-quarters past eleven, although the faintness of Leech's spirit more immediately implies his impending disappearance.
Illustrations from the 1843, Ticknor & Fields (1868), and British Household Editions (1878)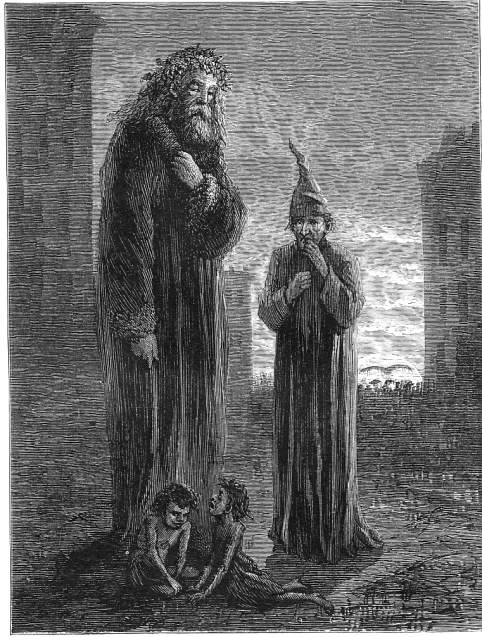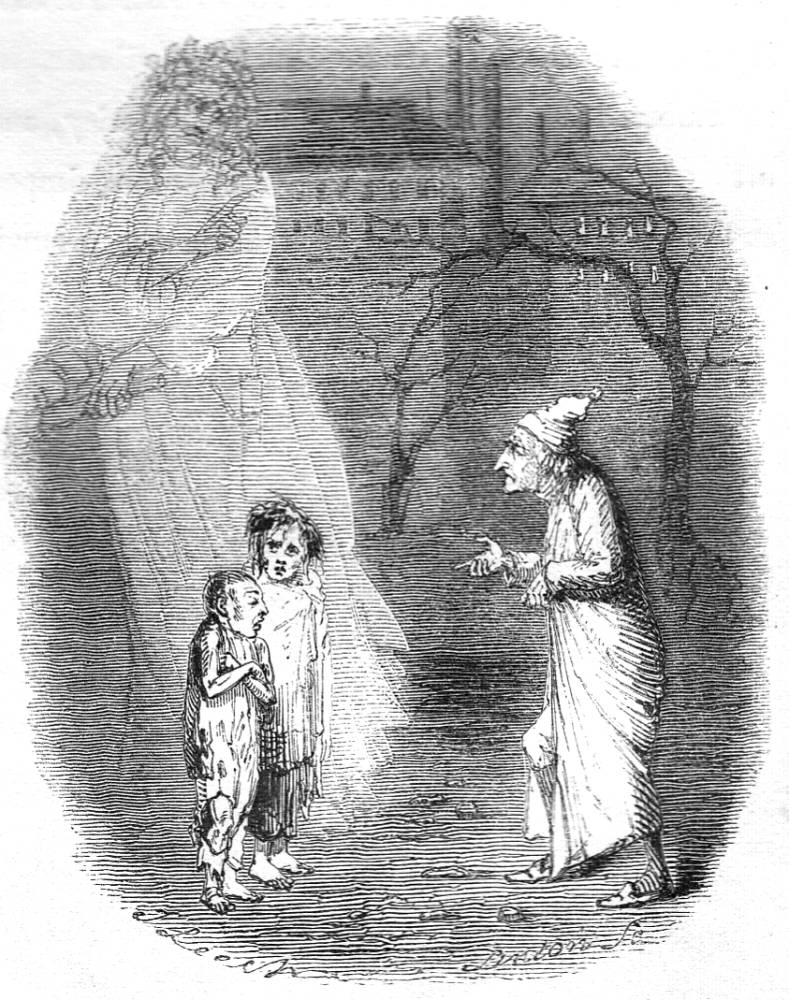 Left: Sol Eytinge, Junior's realisation of Scrooge's confronting the consequences of laissez-faire economics, Want and Ignorance. Right: John Leech's original realisation of Dickens's attack on the factory system, Ignorance and Want. [Click on images to enlarge them.]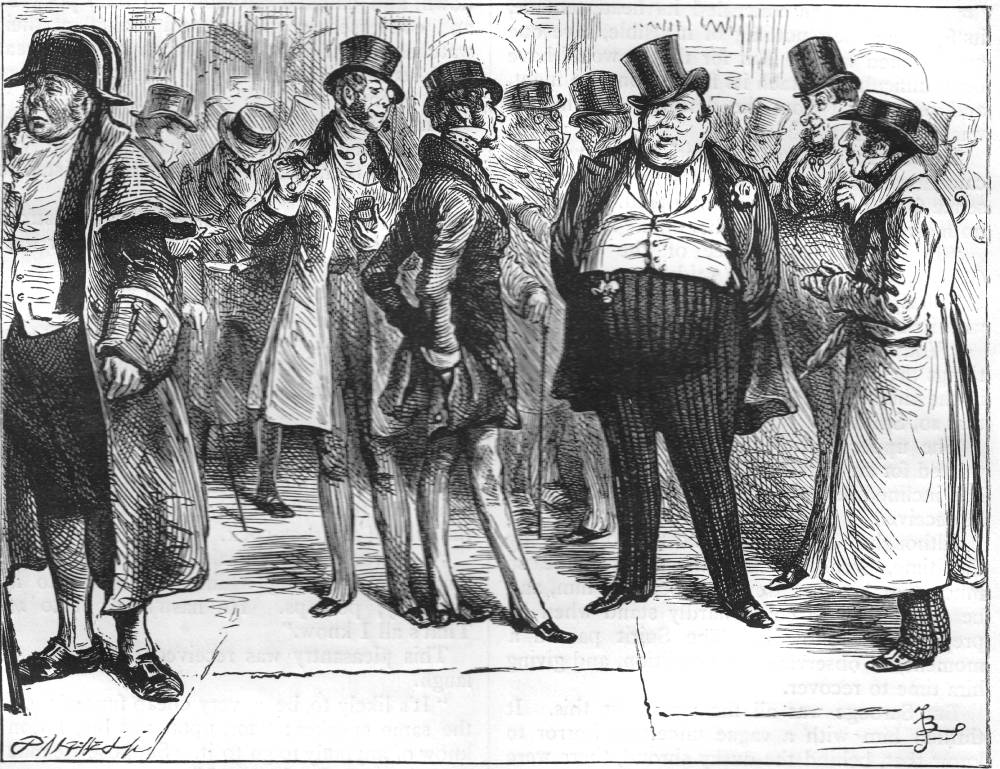 Above: Fred Barnard's different approach to ridiculing capitalistic excess, This pleasantry was received with a general laugh. [Click on the image to enlarge it.]
References
Dickens, Charles. Christmas Books. Illustrated by Sol Eytinge, Jr. The Diamond Edition. Boston: Ticknor and Fields, 1867.
____. Christmas Books. Illustrated by Fred Barnard. Household Edition. London: Chapman and Hall, 1878.
____. Christmas Books. Illustrated by A. A. Dixon. London & Glasgow: Collins' Clear-Type Press, 1906.
____. Christmas Books. Illustrated by Harry Furniss. The Charles Dickens Library Edition. London: Educational Book, 1910.
____. A Christmas Carol in Prose, Being a Ghost Story of Christmas. Illustrated by John Leech. London: Chapman and Hall, 1843.
____. A Christmas Carol in Prose: Being a Ghost Story of Christmas. Illustrated by Sol Eytinge, Jr. Boston: Ticknor & Fields, 1868.
____. A Christmas Carol in Prose, Being A Ghost Story of Christmas. Illustrated by John Leech. (1843). Rpt. in Charles Dickens's Christmas Books, ed. Michael Slater. Harmondsworth: Penguin, 1971, rpt. 1978.
____. A Christmas Carol. Illustrated by Charles Green, R. I. London: A & F Pears, 1912.
____. A Christmas Carol. Illustrated by Arthur Rackham. London: William Heinemann, 1915.
____. Christmas Stories. Illustrated by E. A. Abbey. The Household Edition. New York: Harper and Brothers, 1876.
---

Victorian
Web

Illustration

Charles
Green

A Christmas
Carol

Next
Created 26 August 2015