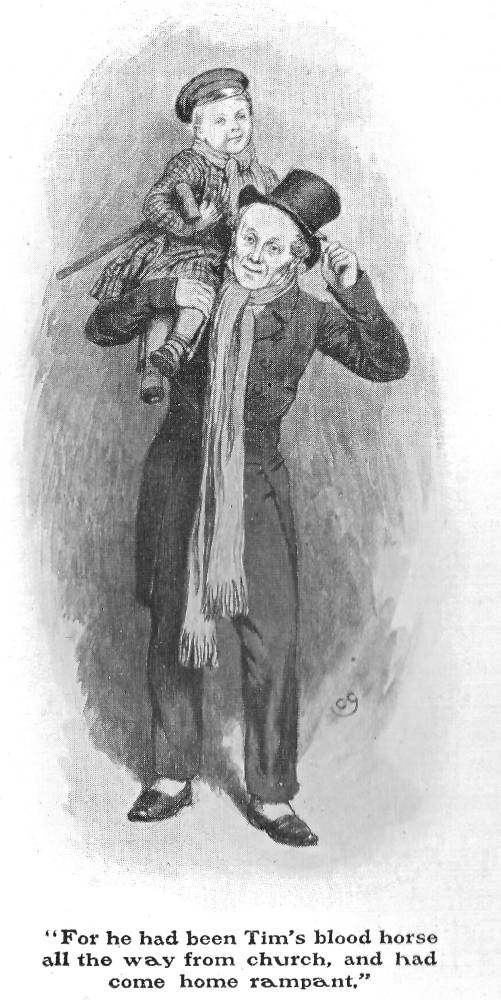 Bob Cratchit and Tiny Tim: "For he had been Tim's blood horse all the way home from church, and had come home rampant."
Charles Green
c. 1912
11.5 x 5.5 cm. vignetted
Dickens's A Christmas Carol, The Pears' Centenary Edition of The Christmas Books I, 82.
Scanned image and text by Philip V. Allingham.
[You may use this image without prior permission for any scholarly or educational purpose as long as you (1) credit the person who scanned the image and (2) link your document to this URL in a web document or cite the Victorian Web in a print one.]
Passage Illustrated
"Why, where's our Martha?" cried Bob Cratchit, looking round.
"Not coming," said Mrs Cratchit.
"Not coming!" said Bob, with a sudden declension in his high spirits; for he had been Tim's blood horse all the way from church, and had come home rampant. "Not coming upon Christmas Day?"
Martha didn't like to see him disappointed, if it were only in joke; so she came out prematurely from behind the closet door, and ran into his arms, while the two young Cratchits hustled Tiny Tim, and bore him off into the wash-house, that he might hear the pudding singing in the copper.
"And how did little Tim behave?" asked Mrs. Cratchit, when she had rallied Bob on his credulity, and Bob had hugged his daughter to his heart's content.
"As good as gold," said Bob, "and better. Somehow he gets thoughtful sitting by himself so much, and thinks the strangest things you ever heard. He told me, coming home, that he hoped the people saw him in the church, because he was a cripple, and it might be pleasant to them to remember upon Christmas Day, who made lame beggars walk, and blind men see."
Bob's voice was tremulous when he told them this, and trembled more when he said that Tiny Tim was growing strong and hearty.
His active little crutch was heard upon the floor, and back came Tiny Tim before another word was spoken, escorted by his brother and sister to his stool before the fire; and while Bob, turning up his cuffs — as if, poor fellow, they were capable of being made more shabby — compounded some hot mixture in a jug with gin and lemons, and stirred it round and round and put it on the hob to simmer; Master Peter, and the two ubiquitous young Cratchits went to fetch the goose, with which they soon returned in high procession. ["Stave Three: The Second of The Three Spirits," p. 81-82]
Commentary
The fourth of the six scenes that Green has included for the third stave is a vignette of Bob Cratchit and his crippled son. Of all the Cratchit children, only Tiny Tim had appeared in previous British-illustrated programs of illustration — and in the original eight illustrations by the socially conscious John Leech no Cratchit child appears, and Bob is relegated to a single appearance in the small-scale tailpiece, Scrooge and Bob Cratchit, or The Christmas Bowl, which still identifies Bob as an associate and perhaps even an intimate of a punch-pouring Ebenezer Scrooge, and not as a devoted husband and father.
The most direct influence upon Green's choice of subject here was apparently two illustrations by Fred Barnard, since it is unlikely that British illustrator Charles Green would have seen the Sol Eytinge, Jr., illustration of Bob's passing a church that Christmas day with his little son on his shoulder, Tiny Tim's Ride, vignette for "Stave 3. The Second of the Three Spirits". Although the scene has been popular with illustrators since Green and has often occurred in cinematic and stage adaptations, it does not, in fact, occur in Dickens's text; rather, as the above quotation suggests, the narrator alludes to the moment rather than dramatizes it, just as Bob mentions Tim's attentiveness in church.
Whereas Barnard depicts an active, dynamic, youthful Bob carrying Tim through a London square in a prosperous quarter in He had been Tim's blood-horse all the way from church, and had come home rampant, a Barnard composition that depicts just father and son would seem to have been the model for Green's: Bob Cratchit and Tiny Tim. Although there is no comparable illustration in the American Household Edition of 1876, illustrator E. A. Abbey depicts Bob in two plates, once sliding with the boys on Cornhill on the way home from the office on Christmas Eve, and again in the Cratchit family's post-prandial toast in "Mr. Scrooge!" said Bob; "I'll give you Mr. Scrooge, the Founder of the feast!", in which Bob is a man in his late 30s or early 40s, grouped with the other Cratchit males to the left. Consequently, Green's treatment of Bob as a character in his own right and having a strong personal connection with his second-youngest son is the consequence of growing interest in the latter part of the Victorian era in the Cratchits as a typical, middle-class family, and in the welfare of children with diseases and physical afflictions.
This scene of Bob's return home with Tim, although not realised in the original Chapman and Hall edition of 1843, has given rise to illustrations by Sol Eytinge, Jr. (1869), Fred Barnard (1878 and 1885), and (perhaps in part as a consequence of Green's 1912 vignette, Harold Copping (1924), the last of these, in vivid colour lithography, being the most widely reproduced. Whereas Green sympathetic treatment is without context (i. e., no furniture or doorpost suggests the interior of the Cratchit home, and no external cues point to its being on the streets of Camden Town), Fred Barnard's 1885 character study captures the precise moment of Dickens's text; the other illustrations apparently allude to an earlier, unnarrated moment in which father and son sail through the snowy streets of the borough, after attending church; notably the female members of the family did not join them, so that Dickens established in the text a special intimacy between Bob and Tim that may reflect his own childhood relationship with his convivial (albeit, debt-ridden and somewhat irresponsible) father in Chatham. Although the second Spirit, Christmas Present, and his charge have not observed Bob and his son coming home, they are presumed to be in the Cratchits' parlour when father and son enter, so that only the 1885 illustration strictly coincides with Dickens's text, although Green's 1912 vignette may, in fact, do so, given the juxtaposition of image and text.
In studying the series of Tiny Tim illustrations in British editions (the American editions of 1868 and 1876 probably not having had any influence on Barnard, Green, and Copping), the wood engraving entitled He had been Tim's blood-horse all the way from church that Barnard executed as the frontispiece for the 1878 Household Edition of The Christmas Books, one could regard the 1885 photogravure character study for the third series of Characters from Dickens as a variant of the original 1878 full-page illustration, with Bob, Tim on his shoulder, bursting joyfully through the front door. However, Barnard has reconceived the context in which Tim appears on his father's shoulder, coming home from church: instead on a street scene (which also forms the basis for Harold Copping's 1924 colour lithograph), Barnard shows the pair arriving at the Cratchit home in Camden Town — evidently not a semi-detached house, but an apartment, since the open doorway reveals a hallway and staircase behind the figures. The implied viewer, as in the Green illustration, has changed from a passerby in the 1878 composite woodblock engraving to the waiting Cratchit family and Bob's invisible employer in the 1885 photogravure.
Harold Copping's 1924 colour lithograph Bob Cratchit and Tiny Tim probably owes more to the Household Edition's frontispiece than to either the 1885 character study or the Green vignette, with several young women apparently admiring the boy, even as an adolescent in cloth cap (prefiguring what the lower-middle-class child will become, if he survives his affliction), oblivious to their passing by, shovels the sidewalk outside the area railing. None of these illustrations shares any kinship with the first such composition, Sol Eytinge's Tiny Tim's Ride, which, although set in the London streets like Copping's and Barnard's 1878 wood engraving, has no genial spectators to greet the father and son on Christmas morning.
Although, therefore, the Green illustration has both antecedents and descendants, it is worth examining in its own right, and from within the context of Green's narrative-pictorial sequence, which has shown Bob earlier, in the context of "The Tank" in Scrooge's counting-house and, just prior to this illustration in Stave Three, has focussed on Mrs. Cratchit in her role as shopper and mother, and in particular with her close relationship with the oldest Cratchit daughter, Martha, an apprentice seamstress and milliner's assistant. Green, then, is more interested in Bob Cratchit's personal rather than his business life. The scale of the lithograph, perhaps, prohibited Green's contextualising the figures (presumably as they come through the door, as Green has caught a balding, decidedly middle-aged Bob in the act of removing his hat, the beaver of a member of the middle class). As in other artists' renditions of Bob Cratchit dressed for the snowy street, Green's Bob wears a lengthy wollen "comforter" or scarf, and tailcoat suitable to the 1840s, but not a greatcoat or topcoat, a deficiency suggestive of his challenging financial position as a poorly paid clerk with a large family. Tim's crutch, cap, and cheerful demeanour likewise seem derived from Barnard's 1885 black and white lithograph, but we should note Tim's metal leg-braces, not always evident in illustrations of Tiny Tim's Ride. One wonders if Green knew of Dickens's specific vetoing of such braces in Edward Stirling's 1844 dramatic adaptation, a quasi-musical entitled A Christmas Carol; or, Past, Present, and Future, A Burletta in Three Staves, upon which Dickens himself acted as a consultant.
Illustrations from the the Ticknor & Fields (1868), and later Editions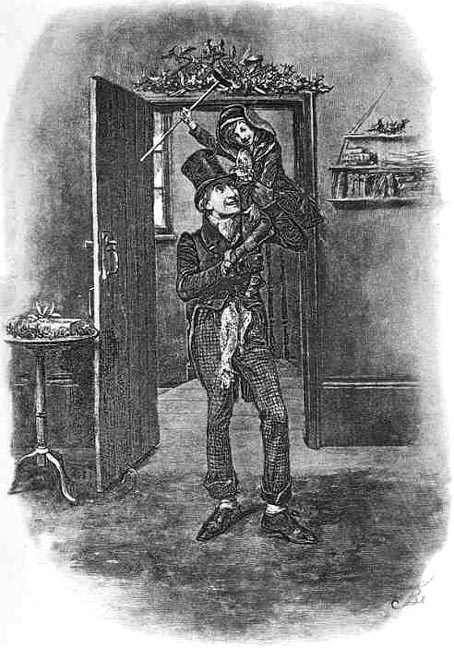 Left: Fred Barnard's realisation of the indirect narration in which Bob and Tim return home from church through crowds of well-wishers, He had been Tim's blood-horse all the way from church, the keynote for the 1878 anthology. Right: Fred Barnard's realisation of Bob's actual homecoming, Bob Cratchit and Tiny Tim. [Click on images to enlarge them.]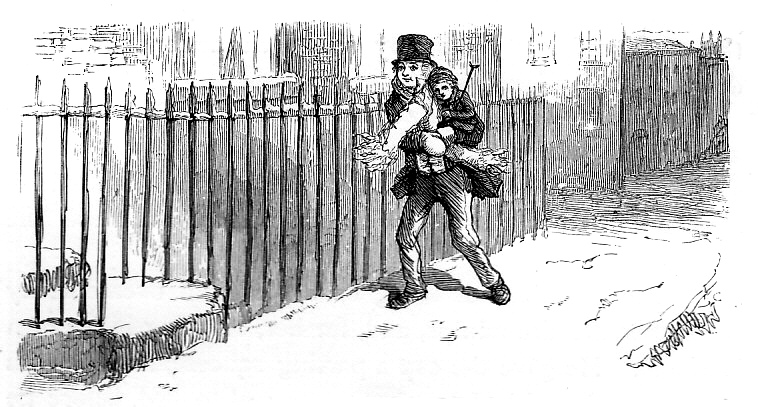 Above: Sol Eytinge, Junior's 1868 wood-engraving of Bob Cratchit and his son walking past a churchyard, Tiny Tim's Ride, vignette for Stave 3. The Second of the Three Spirits. [Click on the image to enlarge it.]
References
Barnard, Fred. "Bob Cratchit and Tiny Tim." Photogravure. Character Sketches of Romance, Fiction, and the Drama. Vol 4. New York: Selmar, 1892.
Barnard, Fred. "Bob Cratchit and Tiny Tim." A Series of Character Sketches from Dickens. London & New York : Cassell, 1885.
Davis, Paul. The Lives and Times of Ebenezer Scrooge. New Haven: Yale UP, 1990.
Dickens, Charles. Christmas Books. Illustrated by Sol Eytinge, Jr. The Diamond Edition. Boston: Ticknor and Fields, 1867.
____. Christmas Books. Illustrated by Fred Barnard. Household Edition. London: Chapman and Hall, 1878.
____. Christmas Books. Illustrated by A. A. Dixon. London & Glasgow: Collins' Clear-Type Press, 1906.
____. Christmas Books. Illustrated by Harry Furniss. The Charles Dickens Library Edition. London: Educational Book, 1910.
____. A Christmas Carol in Prose, Being a Ghost Story of Christmas. Illustrated by John Leech. London: Chapman and Hall, 1843.
____. A Christmas Carol in Prose: Being a Ghost Story of Christmas. Illustrated by Sol Eytinge, Jr. Boston: Ticknor & Fields, 1868.
____. A Christmas Carol in Prose, Being A Ghost Story of Christmas. Illustrated by John Leech. (1843). Rpt. in Charles Dickens's Christmas Books, ed. Michael Slater. Harmondsworth: Penguin, 1971, rpt. 1978.
____. A Christmas Carol. Illustrated by Charles Green, R. I. London: A & F Pears, 1912.
____. A Christmas Carol. Illustrated by Arthur Rackham. London: William Heinemann, 1915.
____. Christmas Stories. Illustrated by E. A. Abbey. The Household Edition. New York: Harper and Brothers, 1876.
"Edward Stirling." Actors by Daylight; or, Pencillings in the Pit. London: April-December 1838.
Stirling, Edward. Old Drury Lane: Fifty Years' Recollections, or Author, Actor, and Manager. London: Chatto and Windus, 1881.
---

Victorian
Web

Illustration

Charles
Green

A Christmas
Carol

Next
Created 26​August 2015