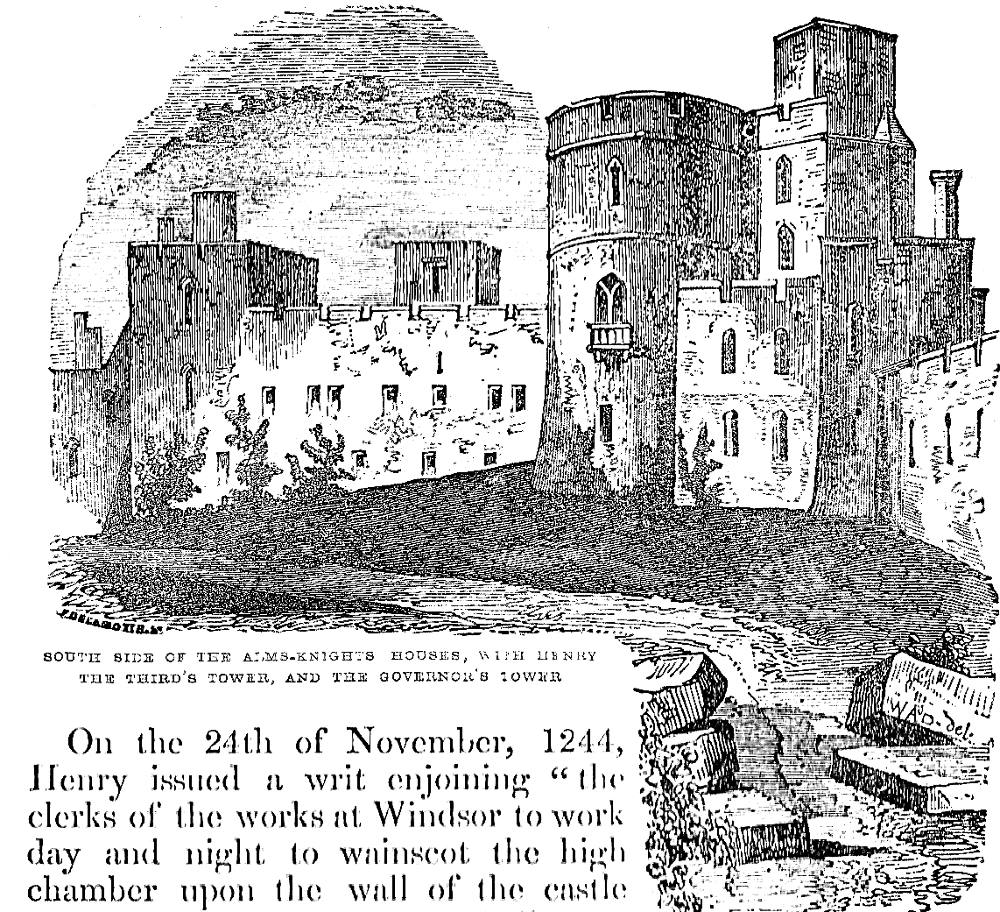 South Side of the Alms-Knights' Houses, with Henry 'the Third's tower, and the Governor's Tower within Windsor Castle, based on a sketch made by​ Sandhurst Military Academy drawing-master W. Alfred Delamotte​ for the tenth instalment of W. Harrison Ainsworth's Windsor Castle. An Historical Romance for the May 1843 (tenth) number of Ainsworth's Magazine. Book the Third, "The History of the Castle," Chapter II, "Comprising the First Two Epochs in the History of Windsor Castle," p. 140:​ 8.8 cm high by 9.3 cm wide, vignetted. [Click on the image to enlarge it.]
Scanned image and text by Philip V. Allingham. [You may use this image without prior permission for any scholarly or educational purpose as long as you (1) credit the person who scanned the image and (2) link your document to this URL in a web document or cite the Victorian Web in a print one.]
Description of the work executed in Reign of Henry the Third
In 1241 Henry commenced operations upon the outworks of the castle, and the three towers on the western side of the lower ward — now known as the Curfew, the Garter, and the Salisbury Towers — were erected by him. He also continued the walls along the south side of the lower ward, traces of the architecture of the period being discoverable in the inner walls of the houses of the alms-knights as far as the tower now bearing his name. From thence it is concluded that the ramparts ran along the east side of the upper ward to a tower occupying the site of the Wykeham or Winchester Tower.
The three towers at the west end of the lower ward, though much dilapidated, present unquestionable features of the architecture of the thirteenth century. The lower storey of the Curfew Tower, which has been but little altered, consists of a large vaulted chamber, twenty-two feet wide, with walls of nearly thirteen feet in thickness, and having arched recesses terminated by loopholes. The walls are covered with the inscriptions of prisoners who have been confined within it. The Garter Tower, though in a most ruinous condition, exhibits high architectural beauty in its moulded arches and corbelled passages. The Salisbury Tower retains only externally, and on the side towards the town, its original aspect. The remains of a fourth tower are discernible in the Governor of the Alms-Knights' Tower; and Henry the Third's Tower, as before observed, completes what remains of the original chain of fortifications. [Book the Third, "The History of the Castle," Chapter II, "Comprising the First Two Epochs in the History of Windsor Castle," pp. 139-140.]
Commentary
Although the wood-engraving appears well into the novel, in the non-fiction antiquarian section on the history of Windsor Castle, Delamotte in all likelihood made the sketch upon which it is based in the summer of 1842. Thus, it is not technically an "illustration" since it is unlikely that Delamotte had read what would turn out to be the accompanying text when he visited the castle.
Other Views and Related Material on Windsor Castle
References
Ainsworth, William Harrison. Windsor Castle. An Historical Romance. Illustrated by George Cruikshank and Tony Johannot. With designs on wood by W. Alfred Delamotte. London: Routledge, 1880. Based on the Henry Colburn edition of 1844.
Patten, Robert L. Chapter 30, "The 'Hoc' Goes Down." George Cruikshank's Life, Times, and Art, vol. 2: 1835-1878. Rutgers, NJ: Rutgers U. P., 1991; London: The Lutterworth Press, 1996. Pp. 153-186.
Worth, George J. William Harrison Ainsworth. New York: Twayne, 1972.
---
Last modified 27 December 2017