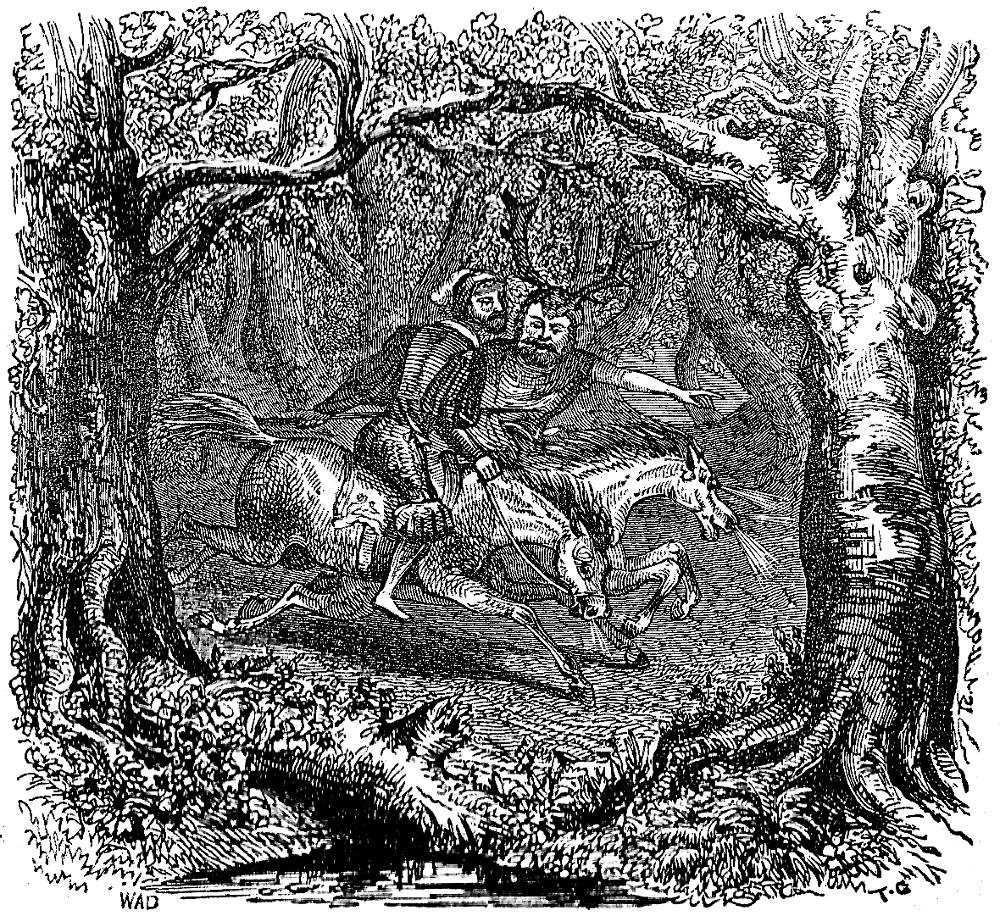 The Wild Huntsmen, the sketch-artist's conception of the forester Morgan Fenwolf and the spirit of Herne the Hunter for the third serial instalment of Windsor Castle. An Historical Romance (September 1842) in Ainsworth's Magazine, "Of the Ghostly Chase beheld by the Earl of Surrey and the Duke of Richmond in Windsor Forest," tailpiece on p. 48:​ 8.9 cm high by 9.5 cm wide, roughly framed. The Delamotte interpretation of the demon-hunter lacks the naturalness of Cruikshank's steel-engraving of the supernatural scene in which Herne and his horse disappear together into the lake. [Click on the image to enlarge it.]
Scanned image and text by Philip V. Allingham. [You may use this image without prior permission for any scholarly or educational purpose as long as you (1) credit the person who scanned the image and (2) link your document to this URL in a web document or cite the Victorian Web in a print one.]
Passage Illustrated
Suddenly the demon hunter waved a pike with which he was armed, and​ uttered a peculiar cry, resembling the hooting of an owl. At this sound,​and as if by magic, a couple of steeds, accompanied by the two hounds,​started from the brake. In an instant the demon huntsman vaulted upon​ the back of the horse nearest to him, and the keeper [Morgan Fenwolf] almost as quickly mounted the other. The pair then galloped off through the glen, the owl flying before them, and the hounds coursing by their side.
The two friends gazed at each other, for some time, in speechless​ wonder. Taking heart, they then descended to the haunted tree, but could​perceive no traces of the strange being by whom it had been recently tenanted. After a while they retraced their course towards the castle, hoping they might once more encounter the wild huntsman. Nor were they disappointed. As they crossed a glen, a noble stag darted by. Close at its heels came the two black hounds, and after them the riders hurrying forward at a furious pace, their steeds appearing to breathe forth flame and smoke.
In an instant the huntsmen and hounds were gone, and the trampling of​the horses died away in the distance.​ [Chapter​ V. "Of the Ghostly Chase beheld by the Earl of Surrey and the Duke of Richmond in Windsor Forest," pp. 47-48]
Commentary
The motif of the oak, so frequently associated with Herne the Hunter in this novel, here implies Mabel Lyndwood's having been raised by the local forester. As a recurring motif it also connects Mabel to the other forester, Morgan Fenwolf, who becomes a confederate of Herne before turning against him. In this chapter, the old family friend, the falconer Nicholas Clamp, conducts Mabel through the forest to the kitchen of Windsor Castle, where encounters such characters as Shoreditch, the jester Will Somers, and Patch, Cardinal Wolsey's fool — a scene which Cruikshank ably presents in the same number.
George Cruikshank's Complementary Steel-engraving
Above: Cruikshank's dramatic realisation of the supernatural episode that culminates the various scenes in which the pursuit of Herne is the theme, Herne the Hunter Plunging into the Lake (December 1842). [Click on image to enlarge it.]
References
Ainsworth, William Harrison. Windsor Castle. An Historical Romance. Illustrated by George Cruikshank and Tony Johannot. With designs on wood by W. Alfred Delamotte. London: Routledge, 1880. Based on the Henry Colburn edition of 1844.
Patten, Robert L. Chapter 30, "The 'Hoc' Goes Down." George Cruikshank's Life, Times, and Art, vol. 2: 1835-1878. Rutgers, NJ: Rutgers U. P., 1991; London: The Lutterworth Press, 1996. Pp. 153-186.
Worth, George J. William Harrison Ainsworth. New York: Twayne, 1972.
---
Last modified 15 December 2017