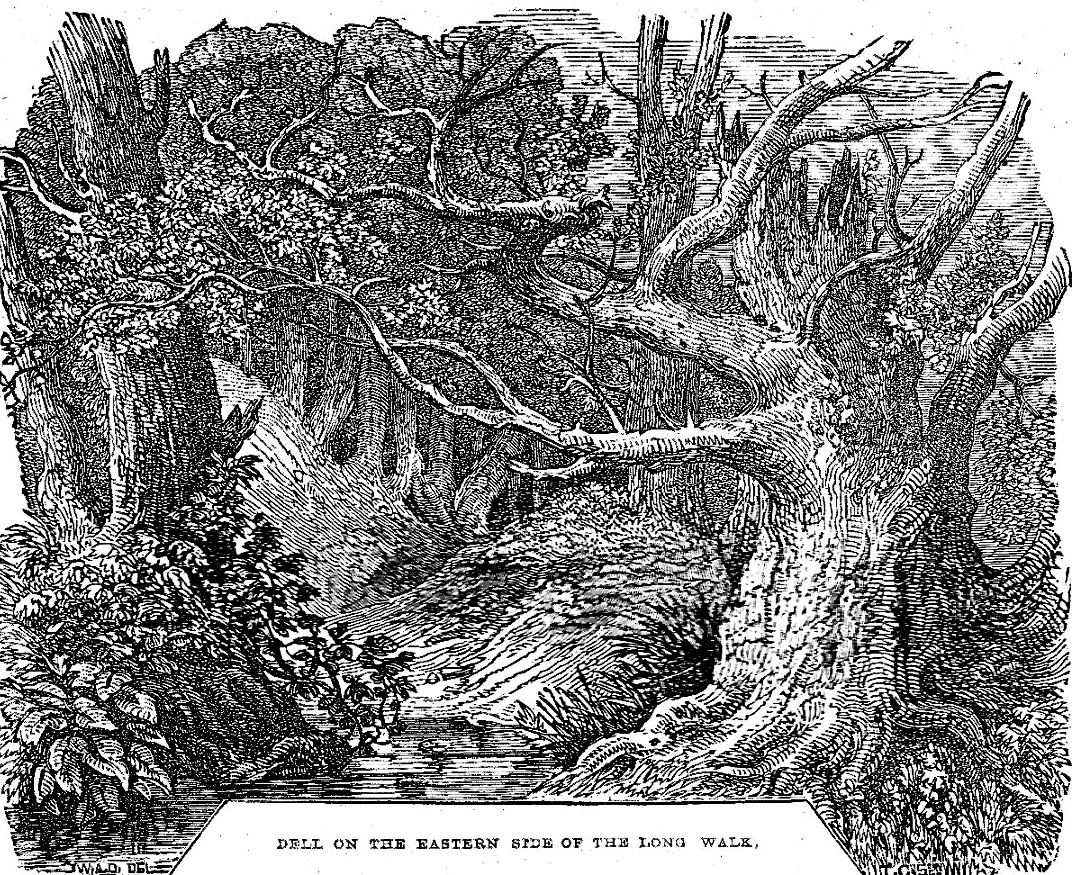 Dell on the Eastern Side of the Long Walk, based on a sketch made by​ Sandhurst Military Academy drawing-master W. Alfred Delamotte​ for the third instalment of Windsor Castle. An Historical Romance for September 1842 in Ainsworth's Magazine, which Ainsworth had founded after he had quarrelled with the publisher and left his editorial post at Bentley's Miscellany. "Book the First: Anne Boleyn," Chapter V, "Of the Ghostly Chase beheld by the Earl of Surrey and the Duke of Richmond in Windsor Forest," top of p. 41:​ height 7.8 cm width 9.8 cm, framed. [Click on the image to enlarge it.]
Scanned image and text by Philip V. Allingham. [You may use this image without prior permission for any scholarly or educational purpose as long as you (1) credit the person who scanned the image and (2) link your document to this URL in a web document or cite the Victorian Web in a print one.]
Passage Complemented
In this way both parties went on, the keeper still hurrying forward, every now and then turning his head to see whether any one was on his track, until he came to a road cut through the trees that brought him to the edge of a descent leading to the lake. Just at this moment a cloud passed over the moon, burying all in comparative obscurity. The watchers, however, could perceive the keeper approach an ancient beech-tree of enormous growth, and strike it thrice with the short hunting-spear which he held in his grasp.
The signal remaining unanswered, he quitted the tree, and shaped his​course along the side of a hill on the right. Keeping under the shelter of the thicket on the top of the same hill, Surrey and Richmond followed, and saw him direct his steps towards another beech-tree of almost double the girth of that he had just visited. Arrived at this mighty tree, he struck it with his spear, while a large owl, seated on a leafless branch, began to hoot; a bat circled the tree; and two large snakes, glistening in the moonlight, glided from its roots. As the tree was stricken for the third time, the same weird figure that the watchers had seen ride along the Home Park burst from its riften trunk, and addressed its summoner in tones apparently menacing and imperious, but whose import was lost upon the listeners. The curiosity of the beholders was roused to the highest pitch, but an undefinable awe prevented them from rushing forward. [Chapter V. "Of the Ghostly Chase beheld by the Earl of Surrey and the Duke of Richmond in Windsor Forest,"​p. 41]
​
References
Ainsworth, William Harrison. Windsor Castle. An Historical Romance. Illustrated by George Cruikshank and Tony Johannot. With designs on wood by W. Alfred Delamotte. London: Routledge, 1880. Based on the Henry Colburn edition of 1844.
Patten, Robert L. Chapter 30, "The 'Hoc' Goes Down." George Cruikshank's Life, Times, and Art, vol. 2: 1835-1878. Rutgers, NJ: Rutgers U. P., 1991; London: The Lutterworth Press, 1996. Pp. 153-186.
Worth, George J. William Harrison Ainsworth. New York: Twayne, 1972.
---
Last modified 9 December 2017