When an ugly old man — Ch. 13
Felix O. C. Darley
1867
9.3 x 8.8 cm vignetted
Photogravure
Dickens's David Copperfield, Household Edition, vol. 1 frontispiece.
Frontispiece for , volume 1, in the Hurd and Houghton (New York) Household Edition (1867).
Scanned image and text by Philip V. Allingham from his personal collection.
[You may use these images without prior permission for any scholarly or educational purpose as long as you (1) credit the photographer and (2) link your document to this URL in a web document or cite the Victorian Web in a print one.]
Passage Illustrated
At last I found one that I thought looked promising, at the corner of a dirty lane, ending in an enclosure full of stinging–nettles, against the palings of which some second-hand sailors' clothes, that seemed to have overflowed the shop, were fluttering among some cots, and rusty guns, and oilskin hats, and certain trays full of so many old rusty keys of so many sizes that they seemed various enough to open all the doors in the world.
Into this shop, which was low and small, and which was darkened rather than lighted by a little window, overhung with clothes, and was descended into by some steps, I went with a palpitating heart; which was not relieved when an ugly old man, with the lower part of his face all covered with a stubbly grey beard, rushed out of a dirty den behind it, and seized me by the hair of my head. He was a dreadful old man to look at, in a filthy flannel waistcoat, and smelling terribly of rum. His bedstead, covered with a tumbled and ragged piece of patchwork, was in the den he had come from, where another little window showed a prospect of more stinging-nettles, and a lame donkey.
"Oh, what do you want?" grinned this old man, in a fierce, monotonous whine. "Oh, my eyes and limbs, what do you want? Oh, my lungs and liver, what do you want? Oh, goroo, goroo!"
I was so much dismayed by these words, and particularly by the repetition of the last unknown one, which was a kind of rattle in his throat, that I could make no answer; hereupon the old man, still holding me by the hair, repeated:
"Oh, what do you want? Oh, my eyes and limbs, what do you want? Oh, my lungs and liver, what do you want? Oh, goroo!" — which he screwed out of himself, with an energy that made his eyes start in his head.
"I wanted to know," I said, trembling, "if you would buy a jacket."
"Oh, let's see the jacket!" cried the old man. "Oh, my heart on fire, show the jacket to us! Oh, my eyes and limbs, bring the jacket out!"
With that he took his trembling hands, which were like the claws of a great bird, out of my hair; and put on a pair of spectacles, not at all ornamental to his inflamed eyes.
"Oh, how much for the jacket?" cried the old man, after examining it. "Oh — goroo! — how much for the jacket?"
"Half-a-crown," I answered, recovering myself.
"Oh, my lungs and liver," cried the old man, "no! Oh, my eyes, no! Oh, my limbs, no! Eighteenpence. Goroo!"
Every time he uttered this ejaculation, his eyes seemed to be in danger of starting out; and every sentence he spoke, he delivered in a sort of tune, always exactly the same, and more like a gust of wind, which begins low, mounts up high, and falls again, than any other comparison I can find for it.
"Well," said I, glad to have closed the bargain, "I'll take eighteenpence." — Household Edition, Chapter 13, "The Sequel of my Resolution," vol. 1, pages 265-267.
Commentary
Determined to escape the squalor of London and the servitude of the wine-bottling warehouse — the equivalent of the blacking factory from the author's own childhood — in Chapter 13 David resolves to take the high road to Dover and take the gamble of throwing himself upon the mercy of his aunt, Betsey Trotwood, in Dover — a considerable distance for a pedestrian with no resources, let alone a child. At ten in the evening on the Kent Road, with the model of Micawber's practice in mind David decides to pawn his "weskit" at the second-hand clothing shop of Mr. Dolloby. The following day he attempts a similar transaction at an even more dismal and filthy shop in Rochester, the scene illustrated by Darley in his initial frontispiece for the novel in the four-volume set.
Although the monthly illustration by Hablot Knight Browne in the May 1849-November 1850 part-publication offered Darley, working throughout the 1860s in America, plenty of models for young David, the "Goroo Man," the used clothing dealer in Part 5 (September 1849), does not appear in the pair of monthly illustrations. Although Sol Eytinge, Jr. in The Diamond Edition (1867) and Fred Barnard in Household Edition have created images relevant to a discussion of the early visual history of the novel, Darley would have had access to neither narrative-pictorial sequence, both of which include this terrifying incident. Consequently, we may regard this frontispiece as a Darley original.
Darley, lacking precedent for an illustration of this incident, should have consulted the original serial illustrations for images of David as a child, particularly the September 1849 steel-engraving I make myself known to my Aunt (May 1847) — which clearly shows David's ragged condition, although (as a scion of the bourgeoisie) he has retained his hat, battered though it may be. However, David in the Darley illustration is simply too well dressed, although perhaps it was his intention to contrast the well-dressed child with the ill-kempt, ragged second-hand clothing vendor.
In the same year that Darley executed this frontispiece, his colleague at Ticknor & Fields in Boston, Sol Eytinge, Jr., was working on a short series of illustrations for The Personal History of David Copperfield as part of the mammoth task of illustrating single-handedly the entire Diamond Edition. The small-scale wood-engravings are hastily executed and tend to focus on a pair of associated characters, but some of them are effective in capturing Rodinesque poses and textual moments. David's Bargain is the only illustration in Eytinge's series that depicts David, a middle class child reduced to the status of beggar and vagrant by the callous disregard of his stepfather. The ogre, representative of all the repressive adult figures of David's childhood, is already holding the boy's jacket, so that the threat he poses David is imminent. Eytinge has captured well the claw-like hands, the gigantic, bearded head, the ragged flannel waistcoat, all seeming so large when compared to the tiny jacket that he holds in his upstage (left) hand as he prances up and down, like some trained ape as the supplicating boy holds out a hat, as if soliciting change from a passerby; the realistic figure in the Darley illustration is far less menacing, so that the illustrator must communicate the underlying terror of the recollected moment through David's posture and expression.
Whereas Barnard in the 1872 Household Edition wood-engraving "Oh, my lungs and liver, will you go for threepence?" effectively depicts the "Garoo-Man" as a demented, old wretch with a strangling beard, he does not capture the moment when the vendor grabs David, who in Barnard's illustration is sitting calmly on the doorstep to the shop, separated from the menacing figure by a dining-table cluttered with bric-a-brac; the kite and twine under the table are visual foreshadowing of David's meeting Mr. Dick. However, Darley shows nothing but items of used clothing in the shop, which is much tidier than Barnard's, and therefore less true to the letter-press.
The Relevant Illustrations of David from Early Editions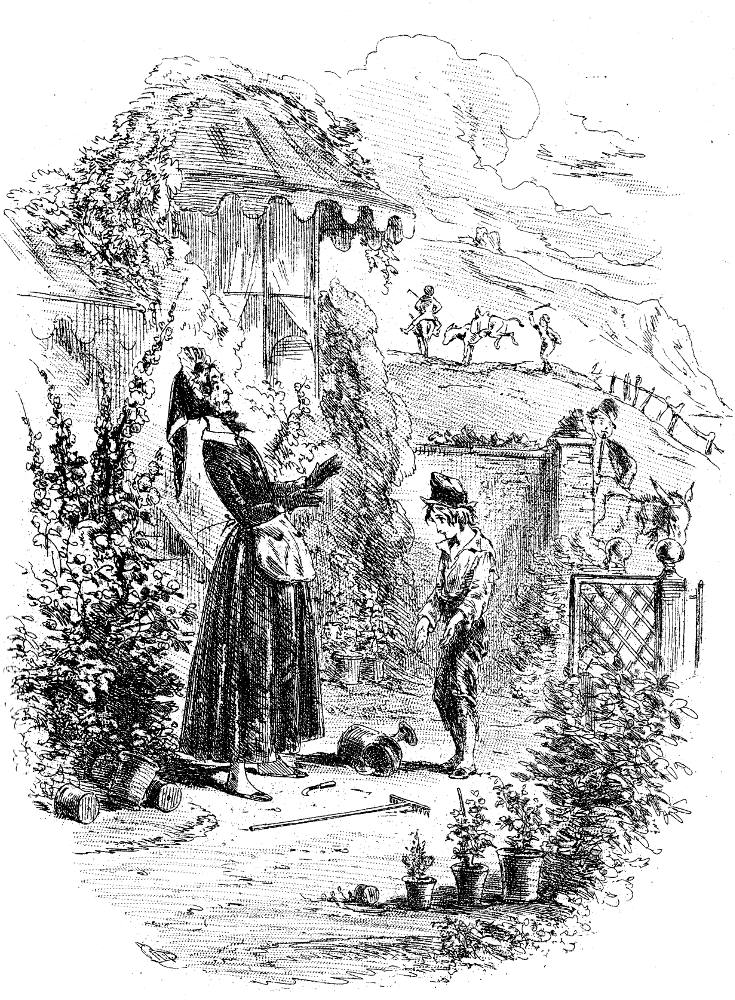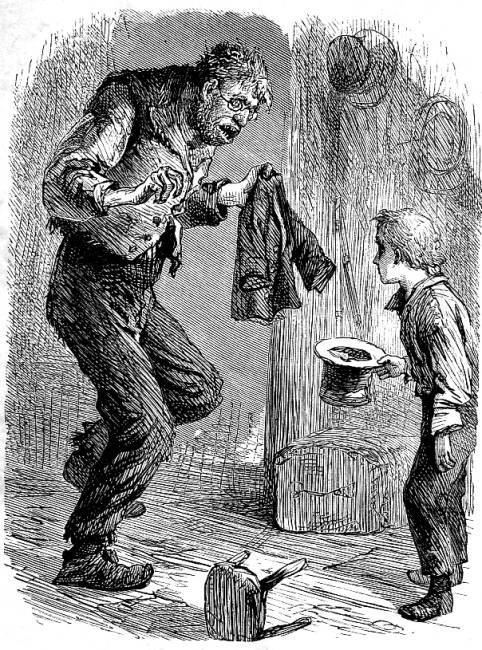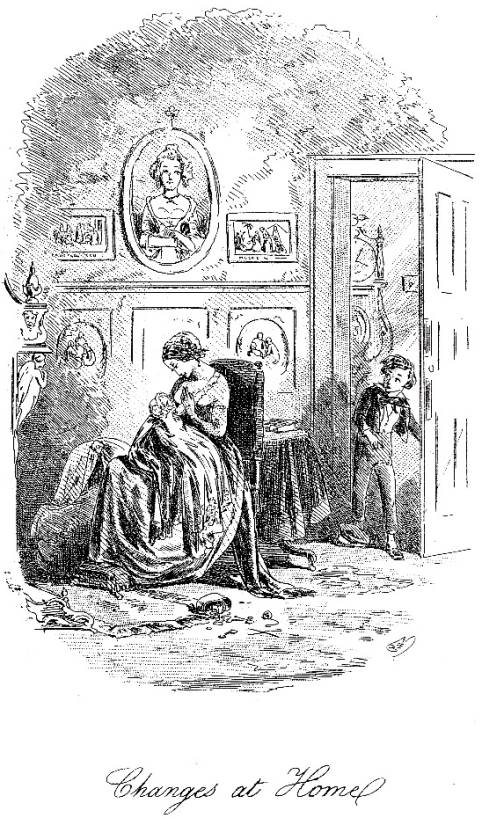 Left: ​Phiz's description of the culmination of David's six-day journey on the Kent Road, Sept. 1849: I make myself known to my Aunt. Centre: Eytinge's 1867 realisation of the ordeal in the second-hand clothing shop: David's Bargain. Right: Phiz's July 1849 description of David, his mother, and her newborn infant, Changes at Home. [Click on the images to enlarge them.]
Later illustrations of David and The Garoo Man influenced by Phiz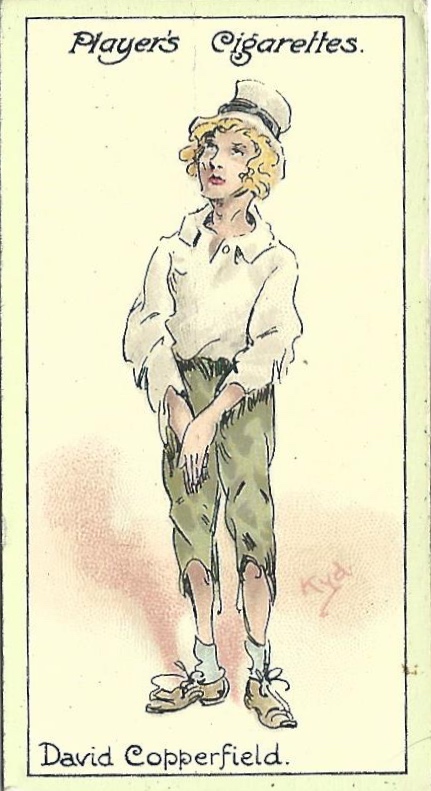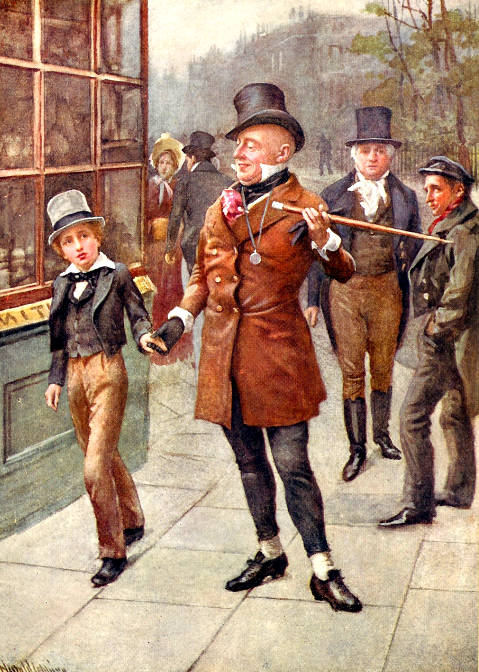 Left: Kyd's 1910 cigarette card no. 39 representing David in ragged clothes David Copperfield. Centre: Fred Barnard's title-page vignette, David at a milestone on the Kent Road (1872). Right: Harold Copping's 1924 coloured lithograph of the Mr. Micawber, initiating David into The Modern Babylon, Mr. Micawber Conducts David Home. [Click on the images to enlarge them.]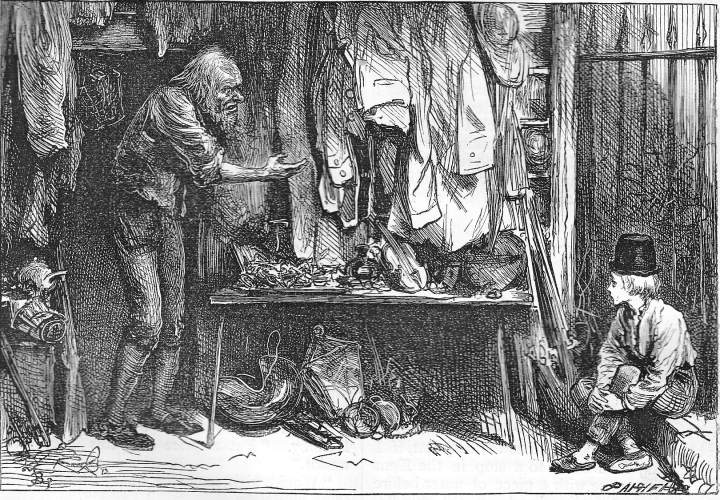 Above: Fred Barnard's 1872 ​engraving of the ​demented second-hand dealer and the terrified David, "Oh, my lungs and liver, will you go for threepence?" [Click on the image to enlarge it.]
References
Bentley, Nicolas, Michael Slater, and Nina Burgis. The Dickens Index. New York and Oxford: Oxford U. P., 1990.
The Characters of Charles Dickens pourtrayed in a series of original watercolours by "Kyd." London, Paris, and New York: Raphael Tuck & Sons, n. d.
Darley, Felix Octavius Carr. Character Sketches from Dickens. Philadelphia: Porter and Coates, 1888.
Davis, Paul. Charles Dickens A to Z: The Essential Reference to His Life and Work. New York: Facts On File, 1998.
Dickens, Charles. David Copperfield. Illustrated by F. O. C. Darley and John Gilbert. The Works of Charles Dickens. 55 vols. The Household Edition. New York: Hurd and Houghton, 1867. Vol. 1.
Dickens, Charles. The Personal History of David Copperfield. Illustrated by Fred Barnard [61 composite wood-block engravings]. The Works of Charles Dickens. The Household Edition. London: Chapman and Hall, 1872.
Hammerton, J. A. "Chapter 17: David Copperfield." The Dickens Picture-Book. The Charles Dickens Library Edition. London: Educational Book, 1910. Vol. 17. Pp. 339-366.
Kyd [Clayton J. Clarke]. Characters from Dickens. Nottingham: John Player & Sons, 1910.
Matz, B. W., and Kate Perugini; illustrated by Harold Copping. Character Sketches from Dickens. London: Raphael Tuck, 1924. Copy in the Paterson Library, Lakehead University.
Vann, J. Don. Victorian Novels in Serial. New York: Modern Language Association, 1985.
---

Victorian
Web

Visual
Arts

Illustra-
tion

David
Copperfield

F. O. C.
Darley

Next
Last modified 4 November 2015