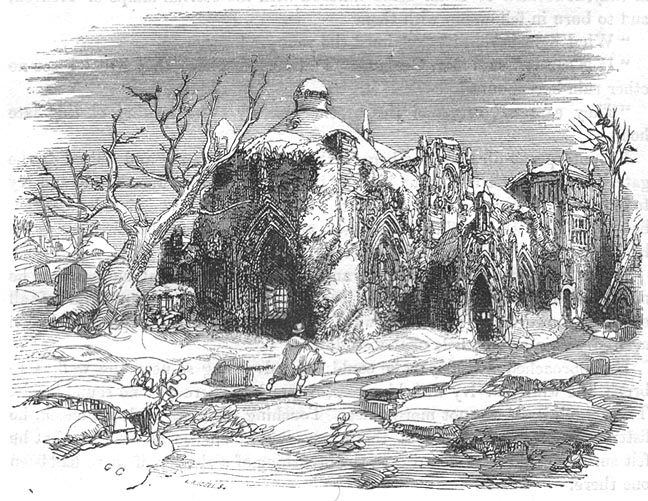 The Journey's End by George Cattermole. 3 ½ x 4 ½ inches. Wood-engraving. Tailpiece for Chapter 70, The Old Curiosity Shop, Part 38. 20 June 1841 in serial publication (seventy-second plate in the series). The picture ilustrates "Kit darted off, the birdcage in his hand, towards the spot where the light was shining in the parsonage" (fifty-fifth plate in the series) in Master Humphrey's Clock, Part 41, Vol. 2, 204.
Passage Illustrated
Kit interposed directly, and begged that, while they rang and waited at the gate, they would let him make his way to where this light was shining, and try to ascertain if any people were about. Obtaining the permission he desired, he darted off with breathless eagerness, and, still carrying the birdcage in his hand, made straight towards the spot.
It was not easy to hold that pace among the graves, and at another time he might have gone more slowly, or round by the path. Unmindful of all obstacles, however, he pressed forward without slackening his speed, and soon arrived within a few yards of the window. He approached as softly as he could, and advancing so near the wall as to brush the whitened ivy with his dress, listened. There was no sound inside. The church itself was not more quiet. Touching the glass with his cheek, he listened again. No. And yet there was such a silence all around, that he felt sure he could have heard even the breathing of a sleeper, if there had been one there. [Chapter LXX, 203]
Related Resources
Scanned image by George P. Landow; colour correction, sizing, caption, and commentary by Philip V. Allingham. [You may use this image without prior permission for any scholarly or educational purpose, as long as you (1) credit the person who scanned the image, and (2) link your document to this URL in a web document or cite the Victorian Web in a print one.] Click on the image to enlarge it.
Bibliography
Dickens, Charles. The Old Curiosity Shop in Master Humphrey's Clock. 3 vols. London: Chapman and Hall, 1840.
_____. The Old Curiosity Shop. Illustrated by Charles Green. The Household Edition. London: Chapman and Hall, 1876. XII.
---
Created 4 January 2006

17 July9 June 2020