Uncaptioned Tailpiece: Caleb and Tilly dancing.
Charles Edmund Brock
1905
5.3 x 4.4​cm. vignetted
Dickens's The Cricket on the Hearth, final page.
Scanned image and text by Philip V. Allingham.
[You may use this image without prior permission for any scholarly or educational purpose as long as you (1) credit the person who scanned the image and (2) link your document to this URL in a web document or cite the Victorian Web in a print one.].
Passage Illustrated
There was a dance in the evening. With which general mention of that recreation, I should have left it alone, if I had not some reason to suppose that it was quite an original dance, and one of a most uncommon figure. It was formed in an odd way; in this way.
Edward, that sailor-fellow — a good free dashing sort of a fellow he was — had been telling them various marvels concerning parrots, and mines, and Mexicans, and gold dust, when all at once he took it in his head to jump up from his seat and propose a dance; for Bertha's harp was there, and she had such a hand upon it as you seldom hear. Dot (sly little piece of affectation when she chose) said her dancing days were over; I think because the Carrier was smoking his pipe, and she liked sitting by him, best. Mrs. Fielding had no choice, of course, but to say herdancing days were over, after that; and everybody said the same, except May; May was ready.
So, May and Edward get up, amid great applause, to dance alone; and Bertha plays her liveliest tune.
Well! if you'll believe me, they have not been dancing five minutes, when suddenly the Carrier flings his pipe away, takes Dot round the waist, dashes out into the room, and starts off with her, toe and heel, quite wonderfully. Tackleton no sooner sees this, than he skims across to Mrs. Fielding, takes her round the waist, and follows suit. Old Dot no sooner sees this, than up he is, all alive, whisks off Mrs. Dot in the middle of the dance, and is the foremost there. Caleb no sooner sees this, than he clutches Tilly Slowboy by both hands and goes off at score; Miss Slowboy, firm in the belief that diving hotly in among the other couples, and effecting any number of concussions with them, is your only principle of footing it. — Chapter Three, "Chirp the Third," p. 211-212.
Commentary
C. E. Brock, working in 1905, had few possible models from which to work for his program of illustration for The Cricket on the Hearth here because the story lacks the illustration history enjoyed by the first of The Christmas Books, A Christmas Carol (1843). Although Dickens's American illustrator, Sol Eytinge, Junior had provided a study of the carrier and his family in The Peerybingles, Brock's chief sources for visual antecedents for The Cricket on the Hearth were the original 1845 edition, illustrated by John Leech, Clarkson Stanfield, Richard Doyle, and Edwin Landseer, R. A. (1802-73), and the Household Edition volumes published by Chapman and Hall and Harper and Brothers in the 1870s. However, for this concluding tailpiece, analogous to Leech's uncaptioned thumbnail for A Christmas Carol, Scrooge and Bob Cratchit; or, The Christmas Bowl, Brock has again relied upon the precedent set by the 1845 edition in John Leech's The Dance, in which in the lower-right register Caleb in patched breeches and tailcoat is dancing with Tilly Slowboy, awkward as ever (integrated with the text on page 173). Brock has Caleb wearing a threadbare suit (that is, trousers, rather breeches, matching the tailcoat), and Tilly wearing a full-length pinafore rather than an apron, skirt, and blouse.
However, as with the rest of Brock's program, there is neither informing context or backdrop; rather, the reader must again consult the text to determine what is happening in the illustration. Although the two are holding hands as in the 1845 illustration, Brock has the couple advancing towards the viewer, and Tilly seems much more light of foot. Moreover, rather than looking at each other, they seem to be looking towards the blank space at the bottom of the page and therefore signalling the end of the story, its closing line being "and nothing else remains" (212). As is consistent with the Leech illustration, the figures are mere caricatures.
Concluding Illustrations from various editions, 1845-1910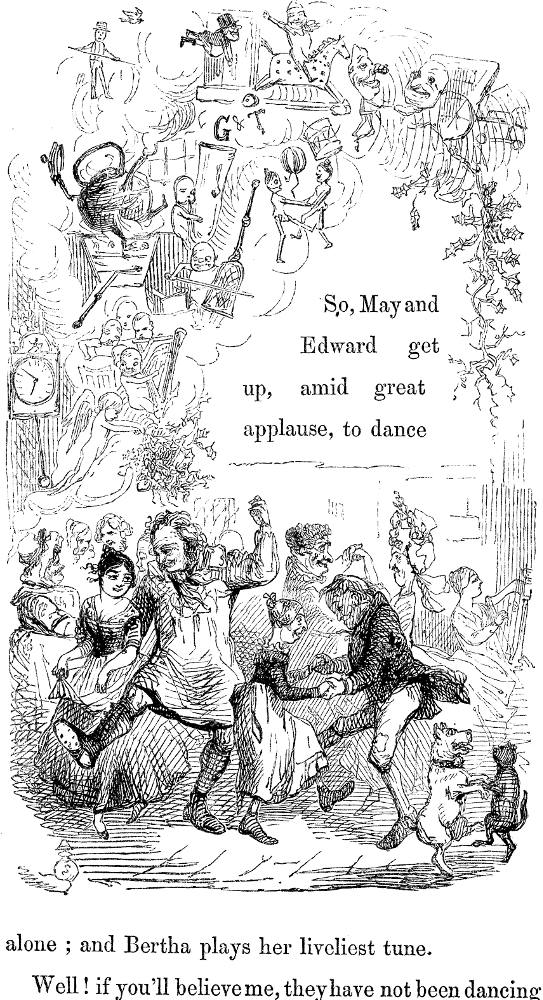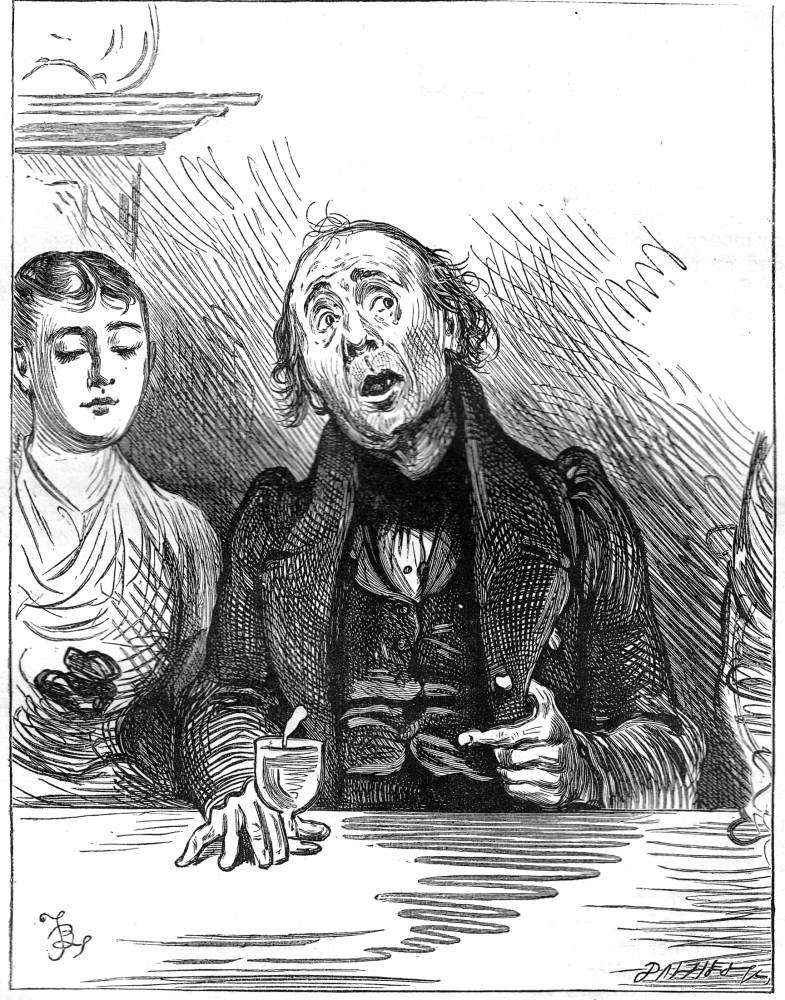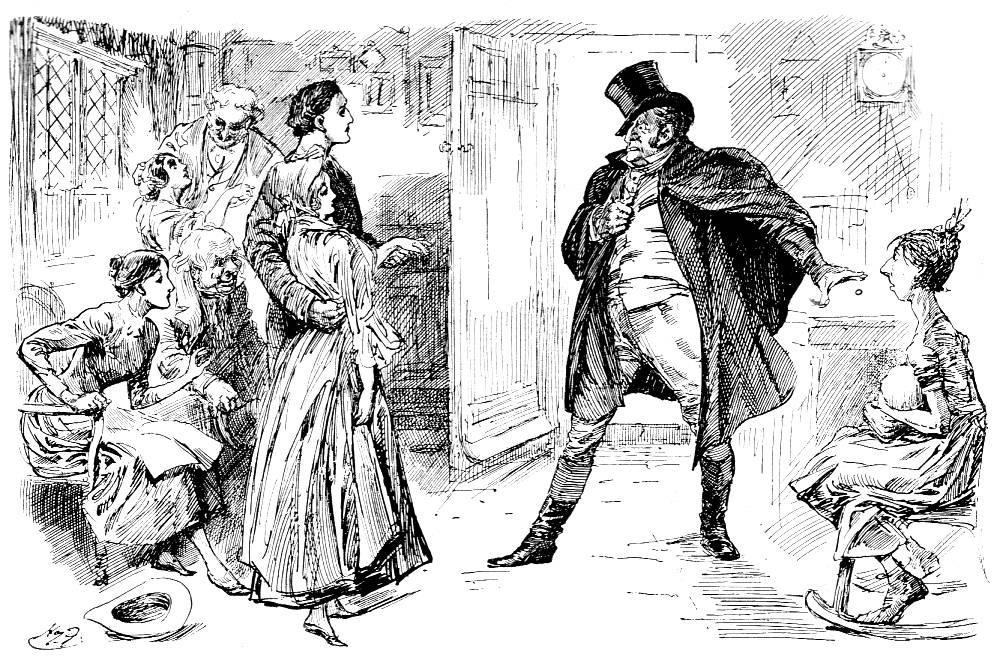 Left: John Leech's interpretation of the dance scene in the Peerybingles' parlour after the wedding, The Dancet (1845). Centre: Fred Barnard's interpretation of the concluding scene, "After dinner, Caleb sang the song about the Sparkling Bowl", in the 1878 illustration in the Household Edition. Right: Harry Furniss's theatrical interpretation of the finalé, Tackleton's Wedding Day!, in the 1912 illustration in the Charles Dickens Library Edition [Click on images to enlarge them.]
References
Dickens, Charles. Christmas Books. Illustrated by Fred Barnard. The Household Edition. London: Chapman and Hall, 1878.
___. Christmas Stories. Illustrated by E. A. Abbey. The Household Edition. New York: Harper and Brothers, 1876.
Dickens, Charles. Christmas Books, illustrated by Sol Eytinge, Jr. The Diamond Edition. Boston: Ticknor and Fields, 1867.
___. Christmas Books, illustrated by Fred Barnard. Household Edition. London: Chapman and Hall, 1878.
___. Christmas Books, illustrated by A. A. Dixon. London & Glasgow: Collins' Clear-Type Press, 1906.
___. Christmas Books, illustrated by Harry Furniss. The Charles Dickens Library Edition. London: Educational Book, 1910.
___. A Christmas Carol and The Cricket on the Hearth, illustrated by C. E. [Charles Edmund] Brock. London: J. M. Dent, 1905; New York: Dutton, rpt., 1963.
___. Christmas Stories, illustrated by E. A. Abbey. The Household Edition. New York: Harper and Brothers, 1876.
Dickens, Charles. The Cricket on the Hearth: A Fairy Tale of Home. Illustrated by John Leech, Daniel Maclise, Richard Doyle, Clarkson Stanfield, and Edwin Landseer. London: Bradbury and Evans, 1845.
---

Victorian
Web

Illustr-
ation

E. C.
Brock

The Cricket
on the
Hearth

Next
Last modified 19 October 2015