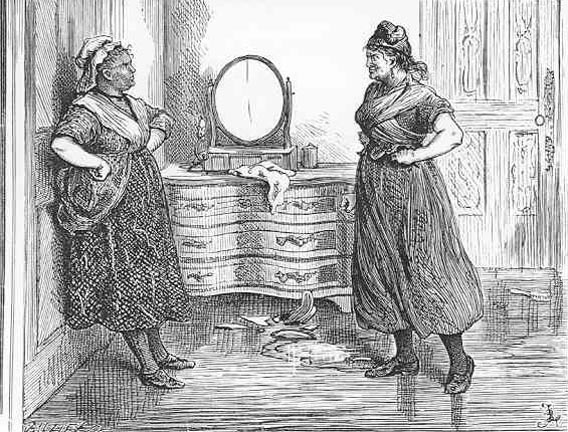 "'You might, from your appearance, be the wife of Lucifer,' said Miss Pross, 'in her breathing. 'Nevertheless, you shall not get the better of me. I am an Englishwoman.'" (p. 169) by Fred Barnard. 1870s. 10.7 x 13.8 cm. (framed). Amidst signs of hurried packing Madame Defarge confronts Miss Pross in Lucie's rooms, as yet unaware that the English party have already passed the barrier, in Dickens's A Tale of Two Cities, Book 3, chap. xiv, "The Knitting Done," originally in the thirty-first weekly part (26 November 1859) in All the Year Round, as well as in the December 1859 illustrated monthly number. [You may use this image without prior permission for any scholarly or educational purpose as long as you (1) credit the person who scanned the image and (2) link your document to this URL in a web document or cite the Victorian Web in a print one.]
Commentary: When Continents of Experience Collide.
Madame Defarge looked coldly at her, and she said, "the wife of Evrémonde; where is she?"
It flashed upon Miss Pross's mind that the doors were all standing open, and would suggest the flight. Her first act was to shut them all. She then placed herself before the door of the chamber which Lucie had occupied. [171]
Thus, Barnard pits against one another two equally matched viragoes, burly, indomitable, and determined. Whereas Dickens describes Madame Defarge as wearing a robe as she makes her way through the streets, Barnard has given pantaloons of the Emilia Bloomer variety, thereby intensifying her masculine character. Though slighter and more anxious by nature, Miss Pross as Dickens describes her is formidable in a very different way:
Miss Pross had nothing beautiful about her; years had not tamed the wildness, or softened the grimness, of her appearance; but she, too, was a determined woman in her different way, and she measured Madame Defarge with her eyes, every inch. [171]
John McLenan in the series for the American serialisation published in Harper's Weekly chose to focus on the moment in which, the hidden pistol having been discharged, the French woman lies died at the feet of the English woman in "Like the soul of the furious woman whose body lay lifeless on the ground" in the second illustration for 26 November 1859 (765). McLenan's Madame Defarge, a young woman with a beautiful face, lies dead, her pistol still in her grip as a cloud of exploded gunpowder fills the room and the aged, formally dressed Miss Pross holds her hand to her head in token of her sudden deafness. The picture and barley cane-twist chair in the background connect this scene with that in which Doctor Manette returned from his fruitless quest to have his son-in-law released after the trial (the headnote to the November 12th instalment).
In David O. Selznick's epic 1935 film adaptation, starring Ronald Coleman as Sydney Carton, Edna May Oliver's jingoistic tag line "I am an English woman" sets a triumphant note, and signals her emerging victorious in her wrestling match with the physically powerful, demonically-empowered Terese Defarge, played with sinister zest by an American actress of Bohemian descent, Blanche Yurka. Throughout this stunning cinematic adaptation, Yurka's Madame Defarge has been more than a match for the evil Marquis St. Evrémonde (Basil Rathbone), but falls, a victim of her own hubris, to the redoubtable English woman (Oliver) in one of those rare moments in cinema that brings down the house. Both Barnard and McLenan realised the emotional impact of the confrontation of these continents of experience, and the palpable triumph of love over hate that the outcome of their struggle for the pistol underscores.
References
Bolton, H. Philip. Dickens Dramatized. Boston: G. K. Hall, 1987.
Darley, Felix Octavius Carr. The Grindstone. Charles Dickens's A Tale of Two Cities. Vol. 2 frontispiece. New York: Sheldon & Co., 1863.
Davis, Paul. Charles Dickens A to Z: The Essential Reference to His Life and Work. New York: Checkmark and Facts On File, 1998.
Dickens, Charles. A Tale of Two Cities. Illustrated by Phiz. London: Chapman & Hall, 1859.
Dickens, Charles. A Tale of Two Cities. Illustrated by Sol Eytinge, Jr. The Diamond Edition. Boston: Ticknor & Fields, 1867.
Dickens, Charles. A Tale of Two Cities. Illustrated by Fred Barnard. The Household Edition. London: Chapman & Hall, 1874.
Dickens, Charles. A Tale of Two Cities. Illustrated by John McLenan. Harper's Weekly. (26 November 1859): 765.
Vann, J. Don. Victorian Novels in Serial. New York: Modern Language Association, 1985.
---
Last modified 16 August 2016