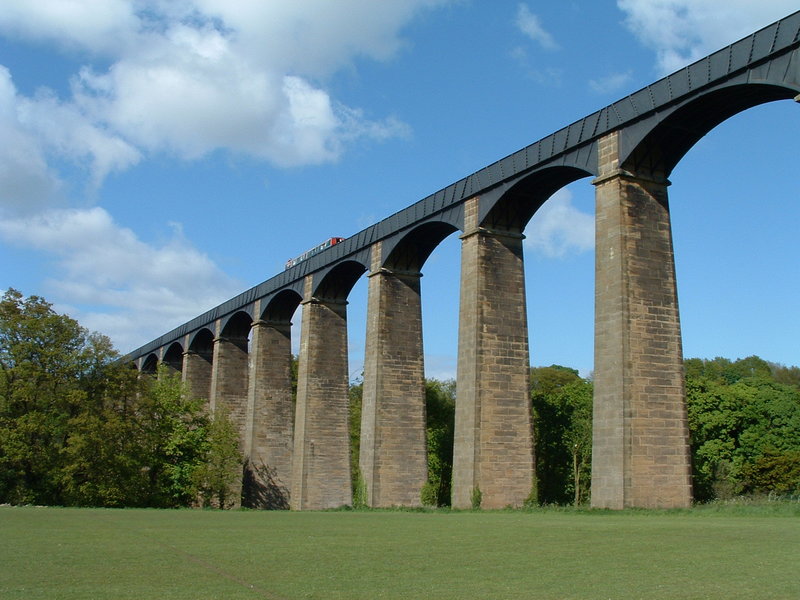 Pontcysyllte Aqueduct by Thomas Telford and William Jessop. 1795-1805. Photograph by Akke Monasso. [This image is licensed under the Creative Commons Attribution ShareAlike License v. 2.0. Click on the image to enlarge it.]
"Of all the stupendous engineering structures produced by the Industrial Revolution," Hugh Pearman claims, "the Pontcysyllte is one of the most extraordinary: a ribbon of water in the sky. A narrow cast-iron water-filled trough, over 1,000 feet long, strides out across a steep-sided Welsh valley on a series of slender stone piers." According to the UK Heritage Trail site, the aqueduct
takes its name from a triple arched bridge a little further up the river and, literally translated, means 'the bridge that connects the river'. The canal is fed from the River Dee and the fall of the canal from its source is one inch (25mm) per mile.
The aqueduct is built on one strata of rock, each pier being constructed of local stone and rising to a height of 116ft (35m). The support piers are tapered, measuring 27ft (8m) in width at the bottom and 17ft (5m) at the top. 19 cast iron arches, each with a 45ft (13.6m) span support the bridgework. Mortar used in the construction comprised of lime, water and Oxen blood. The iron castings were produced at the Plaskynaston Foundry and each casting dovetails into the next.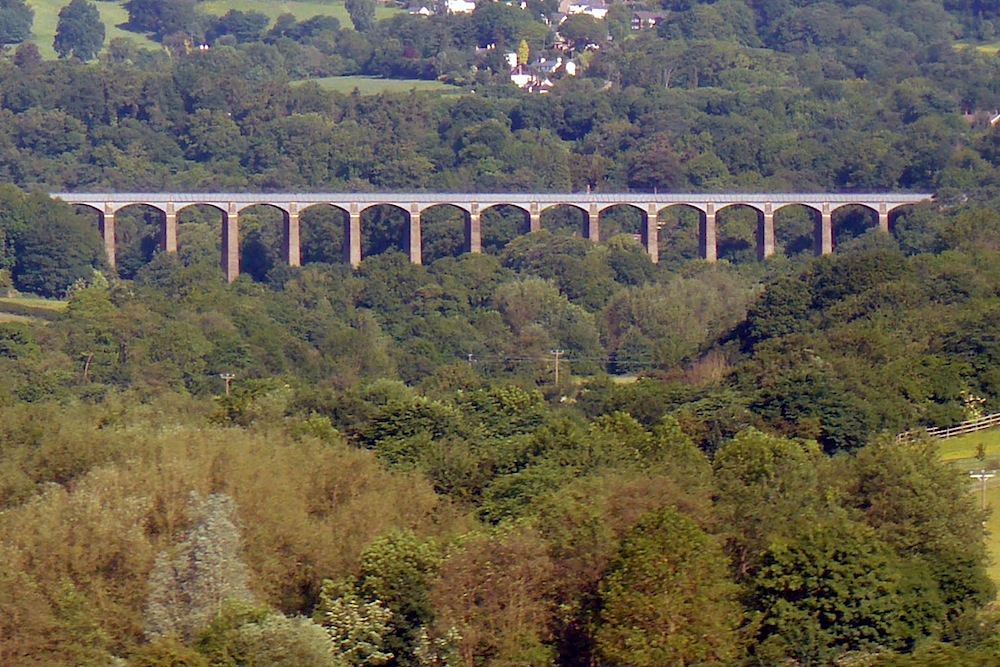 View from a distance. Photograph by Colin Price. You may use this image without prior permission for any scholarly or educational purpose as long as you (1) credit the photographer and (2) link your document to this URL in a web document or cite the Victorian Web in a print one. [Click on the image to enlarge it.]
The Heritage Trail site explains that "To seal the joints, Welsh flannel and lead were dipped in boiling sugar," and Wikipedia agreed (or did until I changed it), but such a procedure doesn't make any sense: dipping lead in boiling sugar wouldn't have any effect other than sugar-coating the metal. Pearman seems to have the correct explanation: "the bolted cast-iron joints . . . were caulked at the joints with Welsh flannel dipped in boiling sugar, and then sealed with lead." Pearman is also the only source I've seen who points out that this engineering wonder never should have been built, because "economically, it never made any sense. A product of England's canal-building mania of the 1790s," it became part of a route "that went nowhere much, and then stopped." Its survival well exemplifies the law of unintended circumstances: the main function of this engineering marvel constructed for commercial shipping turned out to be the fact that it provided water for urban areas in Northwest England.
After World War II, it deservedly became a focus of the waterways preservation movement, and today it is a popular tourist site. Those without a fear of heights can enjoy the view twelve stories above the valley floor from a boat floating in water that comes to within a few inches of the canal rim. Your webmaster gets queasy just thinking about it.
Several points to remember: first, this engineering marvel was created long before the age of Victoria; second, it exemplifies amazing ingenuity; and third, it is very beautiful — a suitable monument to the early Industrial Revolution and one that reminds us that the Industrial Revolution produced beautiful objects as well as smoke-darkened cities and factories [GPL].
Bibliography
Pearman, Hugh. "A Marvel that Shouldn't Exist: In Wales, a Fusion of Architecture, Engineering and Nature." Wall Street Journal (4-5 February 2006): 12.
"Pontcysyllte Aqueduct." The Heritage Trail [original source no longer available].
Related Web Resource
---
Last modified 23 December 2016