Recent photographs by the author. You may use these images without prior permission for any scholarly or educational purpose as long as you (1) credit the photographer and (2) link your document to this URL in a web document or to the Victorian Web in a print document. [Click on all the images to enlarge them, and for more details of the two works shown below.]
The Art of Tower Bridge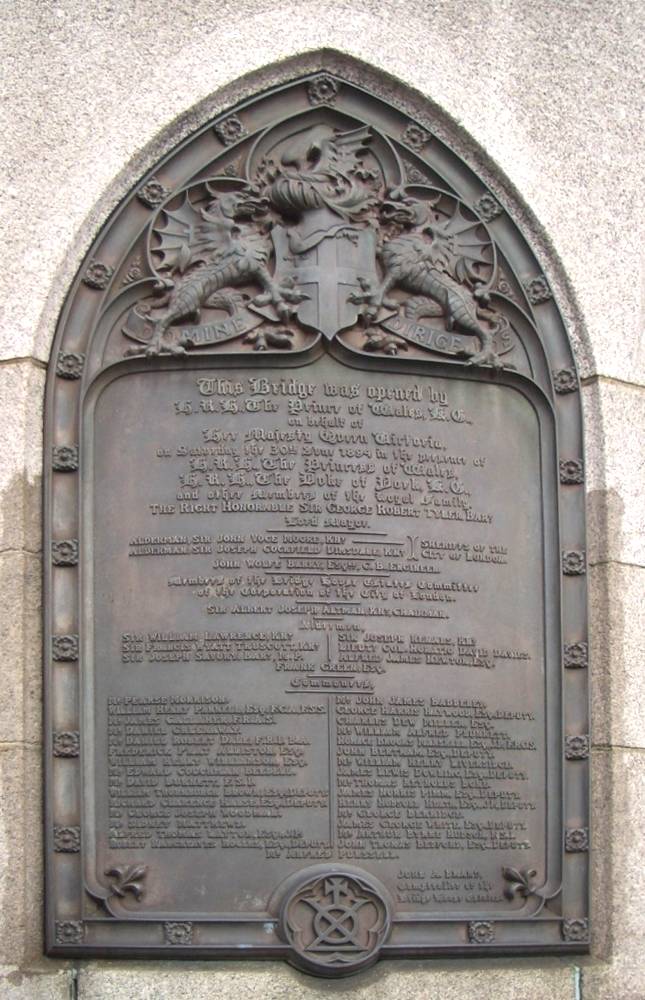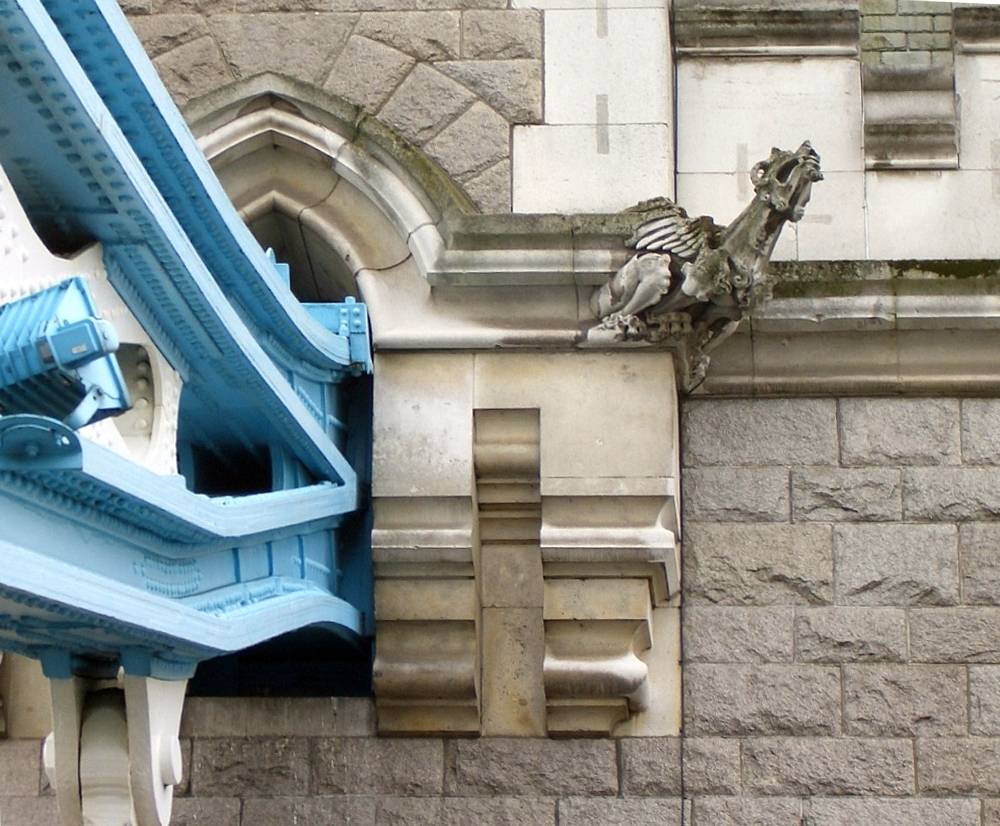 Dragons, dragons — Left: Plaque to commemorate the opening of Tower Bridge by the Prince of Wales on 30 June 1894. Right: Dragon gargoyle and stonework detailing..
"The bridge's Gothic elements were in keeping with Parliament's recommendation that an architectural style in sympathy with the Tower of London should be adopted," says Julia Dudkiewicz (8), who curated an exhibition on the art of Tower Bridge at the Guildhall Art Gallery in 2014, celebrating the 120th anniversary of the opening of the bridge.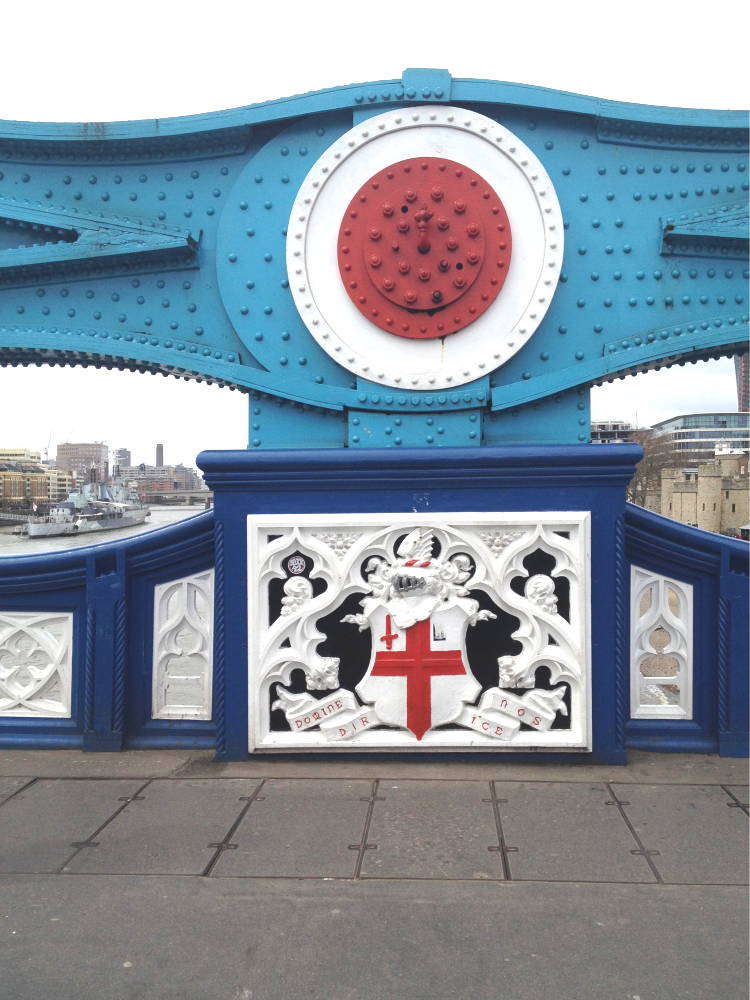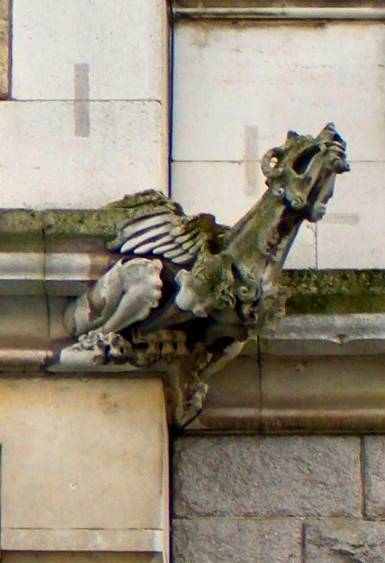 Left: (a) Decorative paint on the massive joint holding together the two main sections of the bridge, with the City of London arms and motto below. Right: Close-up of the dragon gargoyle.
Gargoyles and other quasi-medieval embellishments may give Tower Bridge the air of a pastiche (see Wight 9), but it has nevertheless become one of the most recognisable sights and symbols of London, along with the Tower itself, St Paul's, Big Ben and the Houses of Parliament, and Westminster Abbey. It represents a recapitulation of the city's past as well as a marvellous feat of Victorian engineering.
Tower Bridge in the Arts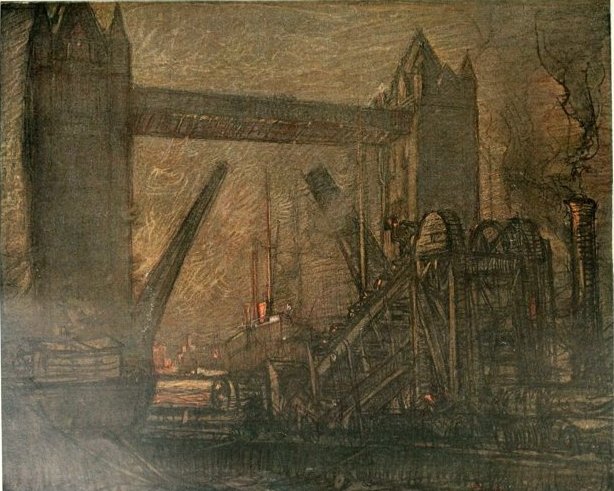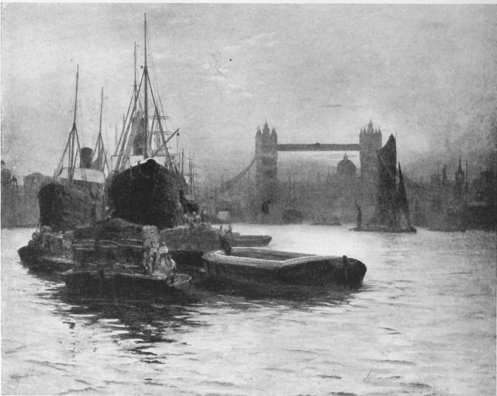 Left: The Tower Bridge by Sir Frank Brangwyn. c. 1902. Right: Tower Bridge by Mabel Robinson, also c. 1902.
It is hard to think of any bridge that has inspired so many (and such diverse) works of art as this one. It was recorded by artists as it was being built, and the opening ceremony itself was memorialised by William Lionel Wyllie (1851-1931) in his most famous painting, which is featured on the cover of the catalogue of the Guildhall exhibition. It was not the only time he painted the subject: he was drawn back to it again and again in watercolours and etchings. Later representations of it by many other artists include not only the two shown above, but many more in future decades: the same catalogue concludes with one in brilliant colours depicting the bridge in 2014 with more than a touch of magical realism, by Mentor Chico, a London-based Ecuadorian artist. The title, with its aptly coined adjective, is Forever Imagical Tower Bridge.
Some other depictions of Tower Bridge
Sources
Dudkiewicz, Julia. The Victorian (The Magazine of the Victorian Society). No. 48 (March 2015): 8-11.
Wight, David. Foreword. Tower Bridge: A Celebration of 120 Years, 1894-2014. Eds. Wight and Julia Dudkiewicz. City of London and Guildhall Art Gallery, 2014. 9-10.
---
Last modified 16 April 2013