[(1) Click on images for larger pictures. (2) Captions from The Studio (3) The following article does not state who designed Frampton's home and studio, but English Heritage identifies him as Sir Edward Guy Dawber (1861-1938).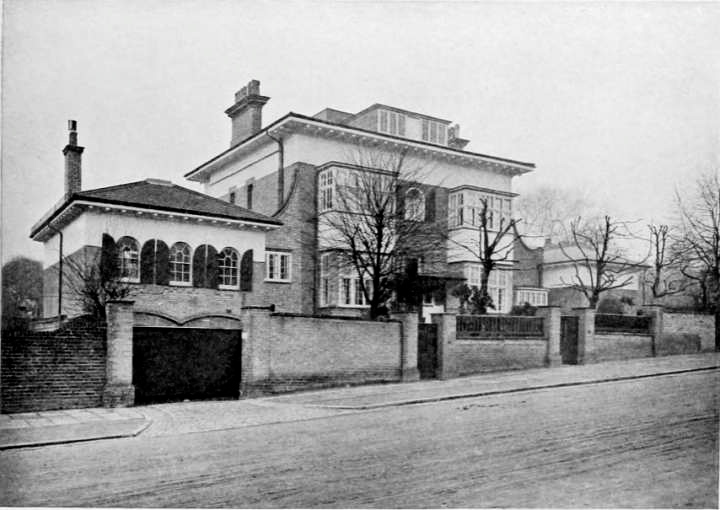 Sir George Frampton's new house in St. John's Wood represents the fulfilment of a long-cherished plan of building for himself a residence in which he could embody his own ideas of construction and decoration. He was fortunate enough to find an admirable site on the western slope of Carlton Hill, in the seclusion of a neighbourhood of large gardens, although within a hundred yards or so of the great thoroughfare of Maida Vale. Here, set amid lawns and flower beds, stood, until last year, a Mid-Victorian suburban house of a commonplace and ugly type, and on the foundation and core of this house Sir George has reared his own. His ideal was not a so-called "artistic" house, but a house that an artist would like to live in, and that he has achieved his aim is proved" by the combination of simplicity and practical usefulness shown in the charming rooms and workmanlike studios at Carlton Hill.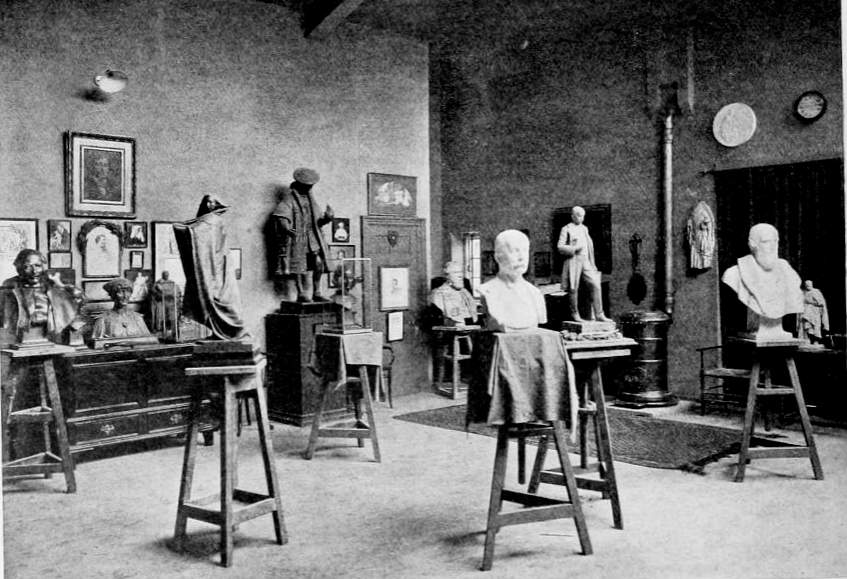 Two Views of Sir George Frampton's Studio (One [at right] showing "Peter Pan") [Captions from The Studio: The caption dscribes it as "the Peter Pan group," but the article more accurately describes it as the Edinburgh cast, which unlike the Liverpool one, may not have the large broze base with fairies.]
The new house shows, naturally, in numberless details, the impress of the mind of the original and gifted artist" by whom it was projected. Although little of Sir George's actual handiwork is to be seen except in the studio, every room shows something of his individuality, something that marks the house as his and that of no other artist.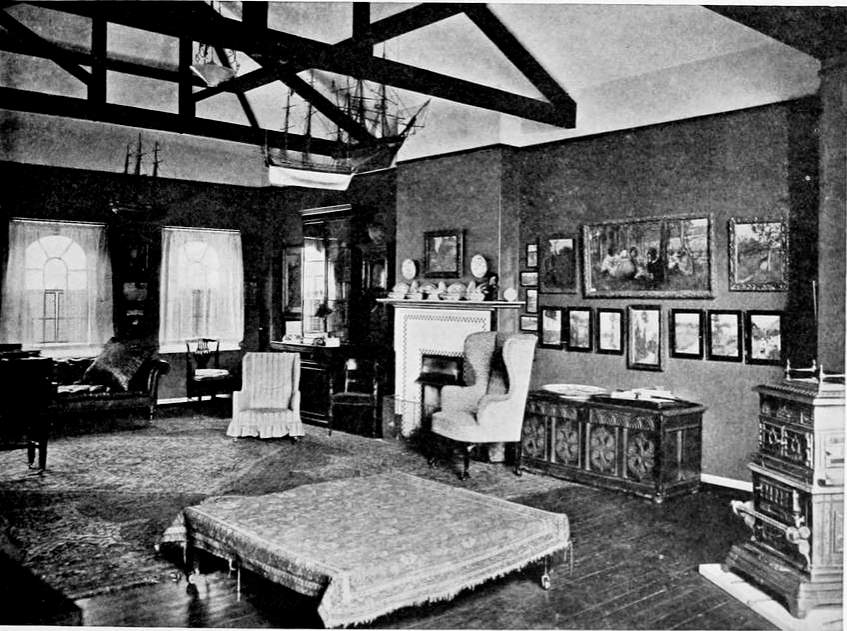 Left: Drawing room in Sir George Frampton's house. Right: Lady Frampton's studio — note the platform for the model.
The visitor entering" by the oak door, reached" by steps of red brick, passes through a small outer hall hung with a very early Morris paper, into the hall proper, a spacious and beautiful room, in the colour scheme of which white predominates, and from which access can be gained to every part of the house.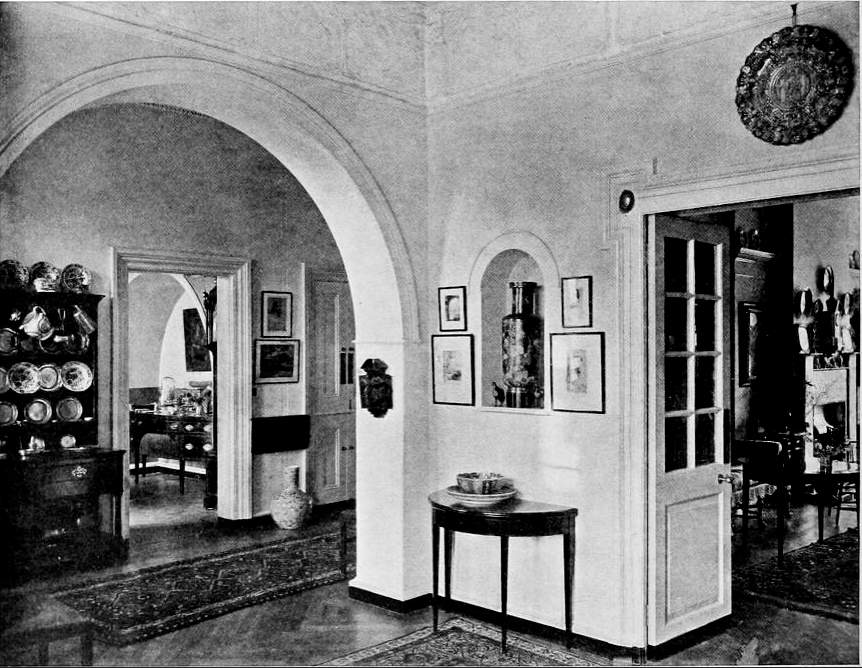 Two views of the inner hall of Sir George Frampton's house. Note the collection of ceramics and three large jars (probably from Japan) — one in a niche and two on th floor.
From the hall the drawing room, long and finely proportioned, opens directly through white, glass-panelled doors. The drawing-room, with its pictures and furniture of many styles and periods, is a triumph of arrangement of which Sir George and Lady Frampton may be proud. The elements, although individually beautiful, are of the most diverse nature, but all seem here in complete harmony, with nothing jarring and nothing out of its place. The elegant mantelpiece of marble, a characteristic design of Sir George Frampton's, is adorned" by, among other things, two charming little models by Mr. Alfred Gilbert, whose work is also seen in other bronzes placed in the niches in the wall on either side of the entrance doors. There is another Frampton mantelpiece in the green walled dining-room, designed to harmonise with the large mirror in a frame of dull gold that surmounts it, a mirror that formerly belonged to Ford Madox Brown. An ante-room with pictures on the walls" by Mr. Alfred East, Mr. W. L. Wyllie, Mr. Seymour Lucas, Mr. C. H. Shannon, Mr. P. W. Steer and others, leads to Lady Frampton's studio, a perfect painting room in which comfort and utility are happily combined. The floor is covered with the carpet from the studio of Leighton, and among the pictures on the walls are the artist's Bluebells and other studies of child-life and portraiture, and many of those admirable gardens at mannhe sketches of landscape in which Lady Frampton's art is seen in one of its best phases.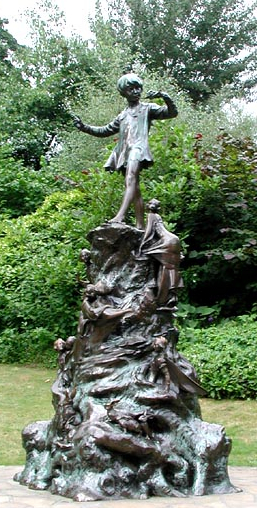 Peter Pan, which was in fact "placed in Kensington Gardens, in a bay of the Long Water." [Click on image to enlarge it and for links to other views.]
Sir George's studio is on the east side of the house, and of course on the ground floor, with convenient access to the road" by large double doors. It is perfectly lighted and of great extent, but with no pretence of adornment. The studio is literally a workshop designed by and for the use of a workman who is a master of his craft, and for this purpose it is in every way excellent. Just now it contains several works in progress, including the model for Edinburgh of the statue of the bronze, which promises to be a work of exceptional interest, will probably be placed in Kensington Gardens, in a bay of the Long Water.
Note
According to the English Heritage listing entry, the house is now: "Listed Grade II for its architectural qualities, as an 1873 Italianate villa remodelled in 1910 for Sir George Frampton (1860-1928)" by the notable Edwardian architect Sir Edward Guy Dawber (1861-1938) in an Arts and Crafts Style, work which included the addition of a studio which contributes to its historic importance as that of the nationally important sculptor Frampton, who completed the Grade II* Peter Pan statue in Kensington Gardens here, and latterly that of sculptor Arthur Fleischmann (1896-1990)." —  Jacqueline Banerjee.
Thanks to the Internet Archive and the University of Toronto Library for creating the digital version that provided the source of the following images and text, which George P. Landow formatted and linked. ]
Bibliography
List entry for what is now 92-96 Carlton Hill. English Heritage. Web. 4 August 2014.
"Recent Designs in Domestic Architecture [Sir George Frampton's new house in St. John's Wood]. " Studio 49 (1910): 213-18. [Internet Archive U. of Toronto copy]
---
Last modified 4 August 2014