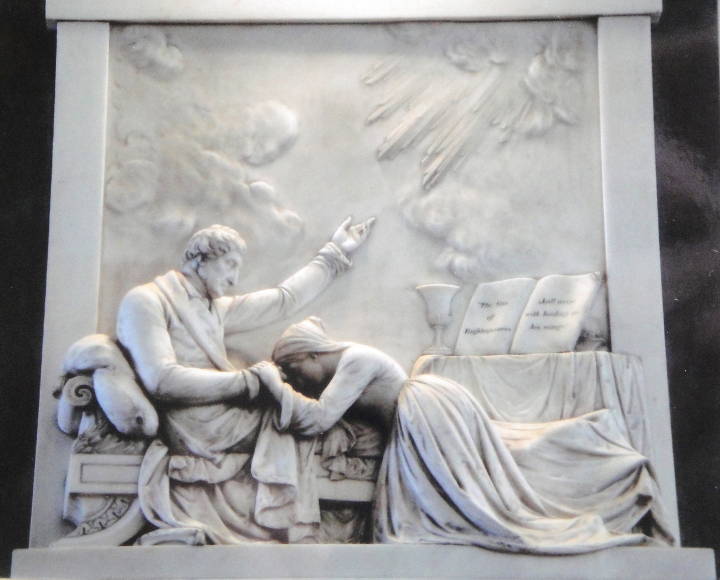 Monument to Very Reverend Daniel Francis Durand, A.M., d. 1832, 87 years old by Edward Hodges Baily (1788-1867). Marble. Town Church, St. Peter Port, Guernsey. The open book bears the words "the Sun of righteousness shall arise with healing in his wings." — a verse from the Old Testament Book of Malachi 4:2, which Christians conventionally took as a prophecy of Christ. The brief six-line chapter has a different tone, emphasizing punishment of evil more than reward for the just.
1. For, behold, the day cometh, that shall burn as an oven; and all the proud, yea, and all that do wickedly, shall be stubble: and the day that cometh shall burn them up, saith the LORD of hosts, that it shall leave them neither root nor branch.
2 But unto you that fear my name shall the Sun of righteousness arise with healing in his wings; and ye shall go forth, and grow up as calves of the stall.
3 And ye shall tread down the wicked; for they shall be ashes under the soles of your feet in the day that I shall do [this], saith the LORD of hosts.
4 Remember ye the law of Moses my servant, which I commanded unto him in Horeb for all Israel, [with] the statutes and judgments.
5 Behold, I will send you Elijah the prophet before the coming of the great and dreadful day of the LORD:
6 And he shall turn the heart of the fathers to the children, and the heart of the children to their fathers, lest I come and smite the earth with a curse.
Photograph by Robert Freidus; text by Freidus and George P. Landow. [You may use this image without prior permission for any scholarly or educational purpose as long as you (1) credit the photographer and (2) link your document to this URL in a web document or cite it in a print one.]
---
Last modified 9 May 2011