[Thanks to Jonathan Ford, Secretary of the Athenæum Club, for generously sharing John Kenworthy-Browne's work with the readers of the Victorian Web. George P. Landow adapted A Temple of British Worthies for the Web.]
Mostly in the Drawing Room and South Library. All are of plaster (gesso) unless otherwise stated [JK-B].
12. John Wilson Croker (1780-1857), attributed to Thomas Kirk RHA (1781-1845)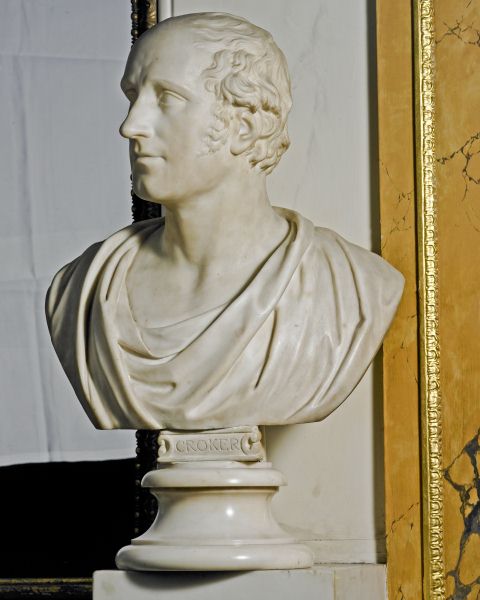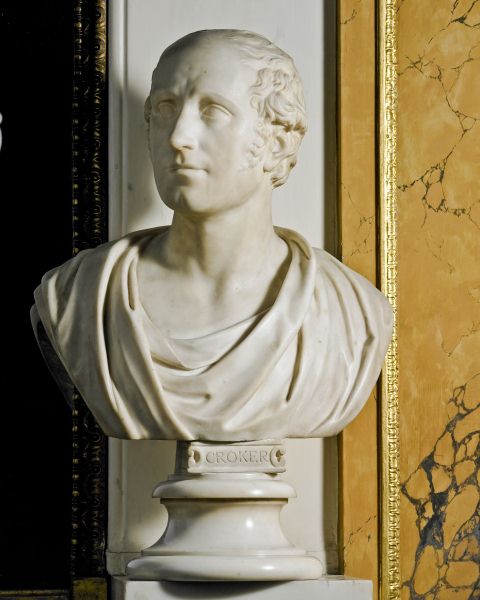 Marble bust, incised 'CROKER' on the name-label.
Provenance unknown; acquired" by the Club after 1902.
Tait, no. 192; (illustrated).
J W Croker, the distinguished Tory politician and writer, was the actual founder of the Athenaeum. Tait thought that this marble might be a bust of Croker that was made" by Kirk in 1819 and exhibited at the Royal Academy in 1823, and subsequently sold with the Peel heirlooms in 1900. There is no reason to doubt this. It is not, however, an incisive portrait, and conveys no great strength of character.
A quite different bust (no. 17) in the library is also inscribed with Croker's name, but the present work is recognisable because of the similarity to oil portraits" by William Owen and Sir Thomas Lawrence (Tait, no.191).
13. Unidentified Man, wrongly called 'John Wilson Croker'
Marble bust, inscribed on the back: 'J W Croker 1780-1857 / F A Chantrey Sculpt. ' 'Discovered'" by Lord Roseberry and John Murray at Messrs Graves, Pall Mall, and bought for the Club for twenty guineas in 1898 or 1901. Tait, no 191
It is a portrait of fine quality and may well have been made" by Chantrey. However, the features have no similarity to those of J W Croker (cf no16). The whole inscription is uniform, so it cannot have been cut before 1857; the lettering, in rather archaic style, is not of the type usual in Chantrey's studio. Evidently Messrs Graves sold a hoax.
14. Caesar Augustus as a Youth, after the antique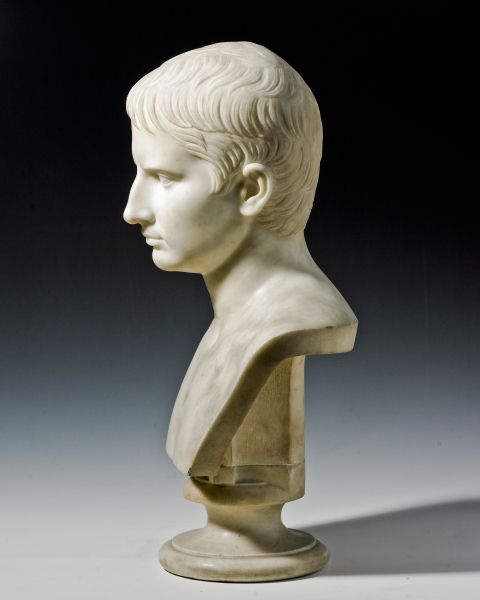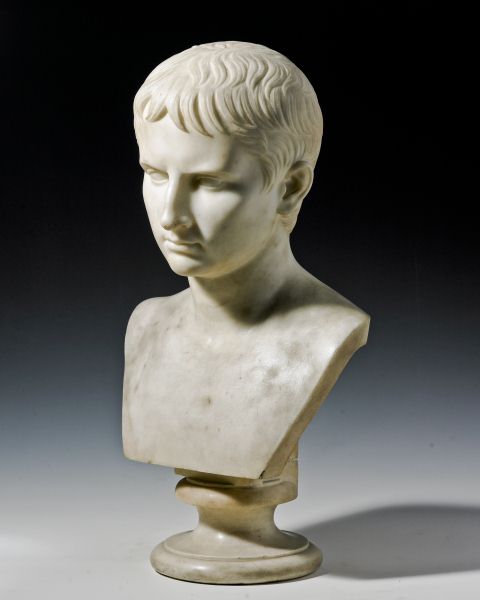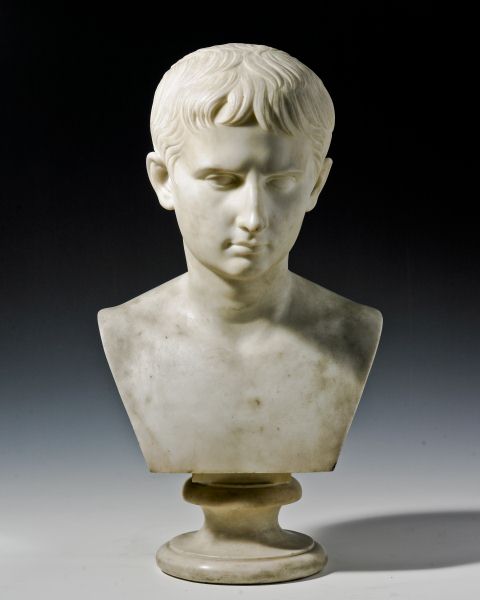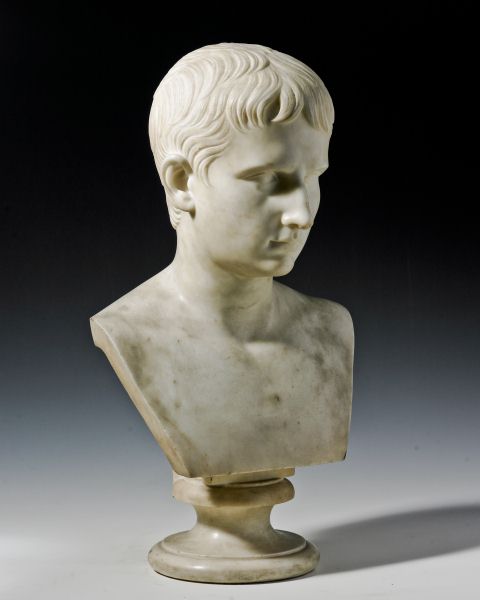 Marble bust, signed: L Clerici / Roma / 1881
Presented" by Humphry Rivers Pollack, 1936.
Tait, no 33
A nineteenth century copy of a well known antique bust at the Vatican.
15. Sir Hugh Dow CIGE (1886-1978)," by T B Huxley-Jones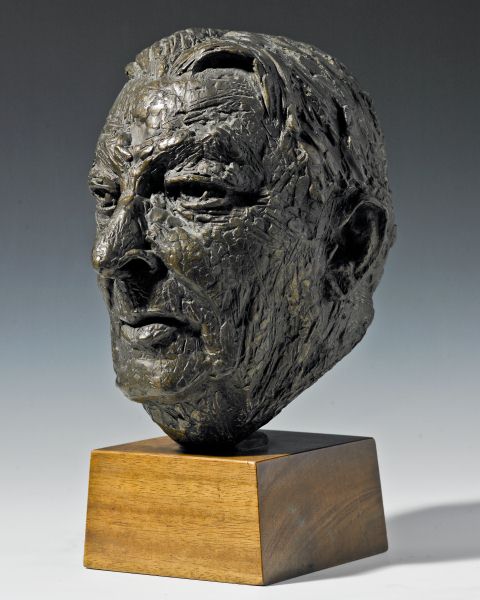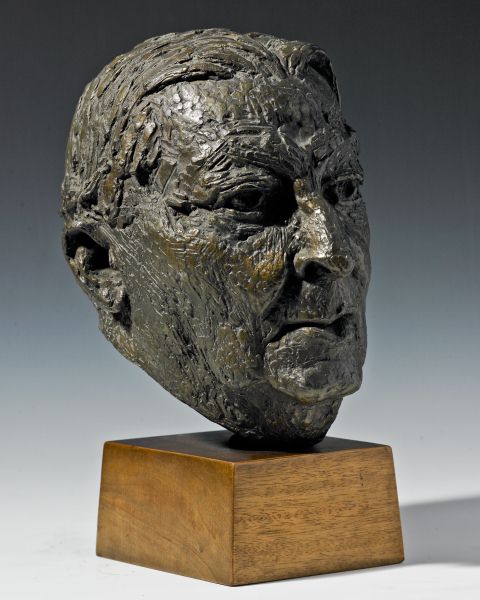 Bronze bust, incised: T B Huxley-Jones
Presented" by the sitter, 1978
Tait, no 242
Hugh Dow, an Indian Civil Servant, was elected to the Club in 1949.
16. Michael Faraday (1791-1867), after E.H. Baily R.A. (1788-1867)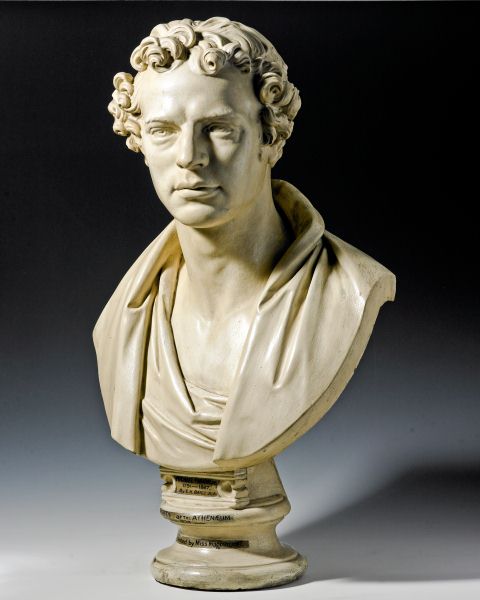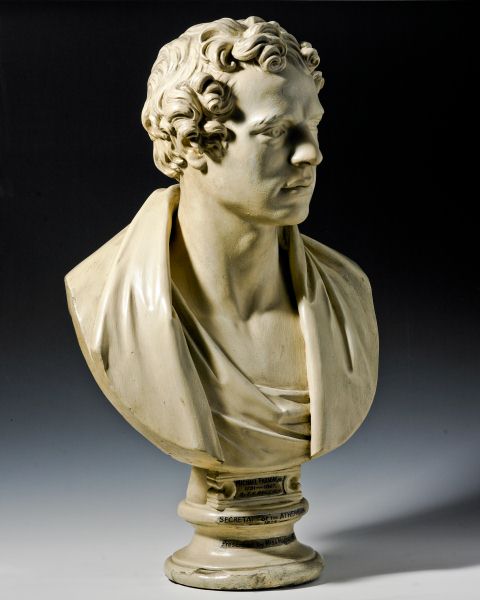 Plaster cast, presented" by Miss McGrath, 1917.
Tait, no. 279
Baily modelled his bust of the scientist and the Club's first Secretary in 1823. The first marble bust (1830), exhibited at the Royal Academy in 1830, is at the Royal Institution and a plaster cast is at the University Museum, Oxford.
17. George Finlay (1799-1875)" by John Kossos
Marble bust, dated 1857.
Inscribed on the front: George Finlay / Presented" by / Mrs Macgregor 1925; signed on the back with an inscription in Greek.
Tait, no 287; (illustrated).
Finlay, philhellene and philosopher, had known" byron in Greece in 1824. He took part in the War of Independence. Subsequently he bought an estate in Attica and died at Athens. His History of Greece appeared in parts between 1844 and 1877. Mrs MacGregor, the donor of this bust, was Finlay's step-daughter-in-law. The sculptor was Greek; in Tait's catalogue the bust is described in greater detail.
18. Dr Samuel Johnson (1709-1784), after Joseph Nollekens RA (1737-1823)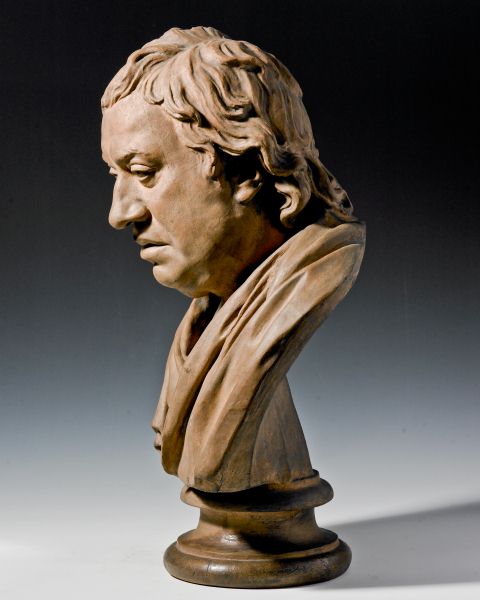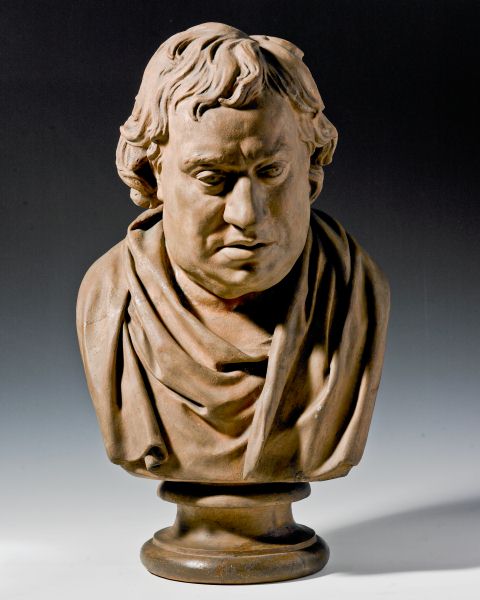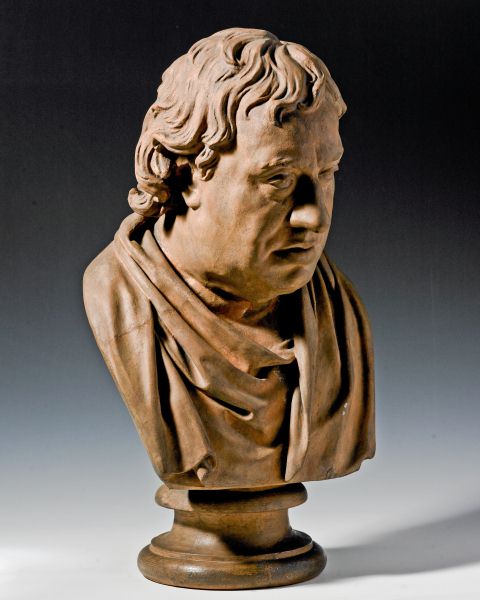 Terracotta bust" by A L Vago.
Inscribed on the back: Dr Johnson /" by Nollikins / A J Vago fecit
Tait, no 469
This latter-day copy of Nollekens's bust (cf no. 4) was presented" by Percy Fitzgerald, presumably in the early twentieth century. Fitzgerald (c1850-1913) was elected to the Club in 1888. In 1905 he presented two drawings (Tait, nos 494 and 763) and in 1912 he gave the fine marble statue of Psyche" by Thorvaldsen which is in the Morning Room (Tait, no 1412).
19. Frederic, Lord Leighton PRA (1830-1896)" by Sir Thomas Brock RA (1847-1922)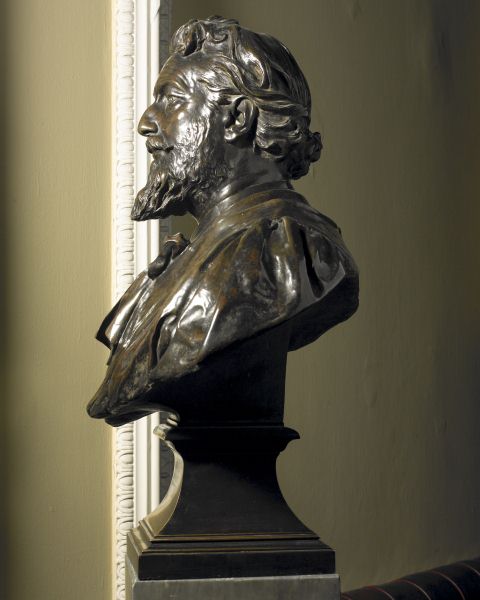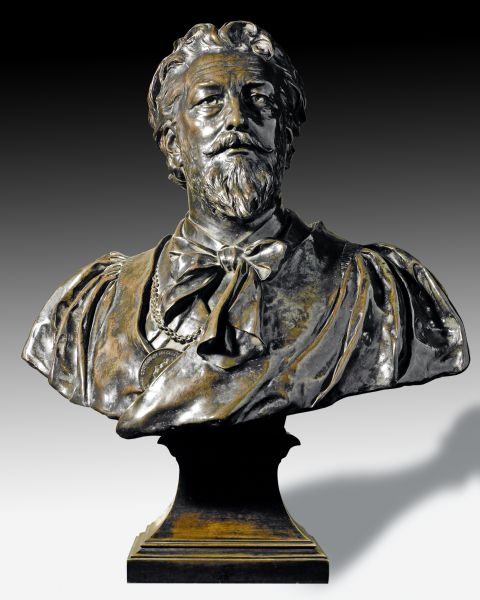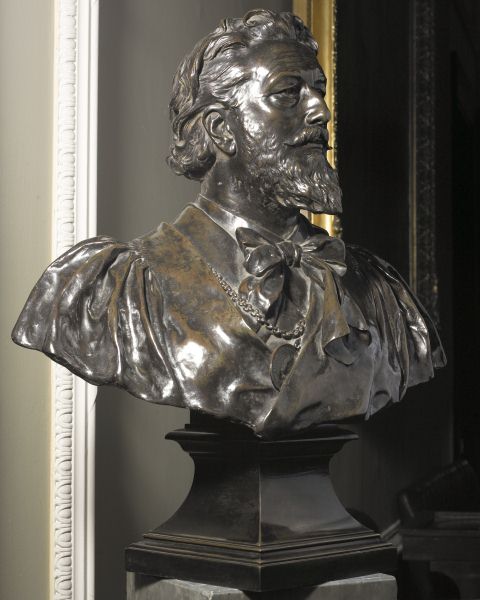 Bronze bust on square socle.
Signed on the back: Thos Brock / Sculptor / 1892
Presented" by the sculptor
Tait, no 523; (illustrated).
Here is a fine example of the 'New Sculpture', an art movement of which Thomas Brock was one of the most prolific (though not the greatest) exponents. His crowning achievement was the Queen Victoria Memorial (1906-24) in front of Buckingham Palace. The portrait of Leighton was Brock's diploma work for the Royal Academy and the cast which he exhibited in 1893 is at Burlington House. Lord Leighton was elected to the Club in 1866.
20. Alfred Mellon (1820-1867)" by George James Somerton Miller (?-1876)
Herm bust, signed" by G Miller, 1862
(Not in Tait's catalogue.) .
Alfred Mellon was violinist, conductor and composer at the Royal Opera House and other theatres. The sculptor exhibited portrait busts and history at the Royal Academy, 1857-1877, but no other works have been identified.
21. John Milton (1608-1674)
Marble bust, not signed.
Presented" by Mrs Anthony Trollope, in 1883 (currently in store).
Tait, no. 60; (illustrated).
A nineteenth-century y work copied from a model attributed to John Cheere (as no 7), but not of good quality. A good marble copy of the same, signed" by Matthew Noble and dated 1866, is at St Paul's School, London.
22. Pompeian Youth, after the antique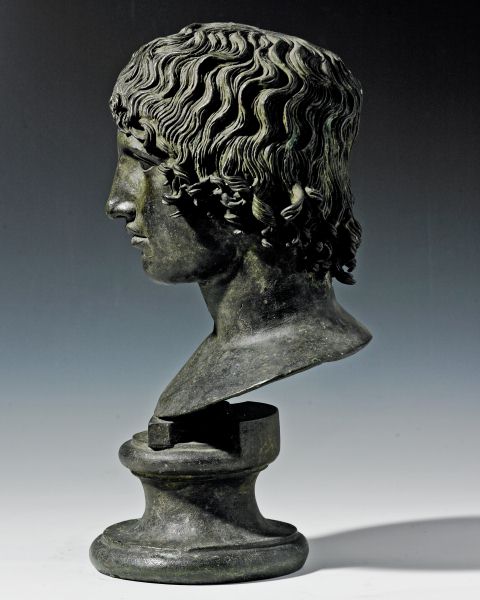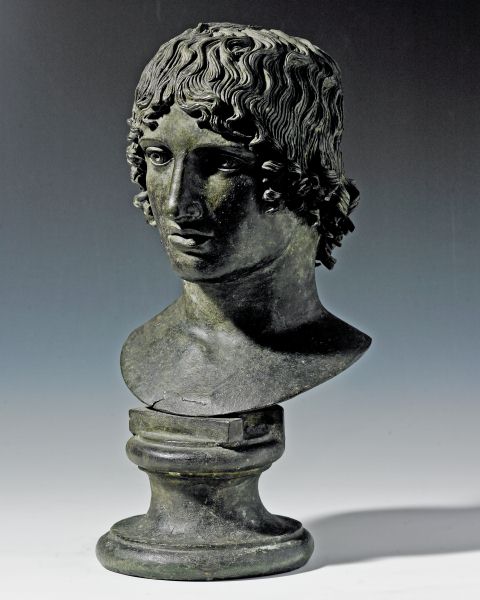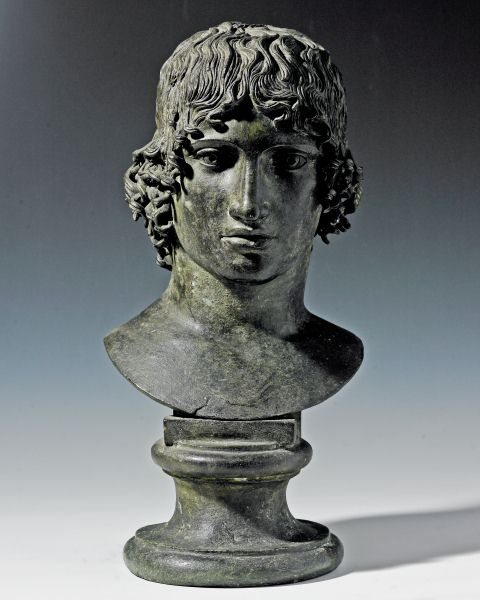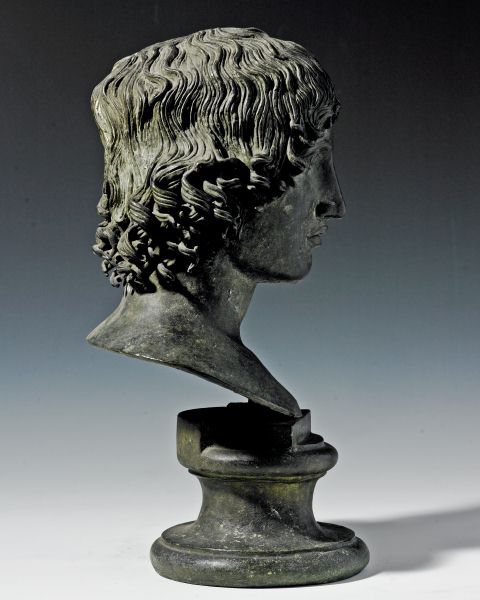 Bronze bust, 18/19th century.
Presented" by Dr Emanuel Miller, 1971.
Tait, no. 1411.
A Neapolitan bronze of good quality, cast from one of the ancient bronzes recovered from Pompeii.
23. Alexander Pope (1688-1744), after Michael Rysbrack (1694-1770)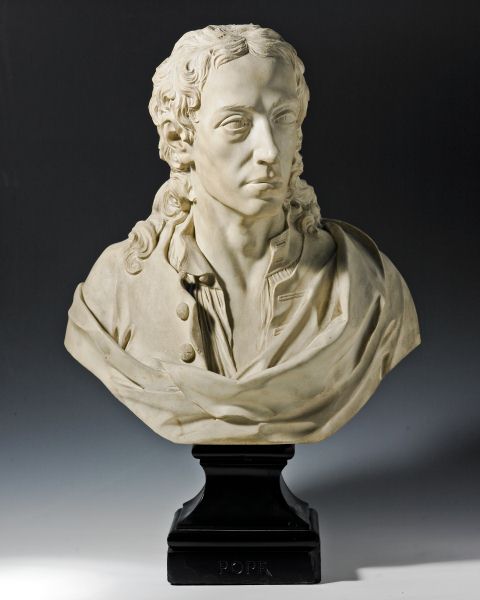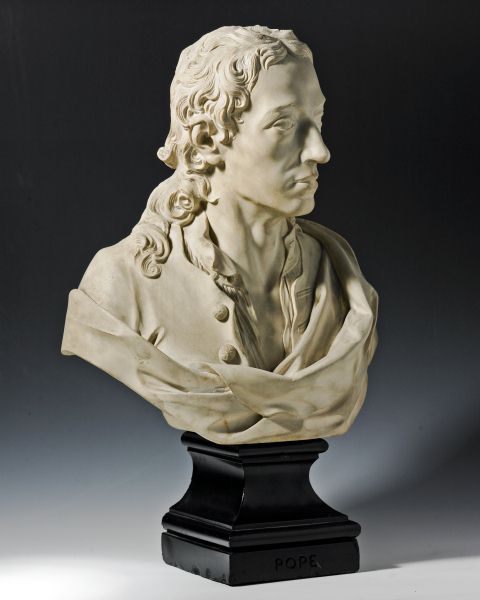 Marble bust, made" by Plowden and Smith, c. 1985
Tait, no. 688
Rysbrack's bust of Pope, carved in 1730, may have been made for the architect James Gibbs. Later it belonged to Sir William Garrow (1760-1840) and was bequeathed to the Club" by his executor, Edward Badeley, in 1868. In the 1980s the bust was sold to fund the renewal of the ninety-nine year Crown Estate lease on the Clubhouse. Accordingly the original was acquired" by the National Portrait Gallery and replaced" by this faithful copy. The poet himself did not care for Rysbrack's portrait, and preferred another made in 1738" by Roubiliac in a less elevated but more realistic style (cf p24).
24. John Rennie (1761-1821) after Sir Francis Chantrey RA (1781-1841))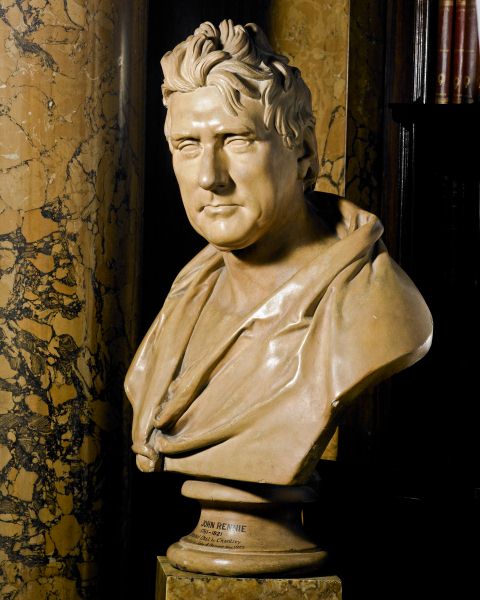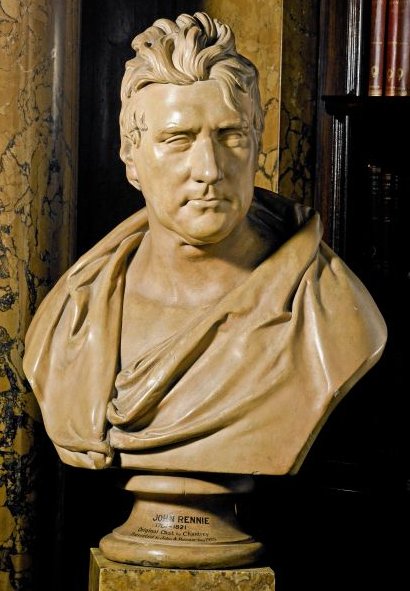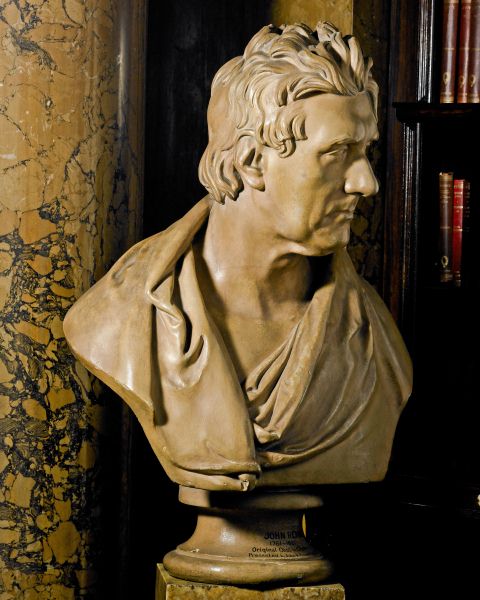 Plaster cast, presented" by John Mackworth Rennie (great-grandson of the sitter), 1925
Tait, no. 709
Chantrey's bust of the great engineer was commissioned" by Rennie himself in 1818, soon after he had completed Waterloo Bridge. The first marble was presented to the National Portrait Gallery in 1881" by the sitter's grandson. Number 23 is a fine cast and was doubtless made" by Chantrey himself. Another plaster is at the Scottish National Portrait Gallery.
25. Revd Thomas Spencer (1796-1853)" by Herbert Spencer (1820-1903)
Clay bust, made" by his nephew, Herbert.
Presented" by the Trustees of the sculptor, 1922
Tait, no. 800
Thomas Spencer was Rector at Hinton Charterhouse. In his autobiography Herbert Spencer, philosopher and sociologist, wrote 'During my visit to Hinton in 1842, I modelled a life-sized bust of him - my first and only attempt of the kind. But I had no technical knowledge and the neck cracked across'. (Autobiography, 1904, I, 27)
There is a photograph of this bust in the making in the volume entitled 'Records of Herbert Spencer' in the Drawing Room (Press no 43a, Note" by H Clifford Smith in the 1939 Inventory, Athenaeum Archives).)
Other sections of
A Temple of British Worthies: The Historic Portrait Busts in the Athenæum
---
Last modified 25 November 2011