Want to know how to navigate the Victorian Web? Click here.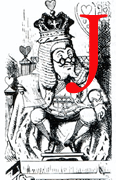 acob Boehme (1575-1624) was a German peasant shoemaker who became a mystic. He believed that God and Nature exist in opposition, and that the conditions of human existence are a consequence of various conflicts between opposing principles — light and darkness, good and evil, love and hate, and so forth — and that, seen from this perspective, the universe is the revelation of God.
Boehme's doctrines were translated into English in a number of editions between 1645 and 1662, and strongly influenced the thought not only of men like William Law (the English theologian and mystic whose Serious Call to a Devout and Holy Life sowed, according to John Wesley, the seeds of Methodism, and was the first work, Dr. Johnson said, which drew his attention to religion). Boehme also had major influence upon William Blake.
Related material
Select Bibliography
The Supersensual Life (text at CCEL)
---
Last modified 1998; links added 14 May 2010