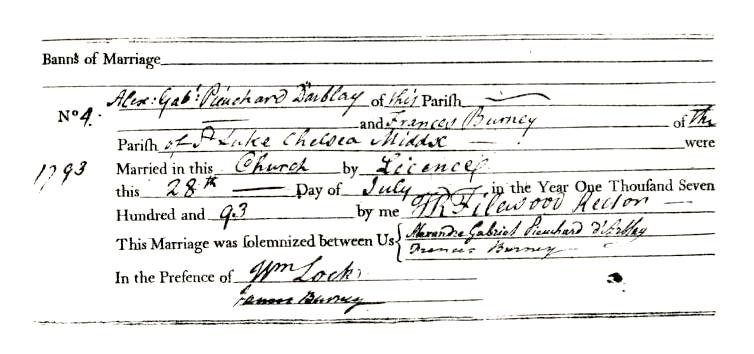 Facsimile of the Entry in Mickleham Church Books of the Marriage of Alexandre d'Arblay and Frances Burney. Source: Hill, facing p. 166.
Burney had kept a meticulous record of the way the couple's relationship had developed, even keeping a record of how they helped each other with their respective languages. She had had her qualms, and noted these too, as well as her father's anxiety, and her various friends' and relatives' opinions. There were two main problems. Burney worried most about the age difference. She was 41 now, and d'Arblay 39. Such an age gap seems slight enough now, but she wrote to her sister Susanna, "I wish him a younger Partner. I do not wish myself richer — grander — more powerful, or higher born, — one of his first attractions with me is his superiority to all these considerations— no, I wish myself only to be younger" (41). What bothered Susanna, and indeed their father, however, was the financial side — how would dear Fanny manage to live with a penniless exile? Nevertheless, Dr Burney gave his reluctant consent, and the marriage went ahead. It was solemnised again in the Sardinian Ambassador's private Catholic chapel in London, in order to avoid any problems later, should M. d'Arblay manage to recover his rights in France.
Fortune favours the brave. Fanny's pension from the Queen's Privy Purse was not withdrawn; the generous Locks at Norbury Park offered to lease the couple a plot of land in their own beautiful grounds, facing Box Hill and overlooking the River Mole, for their future home.
Image capture, text and formatting by Jacqueline Banerjee. You may use the image without prior permission for any scholarly or educational purpose as long as you (1) credit the photographer and (2) link your document to this URL or cite it in a text document.
Related Material
Bibliography
Banerjee, Jacqueline. Literary Surrey. Corrected ed. Headley Down, Hampshire: John Owen Smith, 2011.
Burney, Fanny. The Journals and Letters of Fanny Burney. Vol. II, Courtship and Marriage 1793. Eds. Joyce Hemlow and Althea Douglas. Oxford: Clarendon, 1972.
Hill, Constance. Juniper Hall, A Rendezvous of Certain Illustrious Personages during the French Revolution, including Alexandre d'Arblay and Fanny Burney. Illustrations by Ellen G. Hill and reproductions of photogravure, etc. London: John Lane, The Bodley Head, 1904. Internet Archive. Contributed by Robarts Library, University of Toronto. Web. 1 August 2020.
---
Created 2 August 2020