The Rainbow. H. Clarence Whaite (1828-1912). 1862. Oil on canvas. H 139.7 x W 241.6 cm. Collection: Nottingham City Museums & Galleries. Accession number: NCM 1893-25. Acquisition method: purchased from Reverend Harry Ward, 1893. The detail that Whaite gives in this large canvas makes a good example of his "determined bid for fidelity to nature" (Lord 288), but his vision is large and the work can also be seen as an example of the sublime. The rainbow curves up over the mountains towards a higher, snowy range, its colours momentarily bright as it passes over a shadowy chasm, but dissipated gradually by the clouds.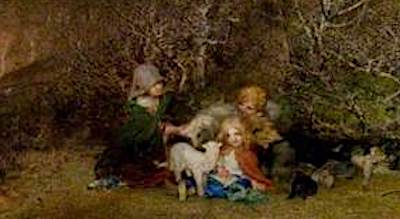 Closer view of children and sheep.
Meanwhile, far below, a mother and two children are nestled near the riverbank, petting a curious sheep with its lamb. A sheepdog keeps watch beside them and more sheep can be seen on the hillside above them, to the right. There is a Biblical resonance, both in the rainbow as a promise of God, and motherhood as a fulfilment of God's design. In this inescapable reading, the children themselves are lambs of God.
Links to related material
Image released by the museum on the Creative Commons Attribution-NonCommercial licence (CC BY-NC), via Art UK. Image download, text and formatting by Jacqueline Banerjee. [Click on the images to enlarge them.]
Bibliography
Lord, Peter. Imaging the Nation: The Visual Culture of Wales. Cardiff: University of Wales Press, 2000.
---
Created 16 January 2022