Alison Smith is a brilliant speaker who is passionate about Watts and Victorian art and I thoroughly recommend attending. — Mark Bills, Curator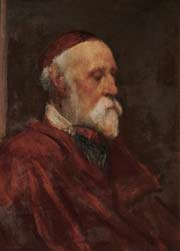 Andrew Churchill and Tamsin Williams of the Watts Gallery, write with the welcome news that Alison Smith, Head of British Art to 1900, Tate Britain, will deliver "the 2009 Watts Lecture 'Egotism and Altruism: Watts and the Tate.'"
G. F. Watts was the only artist to donate works to the Tate Gallery when it was established in 1897. However, from around the time of the Second World War many of the works included in the bequest disappeared into the gallery's stores never to re-emerge, testimony to changes in value which made Watts's gift appear redundant. This lecture looks at the Watts bequest in relation to other art legacies, and examines the problem it presented in terms of the conditions it imposed, the on-going relationship between the Tate and the Watts estate, as well as shifts in taste and reputation.

Wednesday 25 February 2009, 6.30pm
Charterhouse, Godalming
£5 (call 01483 813 584 for group booking discounts)
Sponsored by the Art Department, Charterhouse
For further information, visit Gallery website.
---
Last modified 22 February 2009