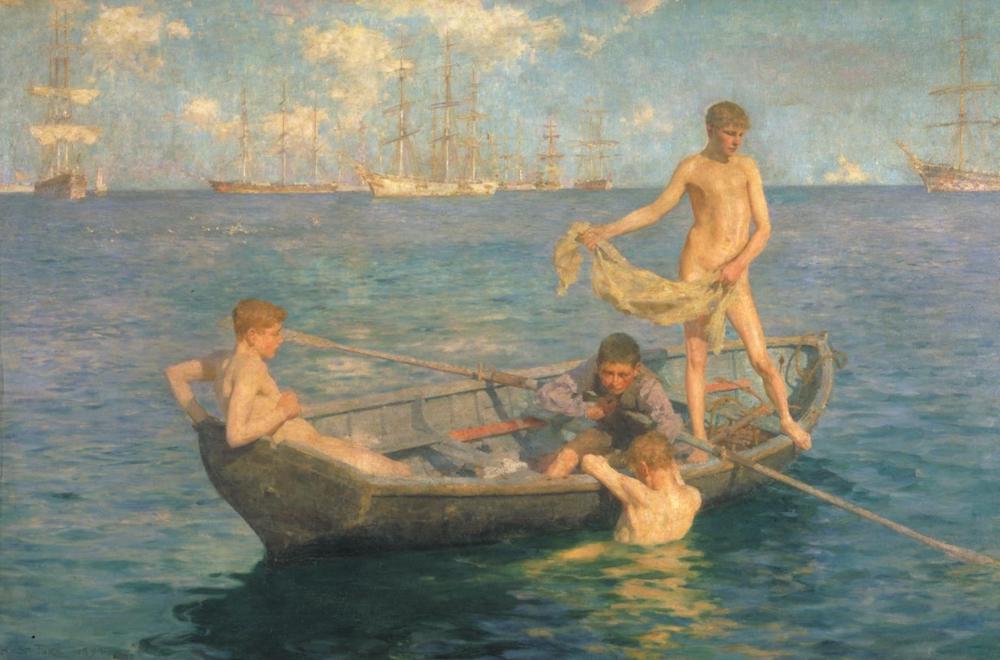 August Blue by Henry Scott Tuke, RA, RWS (1858-1929). 1893-94. Oil on canvas. Support: 1219 × 1829 mm; frame: 1520 × 2130 × 110 mm. Collection: Tate, ref. N01613. Presented by the Trustees of the Chantrey Bequest in 1894.
This is a typical scene by Tuke, of boys bathing in a Cornish bay during the holiday season. It may seem idyllic at first glance, suffused with the glow of midsummer. But it has a literary background too, which suggests that is more complicated than that. Tuke took his cue from Swinburne's lyrical description of the month in his poem, "The Sundew" (1866), in which the evanescent marsh flower reflects the ephemeral nature of love: "Thou wert not worth green midsummer / Nor fit to live to August blue, / O sundew, not remembering her" (150). Does the painting entirely escape the pain and poignancy of Swinburne's vision? There is perhaps a feeling of vulnerability here too, as the boat, with the slips of young manhood, tips towards the water.
At any rate, here is Tuke fulfilling his avowed aim, as an artist, in returning to Cornwall: "my object in living here is not to be a marine painter — I do not reckon myself one — but primarily to paint the nude in the open air; here there are quiet beaches, some of them hardly accessible except by boat, where one may paint from the life model undisturbed" (qtd. in Kim 39). Possibly his homoerotic inclinations also found expression in such works.
Image kindly released by the Tate under the Creative Commons CC-BY-NC-ND (3.0 Unported) licence. Text by Jacqueline Banerjee. [Click on the image to enlarge it.]
Bibliography
Display Caption. Tate Gallery. Web. 21 February 2021.
Kim, Jongwoo Jeremy. "Naturalism, labor and homoerotic desire: Henry Scott Tuke." British Queer History: New Approaches and Perspectives. Ed. Brian Lewis. Manchester: Manchester University Press, 2013. 39-62.
Swinburne, A. Poems and Ballads and Atalanta in Calydon. Ed. Kenneth Haynes. London: Penguin Classics, 2000.
---
Created 21 February 2021