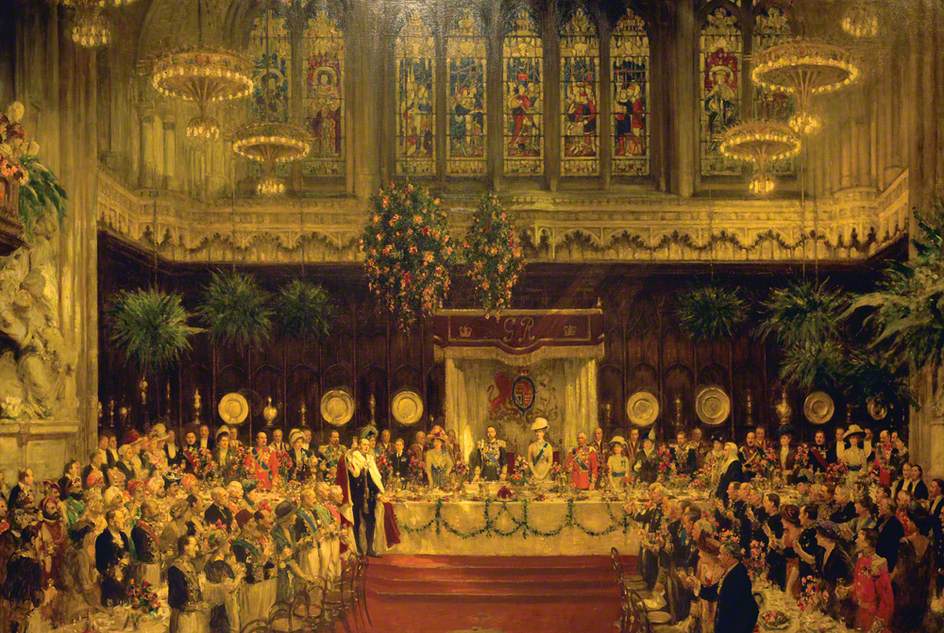 The Coronation Luncheon to King George V and Queen Mary in the Guildhall, London, 29 June 1911. 1914-1922. Oil on canvas, 216 x 318 cm. Collection: Guildhall Gallery, London. Reproduced by kind permission of the City of London Corporation. Image capture, caption and formatting by George P. Landow, and added text by Jaccqueline Banerjee. [Click on the image to enlarge it.]
This painting shows the Guildhall on the occasion of a royal function, bathed in golden light from the chandeliers, with the figures in the stained glass windows looking down over the glittering assembly. This is the climactic moment, as the guests raise their glasses for the Loyal Toast, saluting the new king and his consort. By this time, Solomon was the ideal and obvious choice of artist for such a commission:
In 1891 Solomon became a founder member of the Society of Portrait Painters and began to specialize in portraiture. Early successes included, in 1894, portraits of Israel Zangwill (State Gallery, Budapest) and Mrs Patrick Campbell as the Second Mrs Tanqueray (the Arts Club, Dover Street, London). He later painted notable portraits of Herbert Asquith (1909, National Liberal Club, London) and Ramsay MacDonald (1910, National Portrait Gallery, London). His public commissions included a panel for the royal exchange (1897), a panel for the houses of parliament entitled The Commons Petitioning Queen Elizabeth to Marry (1911), and a picture for the Guildhall to celebrate the coronation luncheon given for George V and Queen Mary (1911). [Grimsditch]
Bibliography
Grimsditch, H. (2004-09-23). "Solomon, Solomon Joseph (1860–1927), painter." Oxford Dictionary of National Biography. Online ed. Web. 16 July 2018.
---
Last modified 15 July 2018