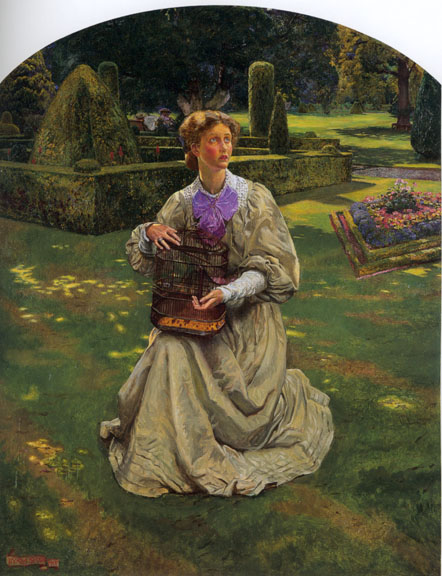 The Caged Bird
John Byam Liston Shaw, 1872-1919
1907
Oil on panel
37 x 28 inches, 94 x 71 centimetres
Exhibited: London, The New Gallery, 1907 Oxford, Ashmolean Museum, Byam Shaw, 1986, number 27.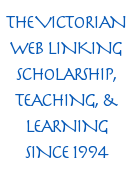 Commentary by Peter Nahum and Sally Burgess
In The Caged Bird, Byam Shaw uses allegory. The caged bird is literally released, whilst the girl herself will never be free to follow her heart. As the youngest daughter, her duties lie with her ageing parents. The startling clarity and gaiety of the colours set in the old garden at Condover Hall in Shropshire are in sharp contrast to the sobering reality of her situation.
The model for the painting was Maud Tindal Atkinson, an artist pupil who exhibited at the Royal Academy 1907, from whom he painted a life size watercolour which hung at the Royal Academy in 1906.
The symbolism of the release of a caged bird in Seventeenth-Century Dutch painting signified the loss of virginity of the owner. As Maud was his favourite pupil, it would seem apparent that this hidden meaning was not lost on the artist.
Related Materials
References
Nahum, Peter, and Sally Burgess. Pre-Raphaelite-Symbolist-Visionary. London: Peter Nahum at Leicester Galleries. Catalogue number 46.
Cole, Rex Vicat . The Art & Life of Byam Shaw. Seeley Service & Co, London & J B Lippincott Company, Philadelphia, 1932.
Peter Nahum Ltd, London has most generously given its permission to use in the Victorian Web information, images, and text from its catalogues, and this generosity has led to the creation of hundreds of the site's most valuable documents on painting, drawing, and sculpture. The copyright on text and images from their catalogues remains, of course, with Peter Nahum Ltd.
Readers should consult the website of Peter Nahum at the Leicester Galleries to obtain information about recent exhibitions and to order their catalogues. [GPL]
---

Victorian
Web

Artists

John L.
Byam Shaw

Paintings

Next
Last modified 30 November 2004