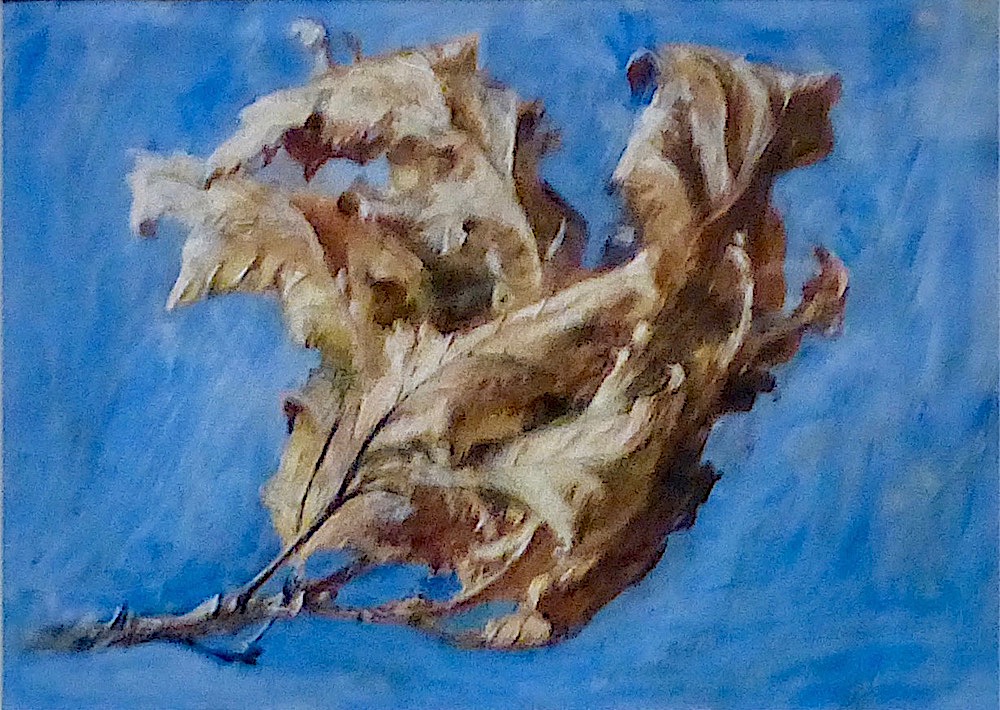 Study of a Spray of Dead Oak Leaves by John Ruskin, 1879. Watercolour and bodycolour on paper. Size: 295 x 418 mm; support: 144 x 188mm. Collection of the Guild of St George, Museums Sheffield, accession Number: CGSG00149. On loan to the "John Ruskin: The Power of Seeing" exhibition at Two Temple Place, London, 26 January - 22 April 2019.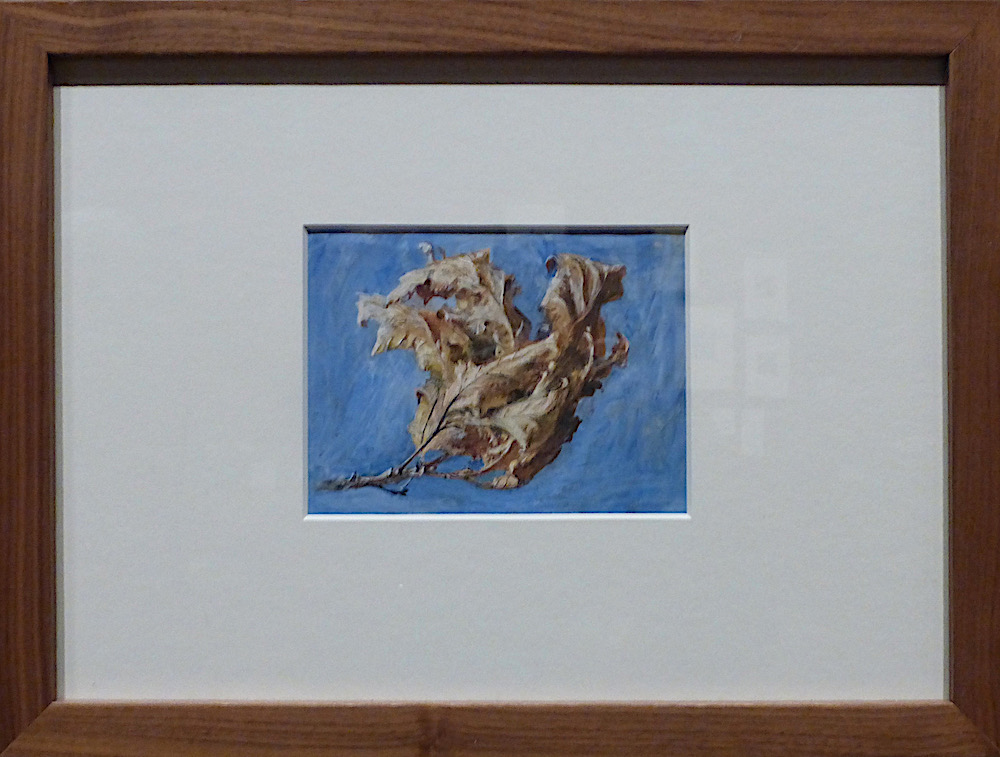 The painting in its frame at the exhibition.
According to the Museums Sheffield entry for this item, Ruskin took two hours of silent work to produce the water-colour:
Following his own advice, he laid the opaque bodycolour first, before adding what he termed "clear colour." Most importantly, the two paints were never mixed or overlapped. Ruskin felt that the leaf's undulating form could be recorded swiftly but accurately using this method. He also felt that one could not paint a wider landscape correctly, until one understood every aspect of it, such as each tiny flower or leaf. For this reason, he urged artists to learn to draw leaves correctly before tackling landscape drawing.
Ruskin makes it clear in Modern Painters, Vol. V, that he attaches much importance to an artist's ability to paint leaves. He has a whole section on them (Part VI, "On Leaf Beauty"), in which he famously remarks, "If you can paint one leaf, you can paint the world" (49). He shows one of his own leaf studies there, a group of oak leaves on a young shoot, explaining that they are a little touched by autumn frost, but have enough shape left "to show how noble leaf-form is" (50). In the watercolour study shown above, the leaves are not withered but curled, almost gnarled, and dry and crisp. Yet their rich brown colour, burnished here and there in the light, and set against a background suggesting a fine autumn sky, gives them beauty of quite a different sort.
Photographs and text by Jacqueline Banerjee. You may use these images without prior permission for any scholarly or educational purpose as long as you (1) credit the photographer or source, and (2) link your document to this URL or cite the Victorian Web in a print one. [Click on both the images to enlarge them.]
Related Material
Bibliography
"Study of a Spray of Dead Oak Leaves." Museums Sheffield. Web. 9 February 2019.
Ruskin, John. Modern Painters. Vol. V New York: J. Wiley & Sons, 1884. Internet Archive. Web. 9 February 2019.
---
Created 9 February 2019