Some illustrations come from the online press images kindly provided by Tate Britain, and are not for use outside this review. Others are on our own website, and can be used without prior permission for any scholarly or educational purpose as long as you (1) credit the source, and (2) link your document to this URL in a web document or cite the Victorian Web in a print one. [Click on all the images to enlarge them, and, when they are on this website, for more information about them.]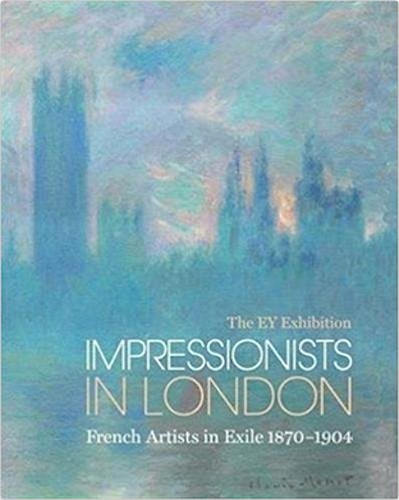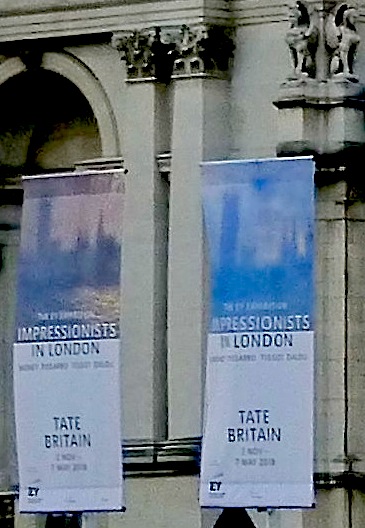 Left: Tate exhibition banners. Right: Catalogue cover.
"How odd, all the news and letters we get from Paris now coming by balloons and carrier pigeons," wrote the Reverend Kilvert in his diary on 3 October 1870 (p. 85). But what was something of a curiosity here was a matter of life and death across the Channel. Among those who were affected by the Siege of Paris and its aftermath, and who sought a safe haven in England, were some of the rising stars of Paris's art world. The Tate's current EY exhibition (running from 2 November 2017 until 7 May 2018) is subtitled "French Artists in Exile, 1870-1904." It is one of several in recent years to show how these artists responded to their new environment, and how they contributed to the art scene here. Earlier exhibitions on this theme include a pioneering one at the Hayward Gallery in 1973, and several since then on particular artists, notably Pissarro and Sisley at the National Gallery, in 2003 and 2008 respectively. The current show, however, is more ambitious — broader in scope than its predecessors, it sets out to explore more fully the connections these artists made with each other, and their reception by English art-critics, patrons and fellow-practitioners.
Traumatic Events in Paris
The exhibition is large, with eight sections. Ironically, the introductory one, which focuses on the dramatic events in Paris that caused the exodus, is the most powerful. In tragic vision, nothing else comes up to it. France's hubris in declaring war on neighbouring Prussia on 19 July 1870 had disastrous repercussions for the Second Empire, and for Paris itself. Less than a week after Napoleon III's surrender on 2 September of that year, the art-dealer Paul Durand-Ruel, who would be a key figure for the Impressionists, decamped to England. He had already sent his stock there, and was joined by his wife and children. He was wise: by 19 September 1870 the French capital was encircled by Prussian troops, and the siege began. Of the artists who stayed on, some lost their output to date, and, as Betrand Tillier recounts in a harrowing section of the catalogue (pp. 23-27), in several cases even their lives. But those who survived to tell the tale left a haunting record of those days.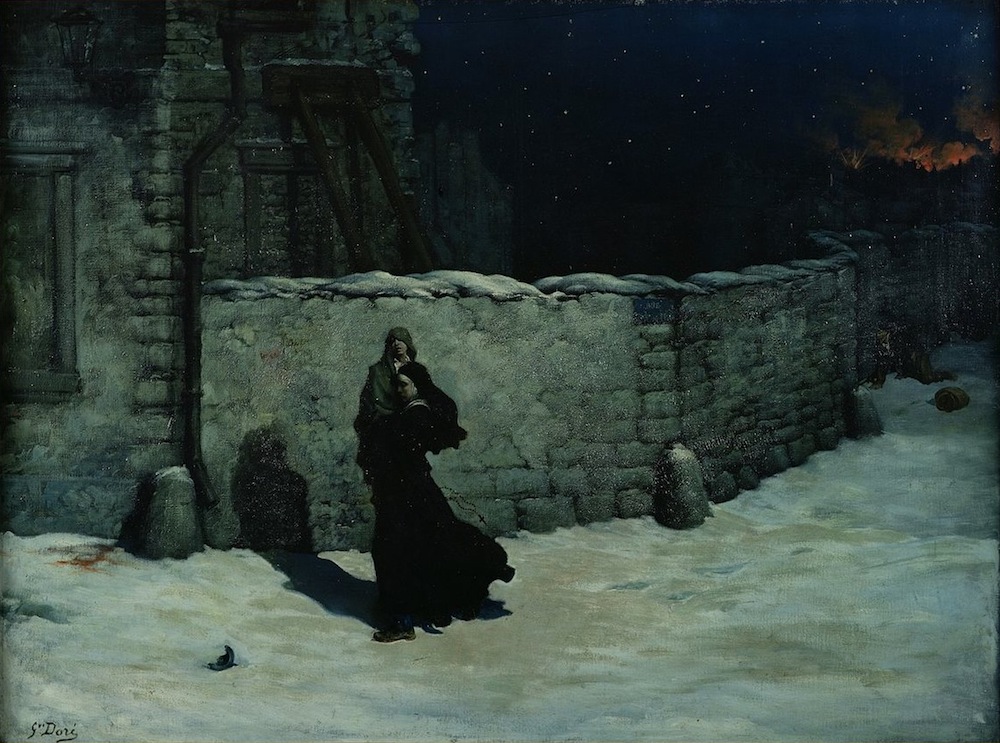 Painting by Gustave Doré in the introductory section: Sister of Charity Saving a Child, Episode in the Siege of Paris 1870-1871, reproduced here by kind permission of the Musée d'art moderne André Malraux, Le Havre.
Gustave Doré, despite having his close friend and collaborator, Jerrold Blanchard, in England, and even his own gallery in New Bond Street, joined the National Guard to defend the capital. He was therefore present to bear witness to the traumatic events that followed. His is the most striking painting in the room, if not in the whole exhibition — a large canvas, painted in the winter of 1870-71, showing a nun carrying a child to safety along a snowy blood-stained street. A part of the city burns behind her, and a man sprawls wounded in the background. It is a powerful and compassionate evocation of the suffering of the innocent at that time.
James Tissot was another artist who could have fled. Already an Anglophile, he had changed his Christian name from Jacques-Joseph to James in 1855, and had exhibited at the Royal Academy as long ago as 1864. He had started doing caricatures for Vanity Fair, one of them, published in September 1869, showing a decrepit-looking Napoleon III. But he stayed on in Paris too, right through the spring and early summer of 1871, and was there to record the bitter end of the Paris Commune. Literally thousands of the Communards, who had seized power in a demoralised Paris, were executed by government forces. In one watercolour dated 29 May 1871, Tissot depicts a body in free-fall, joining others that had been similarly tossed over fortifications in the Bois de Boulogne. This work could hardly contrast more vividly with his "society" canvases. There are no lovely costumes, flirtatious glances, subtle hints or ambiguities here: he looks the horror full in the face, and shows it to us in turn. Remarkably, his disjointed notes about it to Lady Waldegrave at Strawberry Hill are on view in the exhibition, and reveal how shocked he was. After this, even Claude Monet's Houses of Parliament series, kept till near the end of the exhibition, loses some of its impact.
Exile
But first, the larger story. For Tissot as for many others, 29 May 1871 was important: it was when the National Guard was officially disbanded. In the catalogue Cyrille Sciama argues convincingly that Tissot was unlikely to have been a Communard himself (p. 82). Nevertheless, he quickly left for England, and he would be based in London for nearly a dozen years, from that June until November 1882. Doré, his friend and gallery waiting for him, also went there in the summer of 1871, to continue his sketches for the book he and Blanchard were working on: London: A Pilgrimage (1872). Doré only lived in England for a few months in the year, and, like some of the rest, cannot rightly be termed an exile. Nevertheless, the next room in the exhibition finds a whole circle of French artists in London around this time, including not only Tissot, Doré and Monet, but also Charles François Daubigny, Camille Pissarro and (arriving later, in 1874) Alfred Sisley. There is a particularly eloquent painting here by Monet of his wife: Madame Monet Sitting on a Sofa, c. 1871: she has been reading, but now gazes out of the window, her attitude of melancholy reverie bringing home the plight of those affected by the recent upheavals in Paris. Carol Jacobi, one of thirteen contributors to the exhibition catalogue, tells us that she began to offer French lessons (p. 191). Meanwhile, her husband and his compatriots were issuing forth from their lodgings to meet, explore their new surroundings, and, of course, paint what they saw.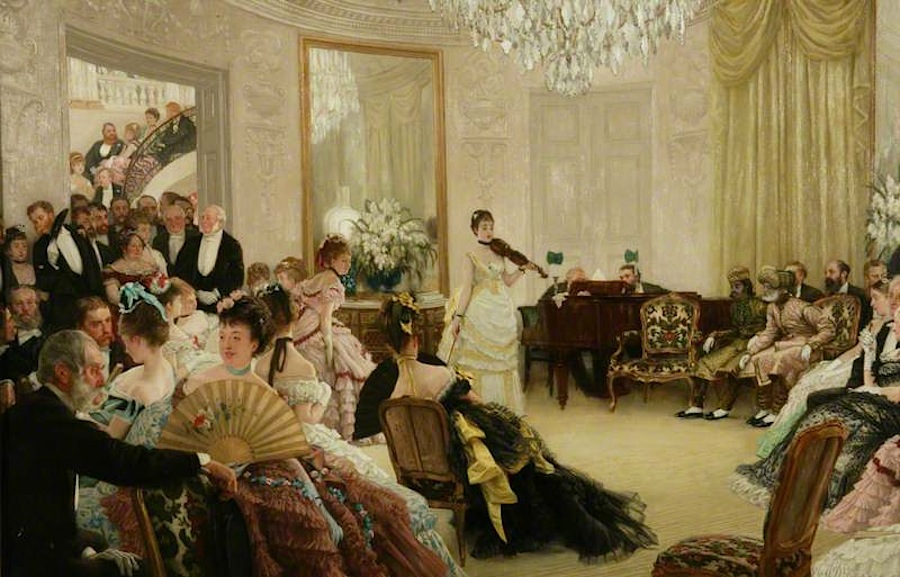 Two paintings by Tissot in Room 2. Left: Tissot's Too Early, 1873, from Guildhall Art Gallery. Right: Tissot's Hush!, c. 1874, from Manchester Art Gallery.
Among these refugees, it is Tissot who stands out. The second room, largely devoted to his depictions of high society, opens like a big showy flower after the ravages of war and exile at the beginning. Of his two dozen or so works on display in the exhibition, many are hung here, and it is not too much to say that they steal the show. The other star attraction in Room 2, A Huguenot, on St Bartholomew's Day by John Everett Millais, is displayed only because it was an inspiration for Tissot's own poignant scene of parting, Les Adieux of 1871 (which looks splendid in a spectacular frame). Tissot can hardly be counted as an Impressionist: as Sciama writes succinctly in the catalogue: "Between Victorian England and impressionist France, Tissot hesitated, evaded, yet pursued his career with complete independence" (p. 85). Be that as it may, it is a pleasure to see so many of his best-known works, like Too Early (1873) and Hush! (1874), together with some etchings and poignant photographs of his Irish mistress, inspiration and model, Kathleen Newton, whose death in 1882 precipitated his sudden return to France.
Fortunate in having an entrée to such gatherings through Thomas Bowles, the editor of Vanity Fair, Tissot was nevertheless looked at askance by the pundits. It is the old story of prejudice against the outsider, and sensitivity to anything perceived as criticism or expressing an attitude of superiority. Of Hush!, for example, the Illustrated London News reporter remarked, "something smacking, as it were, of a Gallic sneer runs throughout" (qtd. in Corbeau-Parsons, p. 95). Tissot clearly did see beneath the surface that he painted in such vibrant detail; but his comments are on human nature wherever he found it. In the exhibition catalogue, Krystyna Matyjaszkiewicz skilfully uncovers many subtleties in his London Visitors, which shows a couple outside the National Gallery, the man intent on his guidebook, the woman distracted. Matyjaszkiewicz suggests that perhaps they are American. Maybe, maybe not. What is certain is that they are tourists, moving from one cultural hot-spot to the next with varying degrees of purpose. Tissot, like so many others whose careers span two countries, has not been fully recognised in either. As far as reputation goes, he has the added disadvantage of not being easy to categorise. But, if the attention paid to him here is anything to go by, he is coming into his own at last. In that respect, the exhibition is very satisfactory.
Cultural Exchange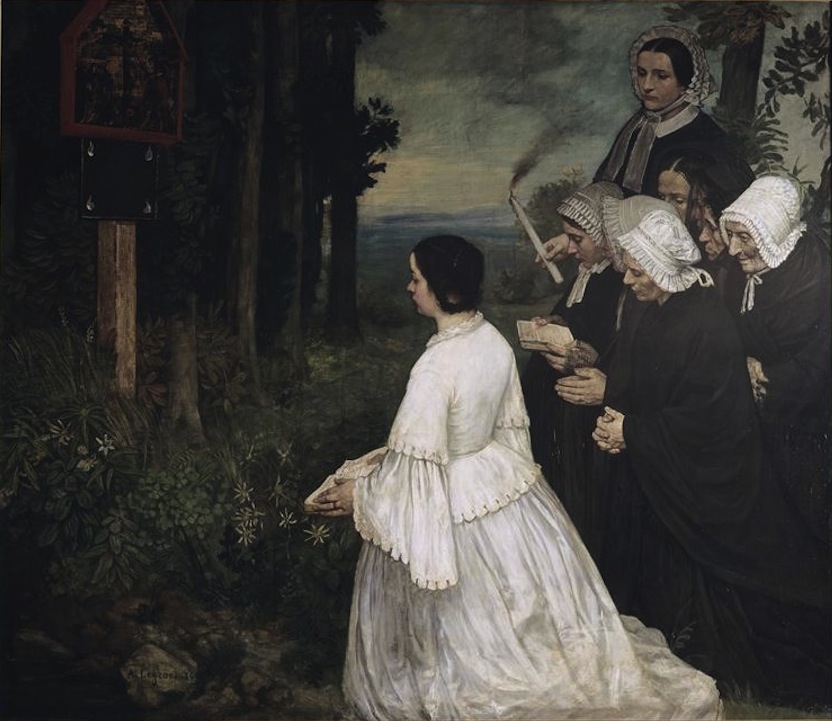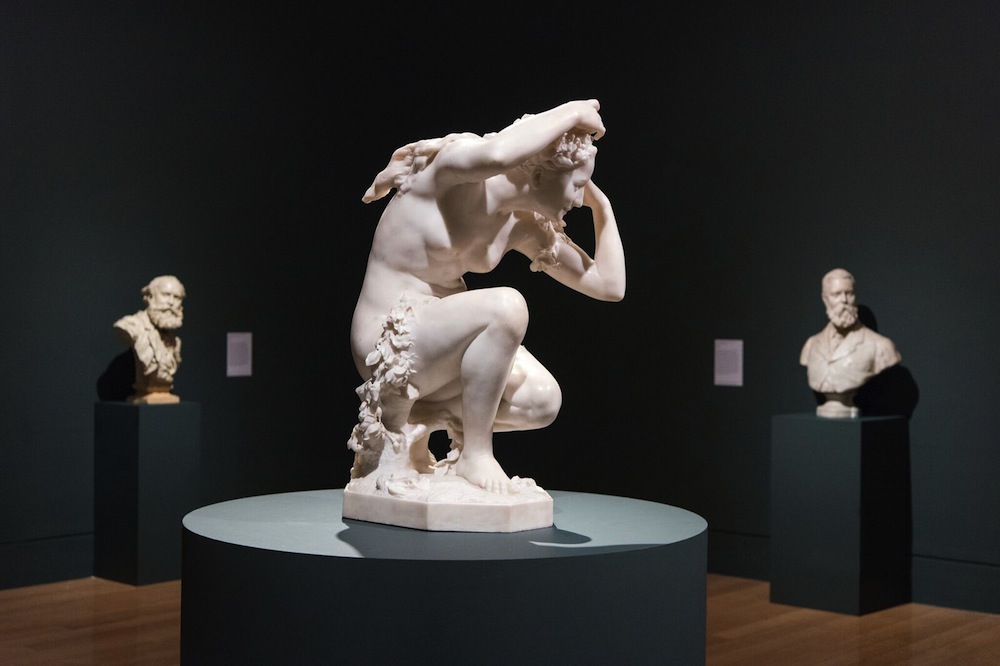 Left: Ex-Voto by Alphonse Legros. 1860. Credit: Photo (C) RMN-Grand Palais / Agence Bulloz, Musée des Beaux-arts de Dijon. Right: Installation view from the exhibition, showing Jean-Baptiste Carpeaux's marble Flora of 1873, with two more of his works in the background, a bust of composer Charles Gounod on the left, and one of his patron, Henry James Turner on the right, both executed in 1873 as well.
Exhibition-goers still expecting a visual feast of Impressionist painting may, however, be discouraged to find that the next two rooms focus on artists who were neither exiles nor Impressionist painters, let alone both. These are Alphonse Legros and Jean-Baptiste Carpeaux. The former was an immigrant, having arrived permanently in 1863. Although he was persuaded by Edouard Degas to send some prints to the Second Impressionist Exhibition in Paris in 1876 (including The Gust, which is on display here), he is known chiefly as a sculptor. He had settled in London because of the opportunities it offered, and has earned his place in the exhibition partly because, as an early and influential Professor of Fine Art at the Slade, he was in a position to introduce the newcomers to each other and to the art world in general. Carpeaux, who turned out to be only a temporary visitor, was also a sculptor. Again there are some unexpected compensations for those looking for paintings — in Room 3, for instance, Legros's masterpiece of 1860, a large funeral scene of women praying at a crucifix, entitled Ex-Voto, and (not to be missed) his much smaller but compelling portrait of Edward Burne-Jones, to whom he personally owed a great deal when he was getting established here.
French Peasant Woman Nursing a Baby, by Jules Dalou, 1873.
Yet the most important exhibits in these rooms are, in fact, the sculptures. Like Degas's young ballerinas, these works lean towards a new fluent expressiveness, which would inspire the "New Sculpture" in England. It needs to be remembered that the eight Impressionist exhibitions in Paris were put on by the "Société Anonyme Coopérative des Artistes Peintres, Sculpteurs, Graveurs." And, as Amélie Simier explains so well in the catalogue, it was probably in sculpture that the French arrivals made their greatest impact. Apart from works by Legros and Carpeaux, there are several by Jules Dalou, a genuine refugee, having actually been sentenced to death as a Communard, and also by Edouard Lantéri, who first came over in 1872 as an assistant to the sculptor Edgar Boehm. Like Legros, both Dalou and Lantéri taught modelling, and influenced a whole new generation of artists, including such well-known sculptors as Hamo Thornycroft and Alfred Gilbert. Of course, the French sculptors themselves benefitted too. Carpeaux's beguiling Flora, for example, was commissioned during his visits here by Henry James Turner, a well-to-do manufacturer and art collector. Visitors may pass through these rooms quickly, perhaps just taking in the two works by Rodin — a head of Legros and a bust of Dalou — but the space given to sculpture is entirely appropriate and, again, very welcome here.
French Impressions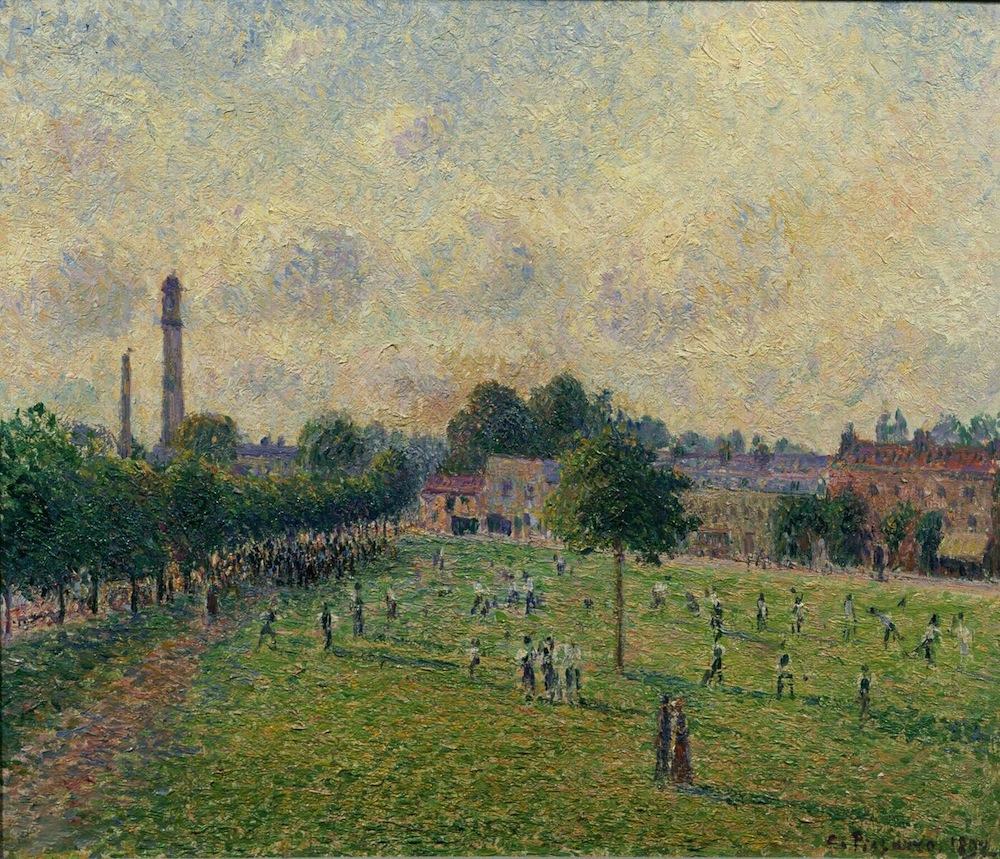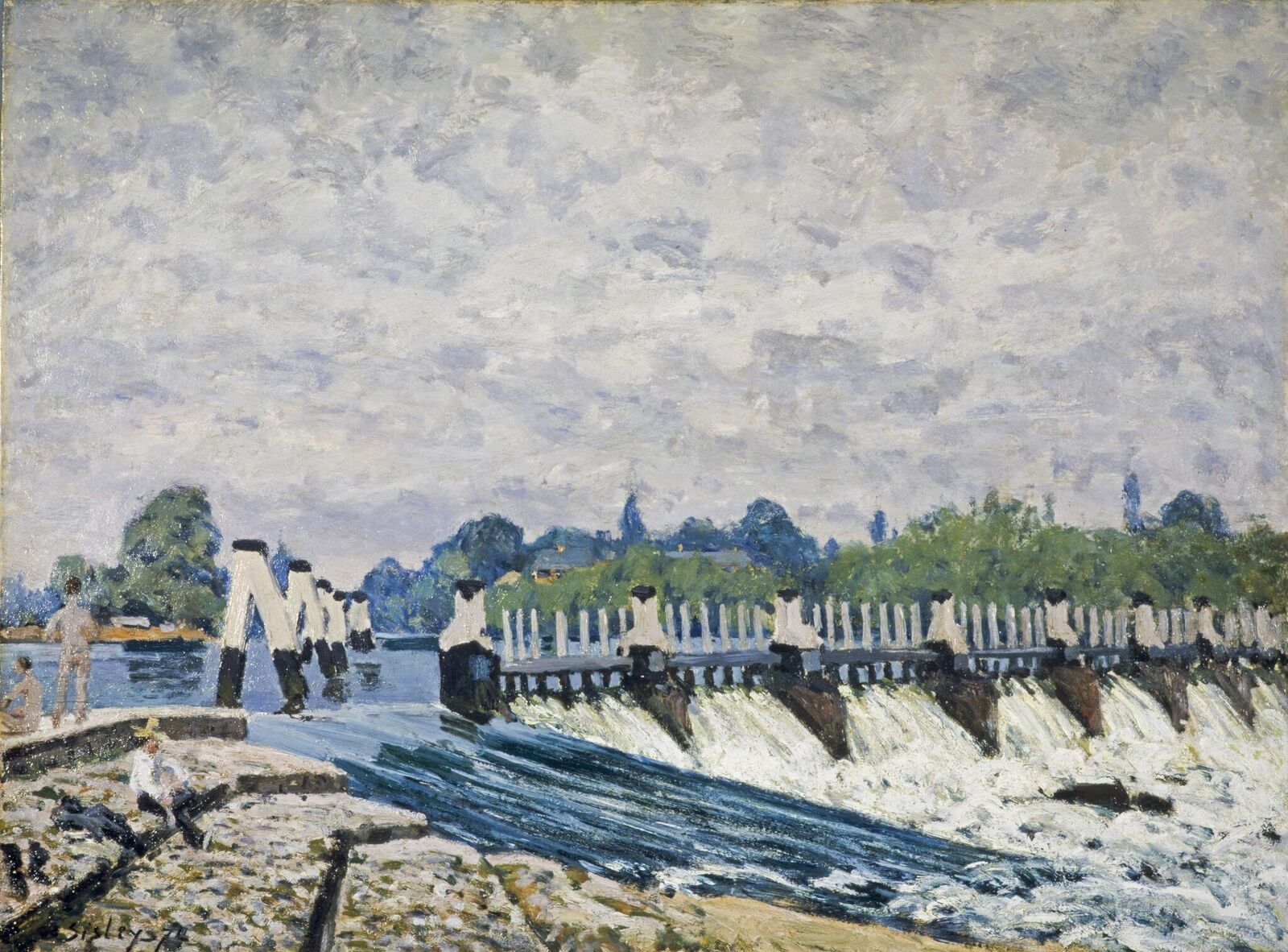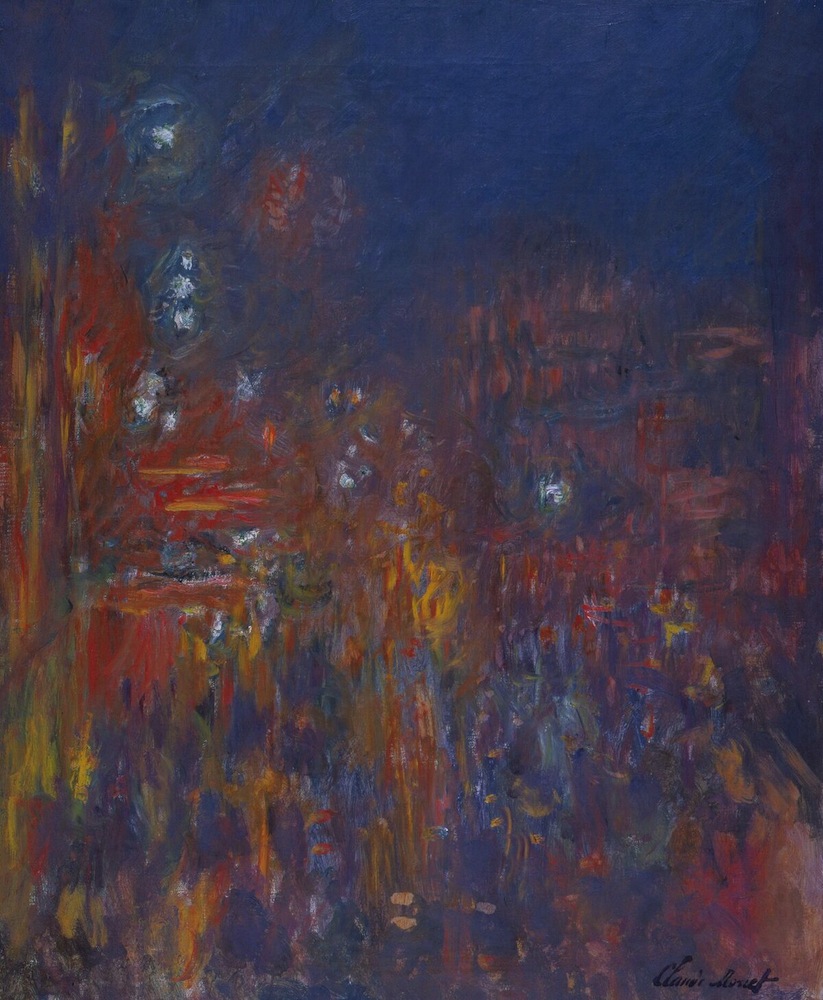 Left to right: (a) Kew Green, by Camille Pissarro, 1892, from the National Galleries of Scotland (Edinburgh). (b) Molesey Weir, Hampton Court, Morning, by Alfred Sisley, 1874, from the Musee d'Orsay, Paris. (c) Leicester Square at Night, by Claude Monet, c.1901, from Coll. Fondation Jean et Suzanne Planque (in deposit at Musée Granet, Aix-en-Provence).
At last, in the next three rooms, come the artists most of these visitors will have come to see. Along with more dazzling Tissots (including The Ball on Shipboard and Holyday), here is Pissarro at his most flowery in Kew Gardens, Rhododendron Dell, or just observing the cricket in Kew Green — and finding a point of interest in the pumping station tower in the background. Here he is again on Waterloo Bridge, painting the view of Charing Cross Bridge, with the more prepossessing background of the Houses of Parliament and so on. Sisley painted the Thames much further upstream, gushing down Molesey Weir near Hampton Court. And here is Monet at Leicester Square, even in those days a kaleidoscope of lights, colour and crowds at night. It is, undoubtedly, thrilling to see these artists in our own locales, bringing their inimitable touches to their "impressions" of our own familiar places. It could be, as Anne Robbins suggests in the catalogue, that at the beginning their new circumstances in England encouraged outdoor or "plein-air" painting, and a sense of comradeship which helped confirm them in their "impressionistic adventure" (p. 61): the first Impressionist exhibition would take place in 1874.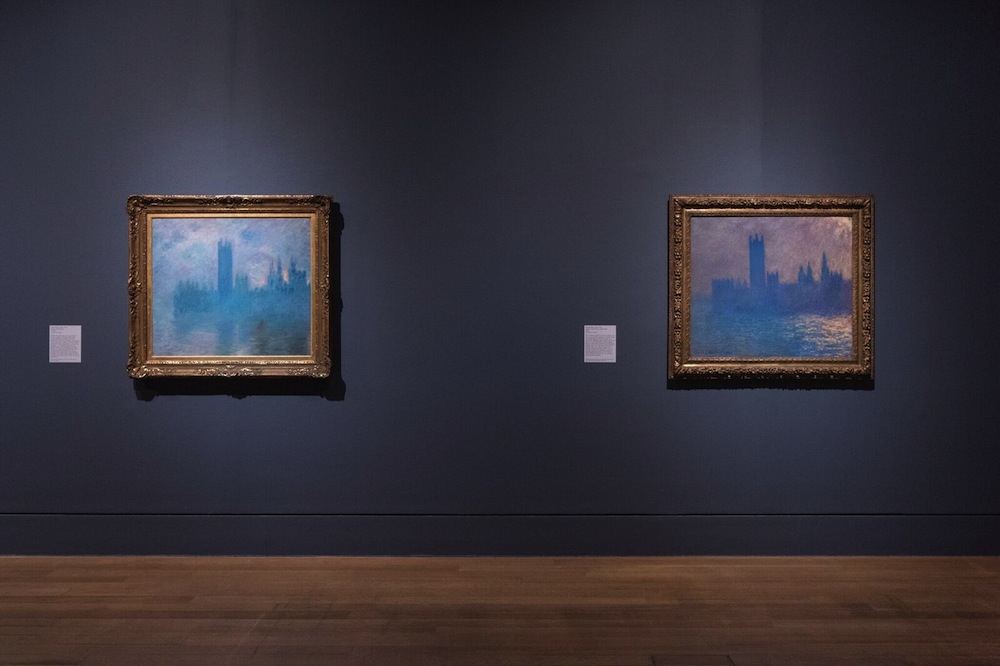 Installation shot showing two of Monet's Houses of Parliament series.
The selection of paintings from Monet's Houses of Parliament series does not disappoint, and there are also two of his own Charing Cross Bridge series. In one of the latter, the fog is so thick that the Houses of Parliament are completely obscured. Like London's seething crowds, oases of greensward and unsung suburbia, the play of swirling mists and clinging fogs on iconic views fascinated the French artists. They attracted James Abbott McNeill Whistler too, and three of the Tate's own Whistlers are on display here as well — all Nocturnes, and equally atmospheric. It does, however, seem a shame to come to all these so late in the day. They require attention with fresh eyes, as indeed do the startlingly bold, brash and vibrant responses to them in the last small room, dedicated to works by Fauvist André Derain (1880-1954).
The title of this exhibition was clearly calculated to attract, but, for most visitors, there has probably been rather too comprehensive a push towards educating. Those who can manage it might wish to return, in order to take more advantage of this, and also to savour the later offerings to the full. Acquiring and reading the highly informative and richly illustrated catalogue beforehand (or, at least, reading through the little room-guide handed out at the entrance to the first room) would be a great help.
Bibliography
[Catalogue] Corbeau-Parsons, ed. The EY Exhibition:Impressionists in London: French Artists in Exile 1870-1904. London: Tate Enterprises, 2017. 272 pp. ISBN 978-1-84976-469-8. Pbk. £25.00 (Available at all good bookstores and online here.)
Kilvert, The Rev. Francis. Kilvert's Diary, 1870-1879 (selections). Ed. William Plomer. London: Penguin, 1977.
---
Last modified 5 February 2018