This review is reproduced here by kind permission of the online inter-disciplinary journal Cercles, where it was first published. The original text has been reformatted and illustrated for the Victorian Web by Jacqueline Banerjee, who has also added captions and links, and incorporated the endnotes into "Note," "Related Material" and "References" at the end. Click on the images for larger pictures and full bibliographic and other information.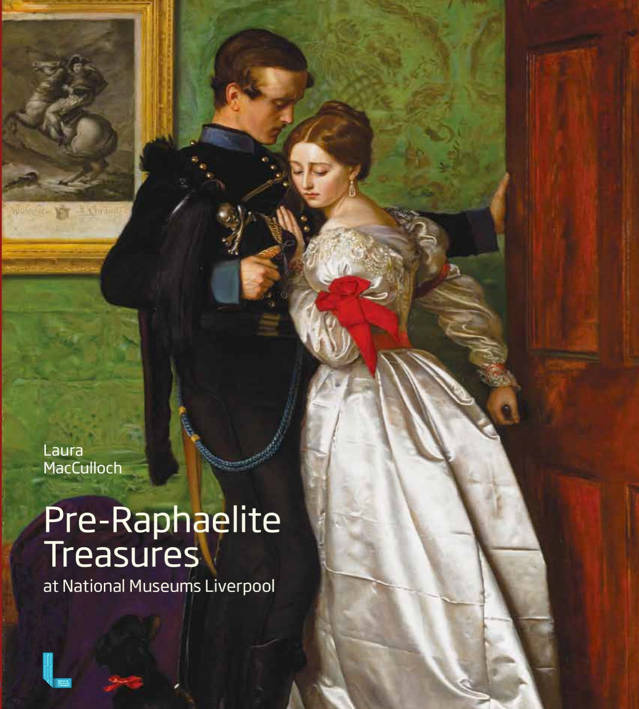 In the vast output of publications on the Pre-Raphaelites, readers of Cercles may be excused if this attractive little monograph has escaped their notice. The author has impeccable credentials for writing on the Pre-Raphaelites: after her M.Phil. dissertation on The Influence of Japan on Dante Gabriel Rossetti, 1854-1872 at the University of Birmingham, School of Fine Arts, 2005 and her Ph.D. Thesis obtained in 2009 at the same School on Ford Madox Brown: Works on paper and archive material at Birmingham museums and art gallery she curated "Ford Madox Brown: The Unofficial Pre-Raphaelite," an exhibition held at the Birmingham Museum and Art Gallery from 24 August to 14 December 2008, and contributed to the Catalogue edited by Tessa Sidey (see "References").
The Introduction by Sandra Penketh, Director of Art Galleries, National Museums Liverpool, reminds us that "National Museums Liverpool holds one of the most significant collections of Pre-Raphaelite art in the country" (7), as visitors to the Ford Madox Brown retrospective in Manchester (2011-2012) and the major Exhibition at the Tate in 2012-13 cannot have failed to notice if they looked at the provenance of the works lent, many of them featuring in Pre-Raphaelite Treasures. Her short text is invaluable in that it explains to readers who do not immediately see the connection between the Pre-Raphaelites and Liverpool that the wealthy "mercantile collectors" (9) of Merseyside had an interest in the art of their time and bought many pictures now seen as part of the canon of Pre-Raphaelitism, like the oil which provides the cover illustration, John Everett Millais' The Black Brunswickers of 1860 (Plate 34), bought by William Lever (1851-1925), nowadays of Unilever fame, in 1898, with the money coming from his highly successful Sunlight Soap, made just across from Liverpool in the factory-cum-model-village which he built on the south bank of the Mersey estuary, Port Sunlight, in the 1890s.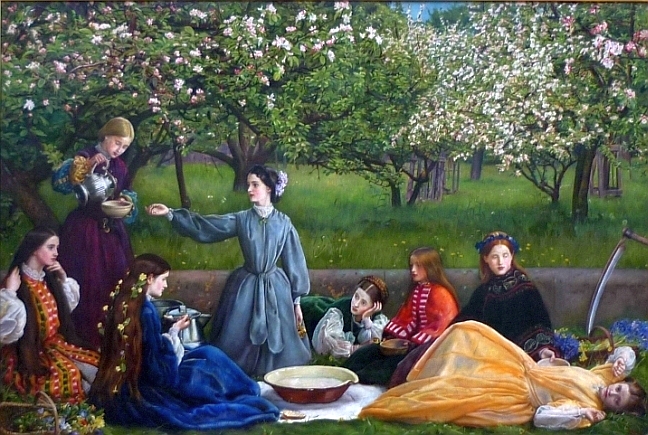 Left: The Scapegoat, by William Holman Hunt (1854-55). Right: Spring (Apple Blossoms), by John Everett Millais (1859).
The soap manufacturer, who had by then become Viscount Leverhulme, also bought The Scapegoat (1854-55) by William Holman Hunt (Plate on double-page spread, 28-29) for the then considerable sum of £5,000 in 1923 (the artist is reported to have sold the picture originally for 450 guineas [£472.50]). The year before, Lever had founded the Lady Lever Art Gallery in Port Sunlight, now part of National Museums Liverpool. The trustees also bought in 1986 a well-known canvas of 1859 by Millais which had originally belonged to Lever, Spring (Apple Blossoms) (Plate 33).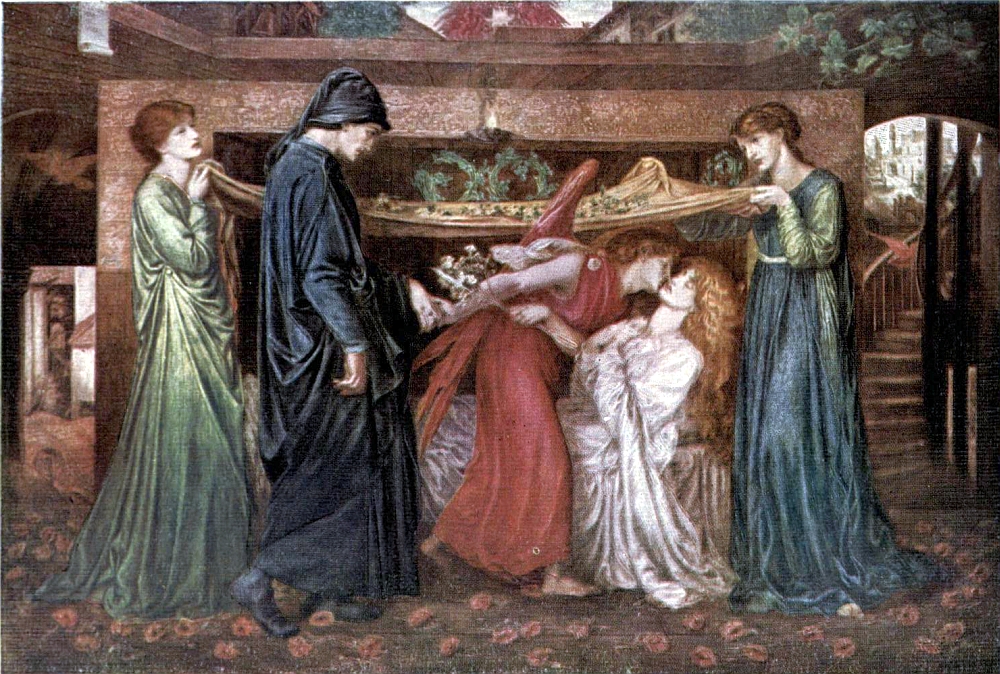 Left: Dante's Dream, by Dante Gabriel Riossett (1871). Right: Isabella (Lorenzo and Isabella), by John Everett Millais (1848-49).
National Museums Liverpool, on top of "inheriting" the Lever collection, is also fortunate in comprising the major collection built up by the municipal authorities from the 19th century, and housed since 1877 at the Walker Art Gallery — named after a mayor and benefactor who had made his money in beer. The founding fathers of the Walker Art Gallery acquired three major works by their contemporaries, which form the backbone of the Pre-Raphaelite collections in Liverpool proper. In 1881, following its first public display — at the Gallery — they bought Dante Gabriel Rossetti's Dante's Dream of 1871 (Plate on double-page spread, 54-55) and three years later, Millais' Isabella (1848-49) (Plate on double-page spread, 20-21). The Triumph of the Innocents by William Holman Hunt [Plate 59] was bought in 1891, directly from the author who had taken over ten years (1876-1887) to complete it.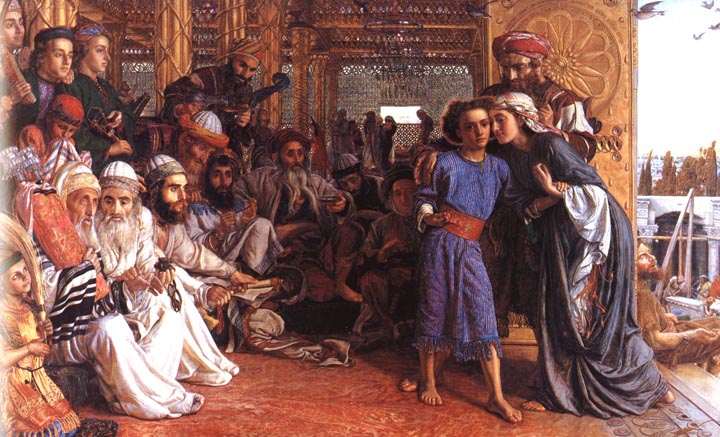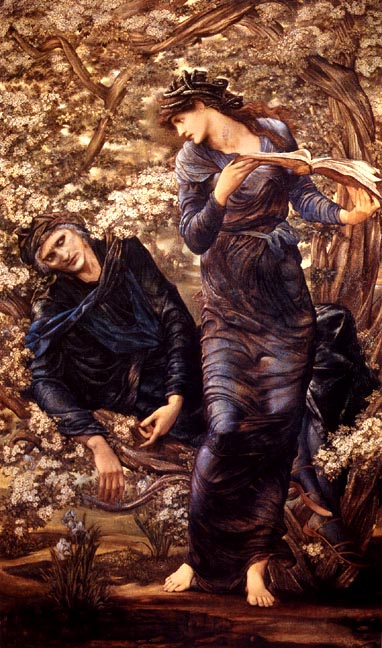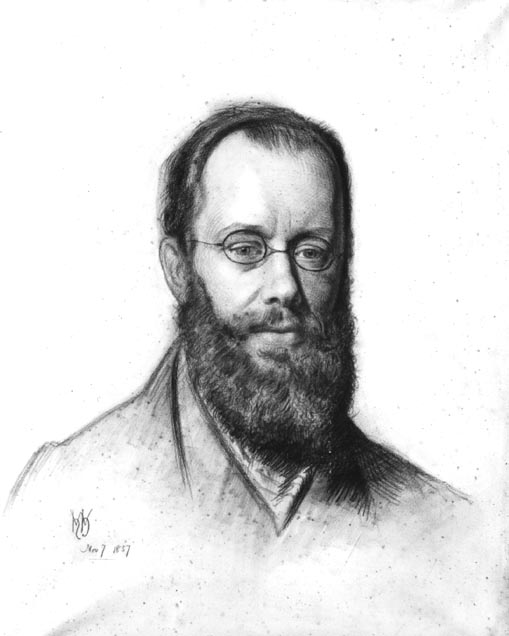 Left to right: (a) The Finding of the Saviour in the Temple, by William Holman Hunt (1862). (b) The Beguiling of Merline, by (1873-77) by Edward Burne-Jones. (c) Crayon-and-chalk portrait of Edward Lear (1857) by William Holman Hunt.
Continuing with the well-known Pre-Raphaelite masterpieces which were acquired later, we may mention, in chronological order of composition, The Stonebreaker (1857-58) by John Brett (Plate 27), The Finding of the Saviour in the Temple (1862) by William Holman Hunt (Plate 40 and inside back flap), Pandora (1878) by Dante Gabriel Rossetti (Plate 53) and The Beguiling of Merlin (1873-77) by Edward Burne-Jones (Plate 56). Needless to say, these and lesser-known works (my favourite being the superb crayon-and-chalk portrait of Edward Lear [1857] by William Holman Hunt [Plate 30]) receive full scholarly treatment by Laura MacCulloch. While newcomers to the Pre-Raphaelites will find all the necessary background information, confirmed admirers will find plenty of new insights, notably on the intertextuality of many of the works illustrated — and many will probably discover little gems for the first time, like the magnificent caricature of Millais, Hunt and Rossetti by Frederick Sandys, A Nightmare (1857) (Plate 25), a parody of A Dream of the Past: Sir Isumbras at the Ford by Millais (1857).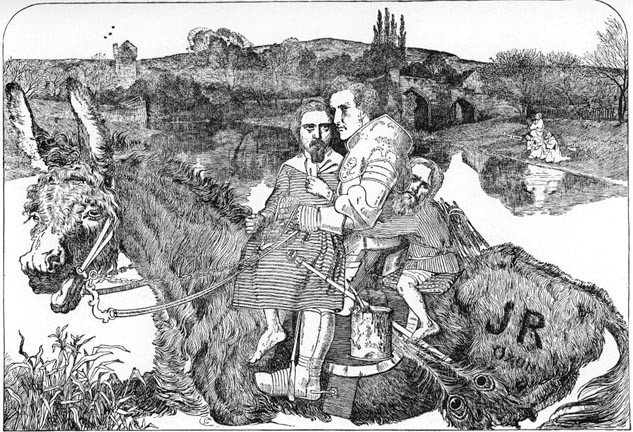 Wood engraving of Frederick Sandys' parody, A Nightmare (1857), showing Ruskin as an ass with Millais as the knight, and Rossetti and Hunt as his children — Hunt clinging on behind.
In the vast output mentioned at the beginning, what makes this offering a unique one is the last chapter, specifically devoted to the "Liverpool Pre-Raphaelites." In it Laura MacCulloch particularly dwells on the links between the wealthy local patrons who endowed the institutions of Liverpool, the local art collectors with an interest in the work of the local painters associated in the Pre-Raphaelites and the artists themselves. Two further names emerge among these "mercantile collectors": John Miller, who had made his fortune in tobacco and became William Lindsay Windus's principal patron (the rocks in his The Baa Lamb (1864) (Plate 91) are strongly reminiscent of those in the celebrated portrait (1853-54) of John Ruskin by Millais) and George Rae, a Birkenhead banker, who bought no fewer than 26 pictures from William Davis, a Dubliner who settled in Liverpool. Two are reproduced, with most welcome comments: Junction of the Liffey and Rye, near Leixlip (1857; plate 84) and The Rainbow (1858; plate 85). Since this is a small world, one of Miller's daughters married Peter Paul Marshall of [William] Morris, Marshall, Faulkner & Co fame....
It goes without saying that all Art School and University libraries should have a copy of this excellent monograph. Considering the wealth and quality of the full-colour illustrations (except Plate 93, which for some reason is not "sharp" enough), the price asked is very attractive and makes it perfectly affordable to private individuals interested in the various facets, including "local" ones, of this remarkable movement.
Note
Sandys' sister, Emma (1843-1877) features with her Dreaming (1873) in yet another exhibition connected with the Pre-Raphaelites, as it has paintings by Burne-Jones, Millais, Arthur Hughes and Strudwick — all of whom also have works illustrated and discussed in Pre-Raphaelite Treasures. "Exposition Désirs & volupté à l'époque victorienne: Collection Pérez Simón." Musée Jacquemart-André, Paris, 13 September 2013-20 January 2014 (Chiostro del Bramante, Rome, 15 February-5 June 2014. Museo Thyssen-Bornemisza, Madrid, 23 June-5 October 2014).
Related material on this site
Related material elsewhere on the Web
References
MacCulloch, Laura. Pre-Raphaelite Treasures at National Museums Liverpool. Liverpool: University Press / National Museums Liverpool, 2013. Paperback. 96 pp. Colour and black-and-white ill. ISBN 978-1846318979. £19.99.
Sidey, Tessa, ed. Ford Madox Brown : The Unofficial Pre-Raphaelite. Works on paper by Ford Madox Brown from Birmingham Museums and Art Gallery. Includes a catalogue of Ford Madox Brown: drawings, prints, designs, watercolours and archive material at Birmingham Museums and Art Gallery. With essays by Tim Barringer, Angela Thirwell and Laura MacCulloch. London: D. Giles, in association with Birmingham Museums and Art Gallery, 2008.
---
Last modified 19 January 2014