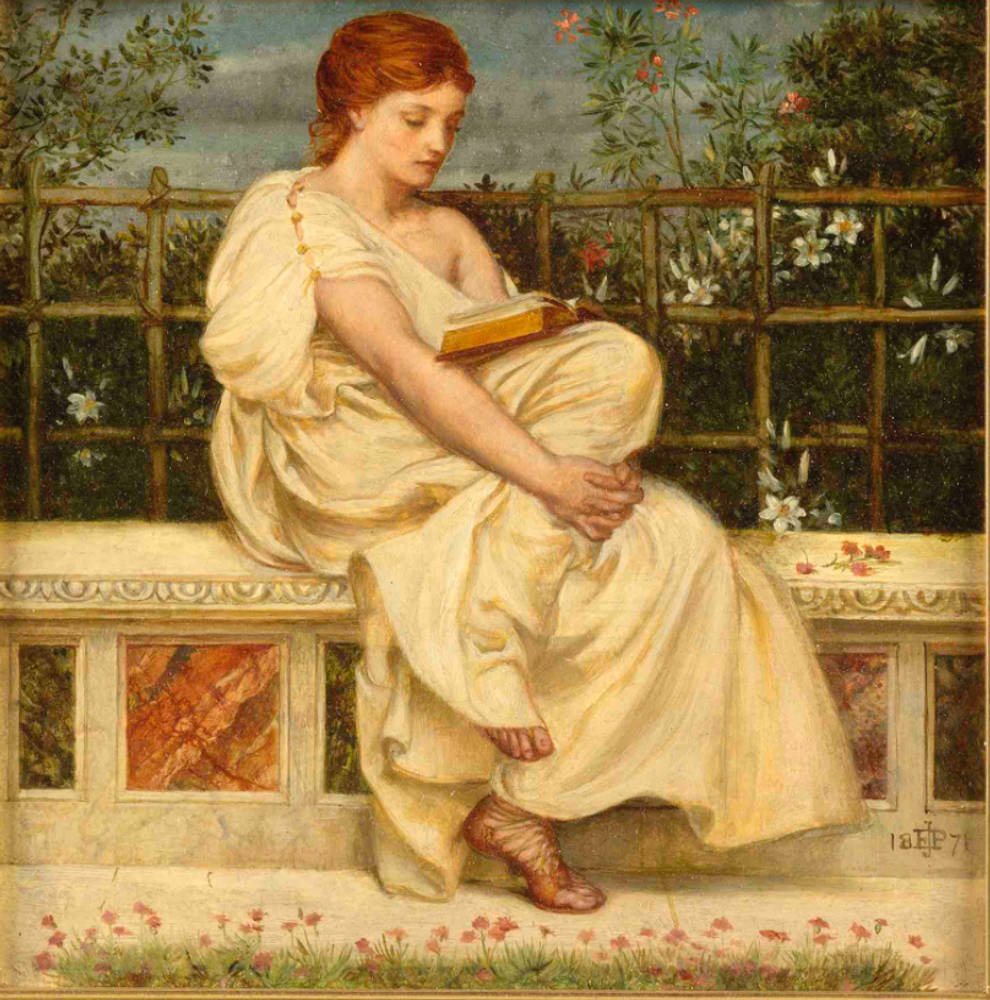 Reading by Sir Edward John Poynter Bt PRA RWS (1839-1919). Oil over silver gilt on panel, 8 x 8 inches; monogrammed and dated 1871. Agnew's label with title, stock number 26334. Provenance: M de Murrieta; FD Lambert, Moor Hall, Sale of the Moor Hall Collection, Messrs. Foster of Pall Mall, in conjunction with Messrs. Daniel Smith, Oakley and Garrard, Bt. the Earl of Haddington.
Commentary by the Maas Gallery
This painting, its pair (The Knot), and a third (called The Sandal, untraced), were painted between 1870 and 1872. The three panels, all the same size, were exhibited at the Dudley Gallery as a group entitled Three Summer Days, set into a drawing room cabinet of carved walnut and pear wood, the upper portion surmounted by statuettes, commissioned by Cristobal de Murrieta and designed by Edward Tarver for Messrs Gillow and Co. who made it. Tarver was the architect of Wadhurst Hall in Sussex, the new house of the de Murrieta brothers, wealthy Spaniards who had made a fortune out of trading with Argentina. They lost their money in the 1890s when Argentina defaulted on bond payments. Wadhurst Hall was sold, and the panels appeared, out of the cabinet, in a sale in 1916.
At some point they were lavishly framed by Agnew's in gilded tabernacle frames. The pictures, the same size and shape as tiles, are painted on gilded wood panels, the gold adding an extraordinary lustre to the glazed colours that are laid on with varying thickness to generate effects of reflection, translucence and opacity. Poynter, the son of an architect, although becoming a grand painter of Neo-Classical subjects and President of the Royal Academy, was at the beginning of his career an accomplished decorative designer (perhaps his most famous project being the cafe at the V&A), who worked with William Burges.
Related material
The Maas Gallery, 6 Duke Street St James's, London SW1Y 6BN, has most generously given its permission to use in the Victorian Web information, images, and text from its catalogues, and this generosity has led to the creation of many valuable documents on painting and drawing. The copyright on text and images from their catalogues remains, of course, with the Gallery. Readers should consult their website to obtain information about recent exhibitions and to order their catalogues. [GPL]
---
Last modified 19 May 2018