Amoret, Aemylia and Prince Arthur, in the Cottage of Sclaunder, by Frederick Richard Pickersgill (1820–1900), an early work, exhibited in 1845. Oil paint on canvas. Support: 591 x 889 mm; frame: 850 x 1140 x 110 mm. Collection: Tate. Presented by Robert Vernon in 1847. Reference N00445. Image kindly released by the gallery under the Creative Commons CC-BY-NC-ND (3.0 Unported) license. [Click on this image, and the one below, to enlarge them.]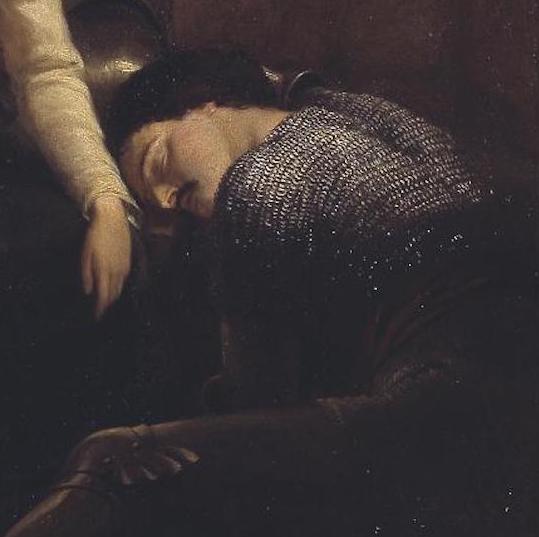 Close-up of Arthur, in his chainmail.
In Book IV, Canto 8 of Spenser's The Faerie Queen, Prince Arthur comes upon Amoret and Aemylia in the forest, where they are in flight from a brutal attacker. The three spend the night in Sclaunder's hovel, where the old hag (whose name is the Old English spelling for "slander") spies on them from her dirty bedding, so that she can spread vile gossip about them. Here, she raises herself up on her elbows and peeps from the floor in the corner, while the innocent, pale faced women comfort each other by the exhausted Arthur. It is a dramatic composition with rich contrasts keeping the focus on the two young women, while the malicious Sclaunder ("stuft with rancour and despight") catches the eye too, because of her white head-covering. Far from taking advantage of his beautiful companions, the prince is completely dead to the world after an eventful day — Jacqueline Banerjee.
---
Created 14 March 2019