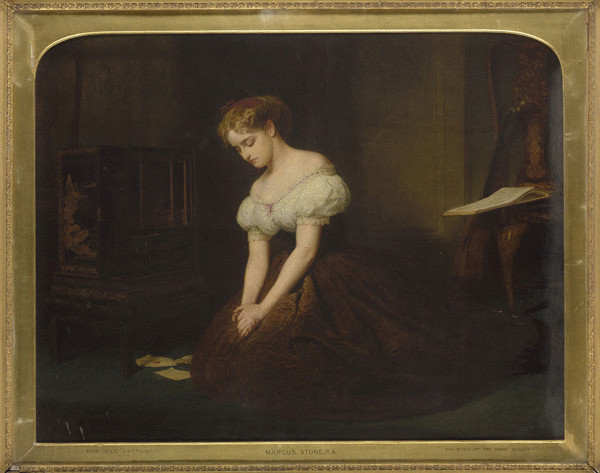 Old Letters "I looked for which is not, nor can be" (Christina Rossetti) . by Marcus Stone, R. A. (1840-1921). 1865. Oil on canvas. Exhibited at the 1865. Royal Academy, number 619. Collection: The Maas Gallery. [Click on image to enlarge it.]
The painting illustrates Christina Rossetti's "A Pause Of Thought":
I looked for that which is not, nor can be,
And hope deferred made my heart sick in truth
But years must pass before a hope of youth
Is resigned utterly.
I watched and waited with a steadfast will:
And though the object seemed to flee away
That I so longed for, ever day by day
I watched and waited still.
Sometimes I said: This thing shall be no more;
My expectation wearies and shall cease;
I will resign it now and be at peace:
Yet never gave it o'er.
Sometimes I said: It is an empty name
I long for; to a name why should I give
The peace of all the days I have to live? --
Yet gave it all the same.
Alas, thou foolish one! alike unfit
For healthy joy and salutary pain:
Thou knowest the chase useless, and again
Turnest to follow it.
Bibliography
Pre-Raphaelitism. Exhibition catalogue. London: Maas Gallery, 2013.
Rossetti, Christina. Goblin Market and Other Poems. London and Cambridge: Macmillan, 1865.
The Maas Gallery, London has most generously given its permission to use in the Victorian Web information, images, and text from its catalogues. The copyright on text and images from their catalogues remains, of course, with the Maas Gallery. Readers should consult the gallery website to obtain information about recent exhibitions and to order their catalogues. [GPL]
---
Last modified 5 May 2013