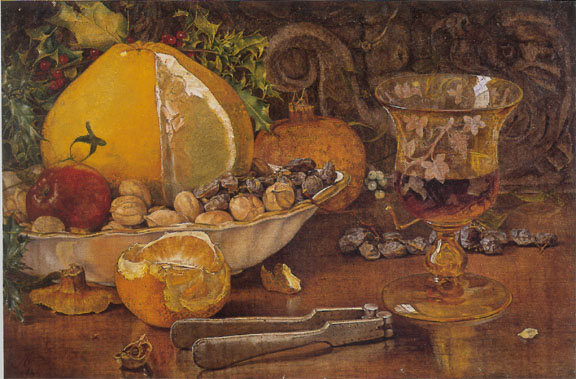 Still Life of Fruit, Nuts and Wine Glass by John Edward Newton, fl. 1835-1891. Signed with monogram and dated 1864. Oil on board: 10 x 15 inches, 25.5 x 38 centimetres.
Commentary by Sally Burgess
John Edward Newton was a member of the Liverpool Academy, exhibiting at its galleries between 1856 and 1867 and at the Royal Academy in London between 1862 and 87. Like other Liverpool School painters, he was highly influenced by the Pre-Raphaelites in their use of pure glazes over a white ground and meticulous attention to detail.
John Newton was a companion and friend of James Campbell and like him left Liverpool and moved to London. Their Pre-Raphaelite works are equally rare. Newton later sought to broaden his style and consequently abandoned what Marillier describes as his minuteness.
Peter Nahum Ltd, London has most generously given its permission to use in the Victorian Web information, images, and text from its catalogues, and this generosity has led to the creation of hundreds of the site's most valuable documents on painting, drawing, and sculpture. The copyright on text and images from their catalogues remains, of course, with Peter Nahum Ltd.
Readers should consult the website of Peter Nahum at the Leicester Galleries to obtain information about recent exhibitions and to order their catalogues. [GPL]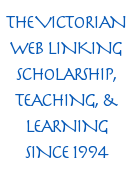 References
Nahum, Peter, and Sally Burgess. Pre-Raphaelite-Symbolist-Visionary. London: Peter Nahum at Leicester Galleries. Catalogue number 29.
---
Last modified 11 June 2007