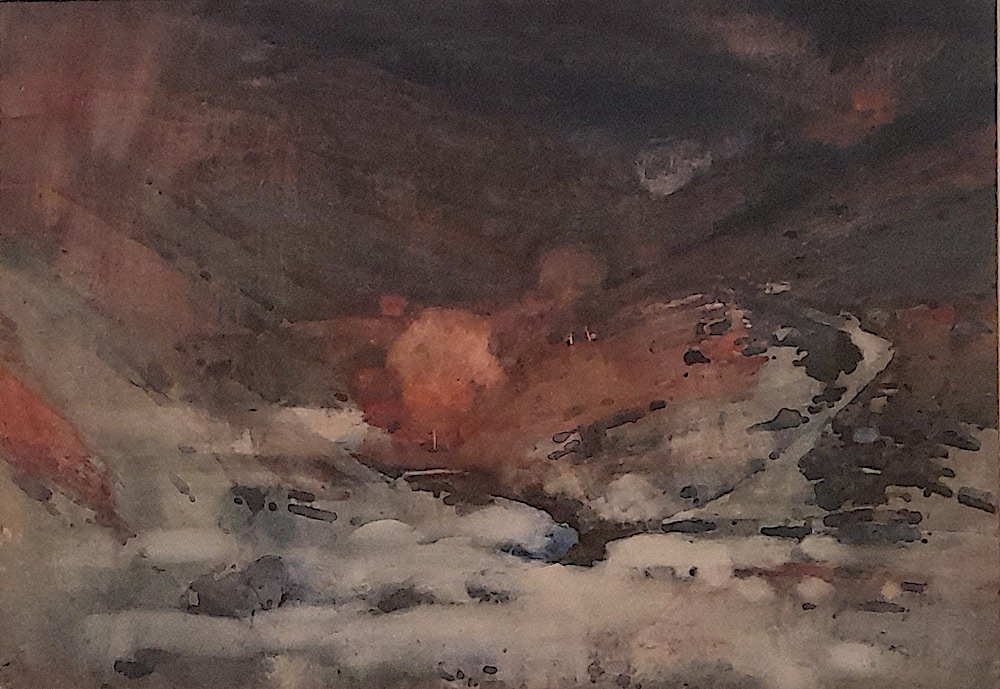 The Highland Glen. Arthur Melville ARSA RSW (1855–1904). Watercolour on paper. c.1893. 58.5 x 84 cm. Framed: 81 x 106. Fleming Collection, Id: 631. Photograph and comment by Jacqueline Banerjee; photograph taken with permission, for the review of the exhibition linked below. [Click on the image to enlarge it.]
Melville's Highland watercolour is very different from earlier (and indeed most later) landscape art. This cauldron of hazy contrasts, with a glow at its heart, shows Melville the light effects in the valley between the mountains, using carefully prepared paper and adopting techniques which result in an almost abstract view of the natural scene. At first sight it makes a great contrast with a more traditional Highland landscape like Henry Moore's Glen Orchy — Storm Coming On, painted at around the same time (Moore's was definitely painted in 1895; it was his last exhibited work) and with a similar emphasis on atmospheric effects and the quality of light. But both these artists seem to share the desire to recreate not so much the scene itself as the effect on the viewer, that is, the experience of "being there."
Links to related material
Bibliography
Lightbox Final Fleming Object List (provided by The Lightbox, Woking, for reviewers of the exhibition there).
---
Created 25 June 2022