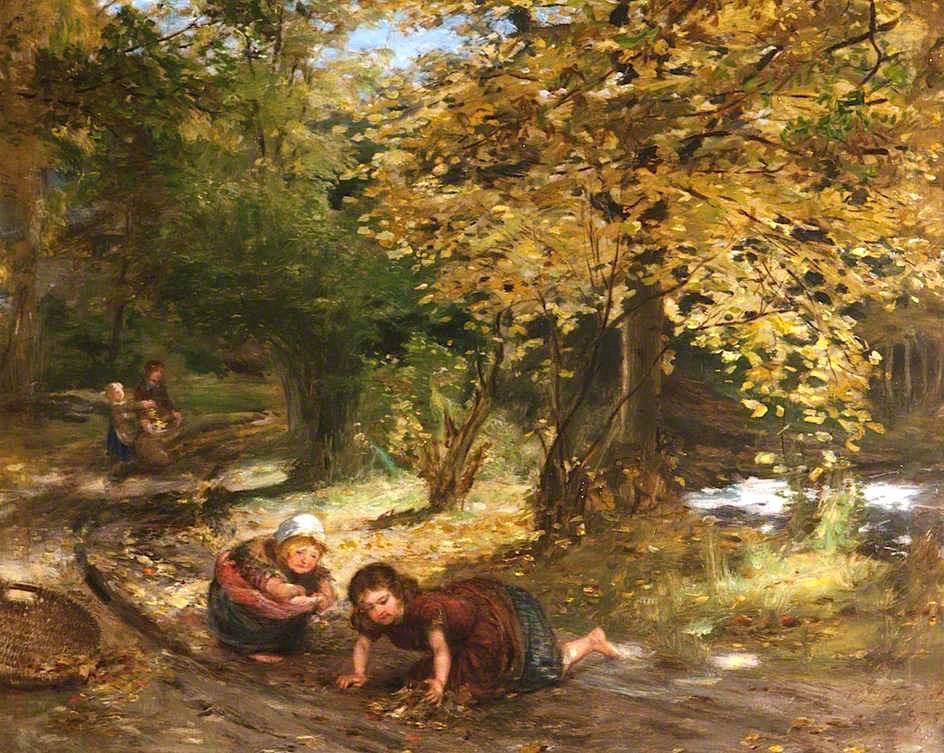 Autumn Leaves, by William McTaggart. Oil on canvas. 1875. 63 cm (24.8 in.) x 82 cm (32.28 in.). Royal College of Physicians of Edinburgh, by kind permission. Acquisition no. PCF80. This seems to be the one listed by James Lewis Caw as The Leaves in Autumn (p.237).
The work belongs to quite an early period of McTaggart's career, but not the earliest. David Scruton writes that although McTaggart "may have sketched from nature and painted out of doors from a very early stage in his career, his attitude to the function of landscape first developed at a time when he was looking closely at Pre-Raphaelite paintings such as The Blind Girl and Autumn Leaves [both by John Everett Millais]" (680). Later, says Scruton, McTaggart became more interested in technique than subject, especially "in relation to the question of 'impressionism,' where the painting of an 'impression' or 'effect' in a landscape scene, as opposed to subject-matter in a more traditional sense, was regarded as the primary aim of the artist" (68-69). In this painting, however, the subject is important: the figures gathering the leaves are a major part of both composition and theme, especially the girl on her knees on the rutted track, with her bare feet; amid the tinted leaves, these lives are ones of hard toil. But it is true that the artist has also been at pains to capture the dappled autumn sunlight and the wafting showers of gold from the still laden tree. Lionel Lambourne reminds us that McTaggart has been called "the Scottish Impressionist" (482). — Jacqueline Banerjee.
Bibliography
Caw, James Lewis. William McTaggart, R.S.A., V.P.R.S.W.; a biography and an appreciation. Glasgow, J. Maclehose and Sons, 1917. Internet Archive. Contributed by Cornell University Library. Web. 1 November 2016.
Lambourne, Lionel. Victorian Painting. London and New York: Phaidon, 1999.
Scruton, David. William McTaggart: Landscape, Meaning and Technique. Doctoral Thesis for the University of St. Andrews, Scotland 1991. Available via the University's Repository. Web. 1 November 2016.
---
Created 1 November 2016