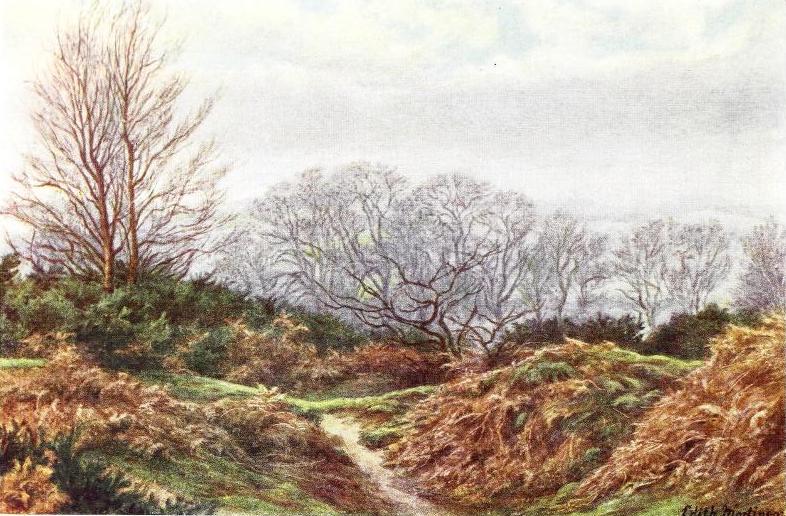 The watercolourist Edith Martineau (1842–1909) was born in Liverpool on 19 June 1842, one of the eight children of Dr James Martineau (1805–1900), the Unitarian theologian and minister, and his wife, Helen (1804–1877). She was also the niece of the author Harriet Martineau (but was not related to the artist Robert Braithwaite Martineau, 1826-1869). She felt that she owed her love of painting to her mother, who was herself artistically gifted, and who had encouraged her children's artistic pursuits from the earliest years, setting them to illustrate "in play-hours the books that they read in school" (see Huish 150). Later on, Edith had a thorough training: first at the Liverpool School of Art, then, when the family moved to London, at Leigh's School of Art. In 1862, still aged only twenty, she became one of the first women to gain admission to the Royal Academy Schools, and in the early 1880s, she also took classes at the Slade School (see Huneault, and Weeks 329).
By 1862 she was already exhibiting her work, which she continued to do regularly and at a variety of exhibitions, from the Royal Society of Painters in Water Colours and the Royal Academy in London, to Liverpool's Walker Gallery, the Manchester City Art Gallery, the Royal Society of Artists in Birmingham, and others elsewhere (see Huneault). At the Dudley Art Gallery, where she exhibited a number of works in 1876, she was praised for her "half-length" portraits of her father and a Mrs J. L. Roget, which, the reviewer felt, were "clever, painstaking studies, remarkable from freedom of affectation and honest, good painting" (209). She was elected an associate of the Royal Society of Painters in Water Colours in 1888, a particular honour for a woman painter — the Spectator reviewer had said that this was a branch of art "that has seldom been attempted with any success by members of her sex"(209).
In 1904, Marcus Huish writes, "Costume pictures and classical subjects, by which she first claimed attention, have of late years given way to pure landscape, and to flowers out of doors and in the fields" (150). Sadly, she died only a few years later. Her Times obituary compared her watercolours of rural subjects to the work of Helen Allingham, describing her landscapes as being "graceful transcripts of nature, perhaps a little idealized," reflecting "in a very complete way her own tastes and her own kindly and sympathetic nature" (13). — Jacqueline Banerjee
Works
Bibliography
"Art: The Dudley Gallery." The Spectator. 12 February 1876. 209-10. Google Books. Free eBook.
Huish, Marcus B. (Marcus Bourne). British Water Colour Art, in the First Year of the Reign of King Edward VII.... London: Fine Art Society and A & C. Black, 1904. Contributed by the Getty Research Foundation. Internet Archive. Web. 21 December 2018.
Huneault, Kristina. "Martineau, Edith (1842–1909), watercolour painter." Oxford Dictionary of National Biography. Online Ed. Web. 21 December 2018.
"Miss Edith Martineau, ARWS" (Obituary). Times. 23 February 1909: 13. Times Digital Archive. Web. 21 December 2018.
---
Created 21 December 2018