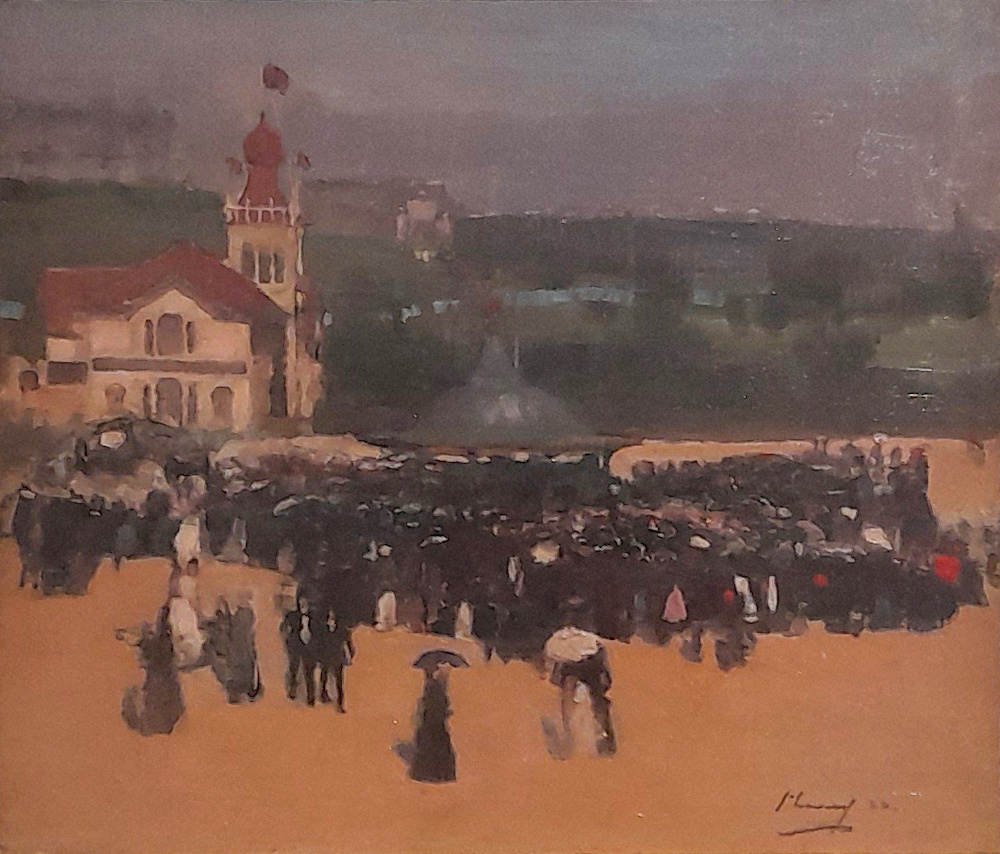 The Blue Hungarians. Sir John Lavery RA RSA RHA (1856–1941). Oil on canvas. 1988. 30.5 x 35.6 cm. Framed: 50 x 57 cm. Fleming Collection, Id. 966. Photograph and comment by Jacqueline Banerjee; photograph taken with permission, for the review of the exhibition linked below. [Click on the image to enlarge it.]
This painting was listed in the Scots Observer for 24 November 1888 (p. 30) as one of the pictures of the Glasgow International Exhibition to feature in the Scottish Art Review of that year. This meant a good deal, because "in the space of four months, [Lavery] made some fifty little oils in the grounds of the exhibition" (Sparrow 74). The atmosphere is nicely captured: people are gathered round a bandstand there, enjoying the performance of a Hungarian band in their blue uniforms, something more easily gleaned from the title than deduced from the painting itself — although the centrality of the bandstand does give a good clue. What matters here is the atmosphere, the general impression.
Links to related material
Bibliography
Lightbox Final Fleming Object List (provided by The Lightbox, Woking, for reviewers of the exhibition there).
Scots Observer, Vol. 1 (1889) for 24 November 1888: 30. Google Books. Free Ebook.
Sparrow, Walter Shaw. John Lavery and His Work, with a preface by R.B. Cunninghame Graham. London: K. Paul, Trenche, Trübner; Boston: Dana Estes, 1911. Internet Archive. Contributed by Cornell Unoversity Library. Web. 26 June 2022.
---
Created 26 June 2022