Introduction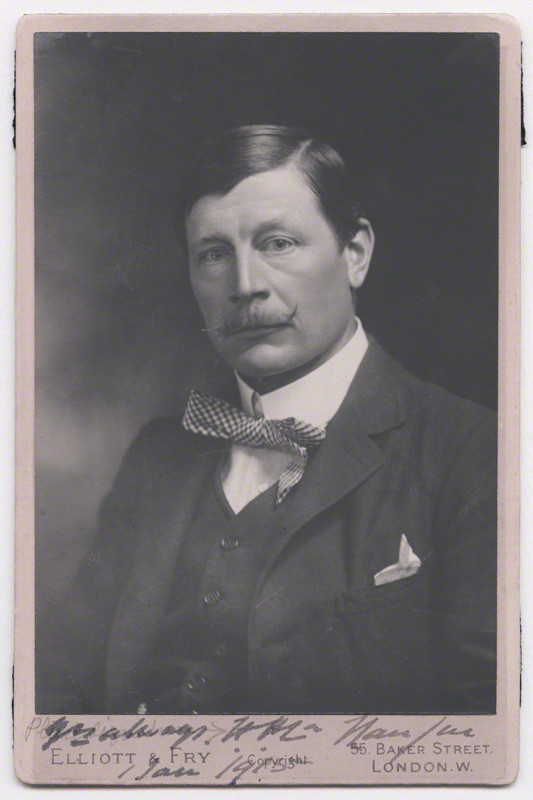 Henry Herbert La Thangue, bromide print by Elliott & Fry, NPG x19897 © National Portrait Gallery, London.
Henry Herbert La Thangue was born into a middle class family in Croyden on 19 January 1859, the son of a clerk in the General Register Office. He was educated at Dulwich College, then at the Lambeth School of Art, entering the Royal Academy Schools in 1874, and winning a gold medal there in 1879. Having been recommended by Lord Leighton himself, he then went to study in Paris in the studio of the celebrated artist Jean-Léon Gérôme (1824-1904) at the Ecole des Beaux Arts, where he came under the influence of the French plein air school of painters, especially Jules Bastien-Lepage (1848-1884). He spent his summers painting in Brittany with his fellow-student from school and college days, Stanhope Forbes (1857–1947), founding father of the Newlyn School of painters in Cornwall; and in the south of France with James Havard Thomas (1854-1921), who became a sculptor.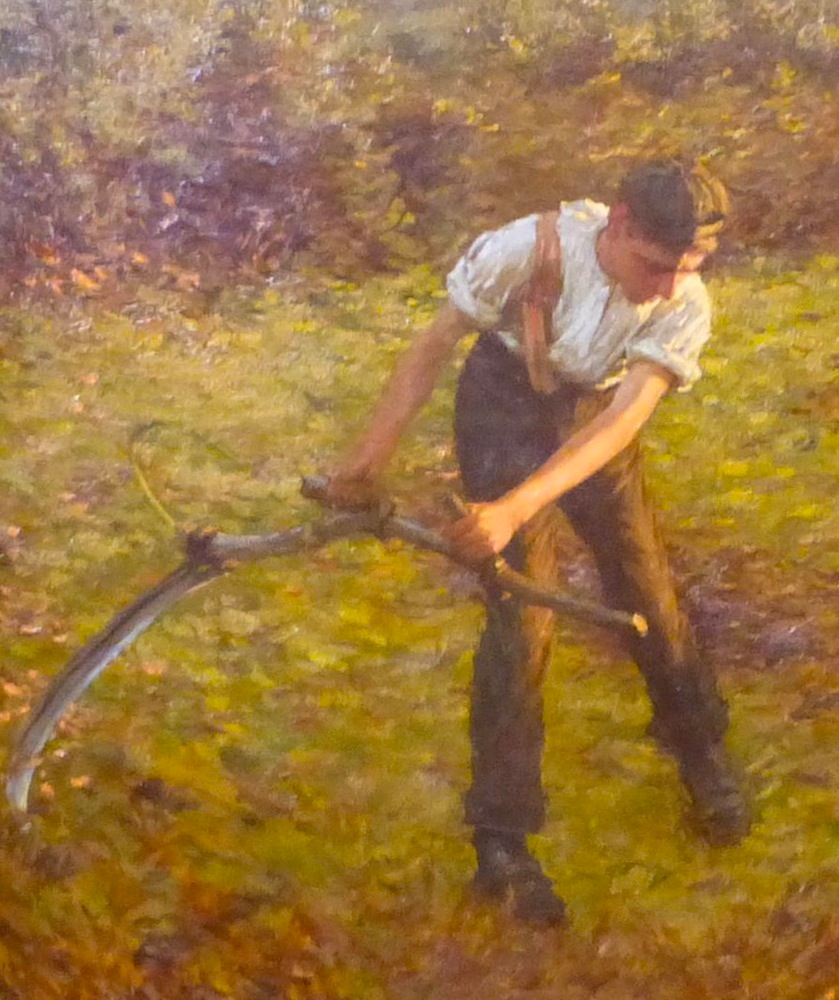 Foreground figure in Mowing Bracken (1903).
La Thangue himself became an influential figure. After returning to England he settled near the Norfolk Broads for a while, and helped found the New English Art Club, which put on its own exhibitions in competition with the Royal Academy. He caused controversy with his exhibit in its first show, a brightly coloured impressionistic scene of haymakers, In the Dauphiné (1886); this does not seem to have survived. Equally or more controversial was his Leaving Home (1890), which shows a farmer's daughter weeping as she leaves home to go into service in the city, and has a more obvious social message. La Thangue, who had moved to Sussex by 1891, was sad to see rural life changing under the impact of greater urbanisation, and this went further with him than mere gentle nostalgia for the past. Lionel Lambourne describes another painting of this period, In the Orchard as "characteristic painting from the Club's heyday" (481).
However, the "formidable rustic naturalism of La Thangue's early maturity" when he had his "maximum impact" (McConkey) was coming to an end. Not finding much of rural England left, La Thangue often painted in Provence at this time, and later in northern Italy and Spain as well. The works of these later years were described in his obituary as "welcome at the Academy for their masculine outlook and intensity of colour," but "somewhat monotonous in range and mechanical in execution."
He returned to England at the end of the 1920s, making Sussex his home but dying in London at 20 Wimpole Street, Marylebone, on 21 December 1929. He had been in poor health for some time, and was very upset by the reported loss of two of his paintings. These were part of a collection being sent to New Zealand for an exhibition when the ship carrying it was wrecked off the coast there. Sadly, he died too soon after this shock to hear that some of the paintings on board had been salvaged. One of his was found "tacked to a wall in a two-roomed hut," apparently having caught the fancy of its rescuer ("The Wrecked Manuka"). La Thangue left a widow but no children. — Jacqueline Banerjee
Works
Sources
Lambourne, Lionel. Victorian Painting. London and New York: Phaidon, 1999. Print.
McConkey, Kenneth. "La Thangue, Henry Herbert (1859–1929), painter."Oxford Dictionary of National Biography. Online ed. Web. 1 October 2016.
"Mr. La Thangue, R.A." Times. 23 December 1929: 12. The Times Digital Archive. Web. 1 October 2016.
"The New Zealand Liner Wreck." Times. 18 December 1929: 13. The Times Digital Archive. Web. 1 October 2016.
"The Wrecked Manuka." Times. 31 December 1929: 12. The Times Digital Archive. Web. 1 October 2016.
---
Created 1 October 2016