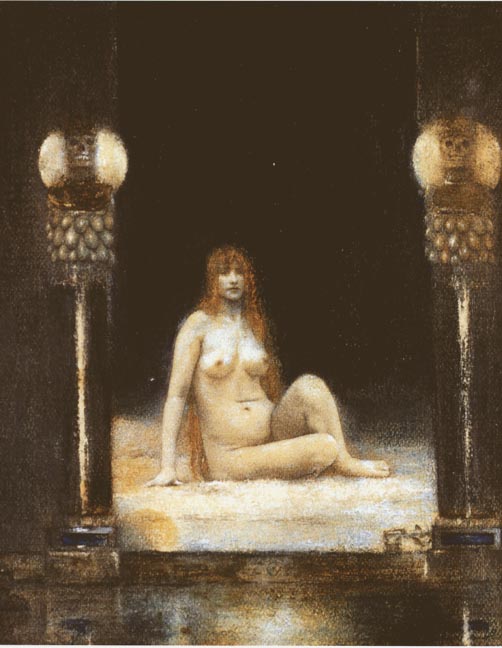 Brutishness
Fernand Khnopff (1858-1921)
1885
Pastel, watercolor, and pencil on paper
728.3 x 25.4 cm
Compare Khnopff's image with Rossetti's far more reserved Lady Lilith, which is accompanied by a sonnet, "Body's Beauty." Both works speak to the danger posed (for men) by the female body, but by calling a work Brutishness that depicts a lush, large-breasted nude, Khnopff, who here creates an image of woman diametrically opposed to that found in his many images of contemplative woman, seems to be saying, "Brutishnes, thy name is woman." Pretty sick. Like Rossetti and so many Victorians who separated women into two diametrically opposed categories — Virgin and whore, or unapproachable Fair Lady and already-approached Fallen Woman — Khnopff seems to find such simplifying dichotomies preferable to more complex conceptions of human nature.
I also have to point out that although Khnopff here makes the female body the emblem of brutishness, a long tradition of political cartoons makes men, particularly foregn men, such as the Irish in England, embodiments of brutishness. — George P. Landow
References
Fernand Khnopff (1858-1921). Ostfildern-Ruit, Germany: Hatje Cantz Verlag, 2004. no. 131.
---
Last modified 14 November 2005