Biography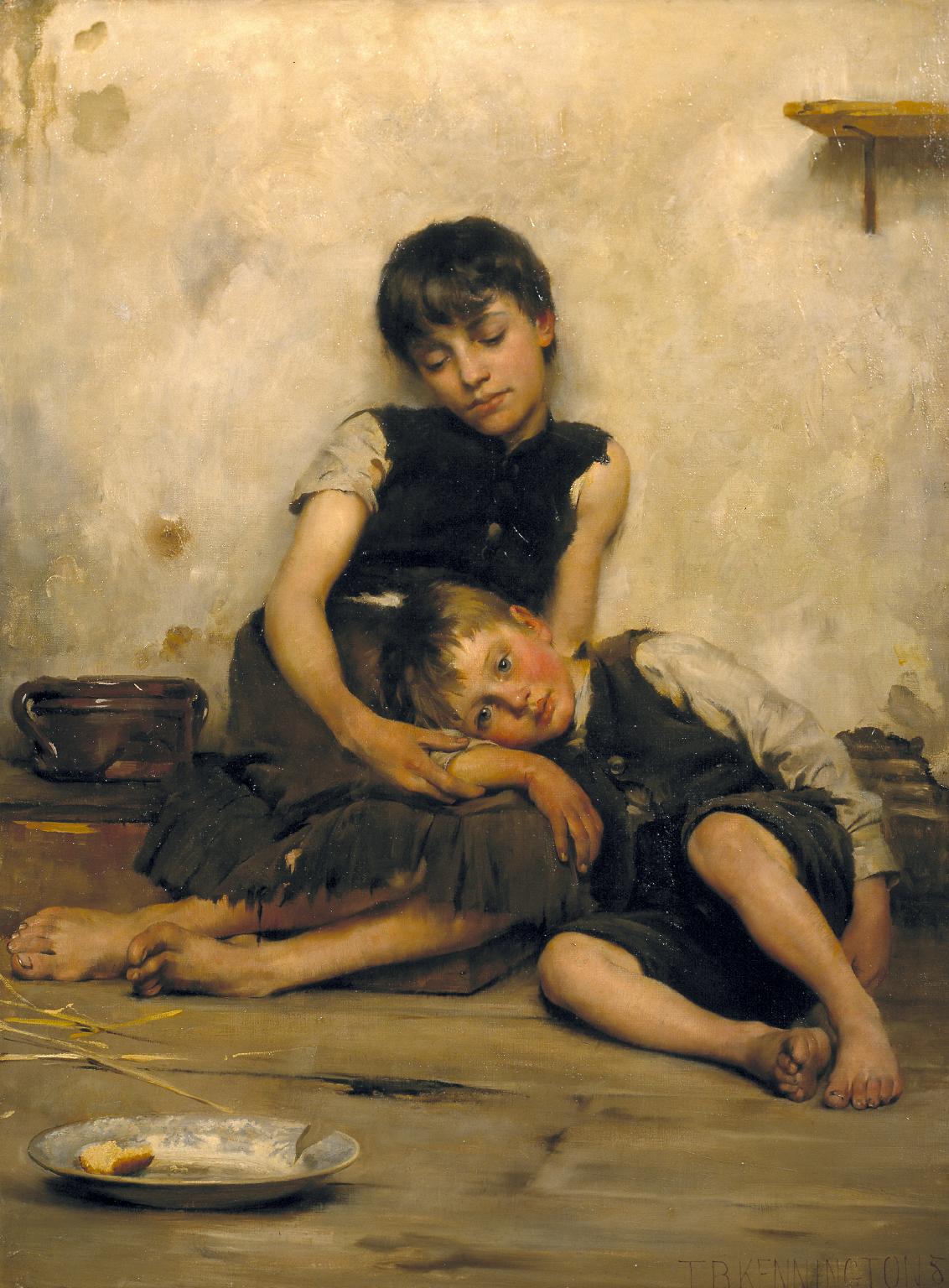 Born on 7 April 1856 in Grimsby, Lincolnshire, Thomas Benjamin Kennington studied at the Liverpool School of Art, moving on to the Royal College of Art, and the Académie Julian in Paris. On his return to England he established himself in Chelsea, and enjoyed a successful career as a painter in oils and water colours, winning a reputation as a portraitist and genre painter. He exhibited at the Royal Academy from 1880, and in 1886 achieved prominence as a founding member and first Secretary of the New English Art Club. Members of this group chose their own paintings for their exhibitions, which were originally held at the Egyptian House in Piccadilly, and reflected developments in Paris — notably Impressionism. According to one account:
Kennington was best known in the early part of his career for his social realist subjects executed in a French-style, with square brushwork and a muted tonal range. In Victorian painting, the theme of family life featured strongly and lessons were to be drawn from art works. They were visual puzzles to be worked out. Domestic scenes provided models of how adults and children should behave. Some of Kennington's work took the genre of "pathetic realism" to a level not achieved by his predecessors and frankly, can be considered harrowing. ["Kennington, Thomas Benjamin"]
His best-known work is probably Orphans (1885), which is in the Tate in London, but others such as Widowed and Fatherless (1888), The Pinch of Poverty (1889) and Homeless (1890) are also well known. He was commissioned by benefactors to produce a series of such works to promote their charitable causes, but there was an artistic source as well: in the choice of subject and the "rich colouring, smooth handling of paint, and subject" of such paintings he is felt to have been inspired by the seventeenth-century Spanish artist, Murillo ("Orphans").
Kennington himself was an inspiration to others, as a member of the St John's Wood clique, a group of artists in that part of London who were interested in history painting and particularly in "imaginary situations that captured the mood of bygone times" — often including children (Lambourne 144). He also taught at the St John's Wood Art School during the mid-1890s. He later became a founder member of the advisory body called the Imperial Arts League, set up in 1909, which would become known as the Artists' League of Great Britain.
Kennington died in London on 10 December 1916, about ten years after his Swedish wife, Elise Nilla Lindahl Steveni (1861-1895). His fame would be eclipsed by the younger of their two sons, the artist (especially war artist) and sculptor Eric Henri Kennington (1888-1960). — Jacqueline Banerjee
Works
Bibliography
Freeman, Julian. "Kennington, Eric Henri (1888-1960), artist." Oxford Dictionary of National Biography. Online ed. Web. 1 March 2017.
"Kennington, Thomas Benjamin LARA (London Atelier of Representational Art). Web. 1 March 2017.
"Imperial Arts League." Artist Biographies (British and Irish Artists of the 20th Century). Web. 1 March 2017.
Lambourne, Lionel. Victorian Painting. London and New York: Phaidon, 1999.
"Orphans." Tate. Web. 1 March 2017.
"The Pinch of Poverty." Art UK. Web. 31 December 2018.
---
Last modified 31 December 2019