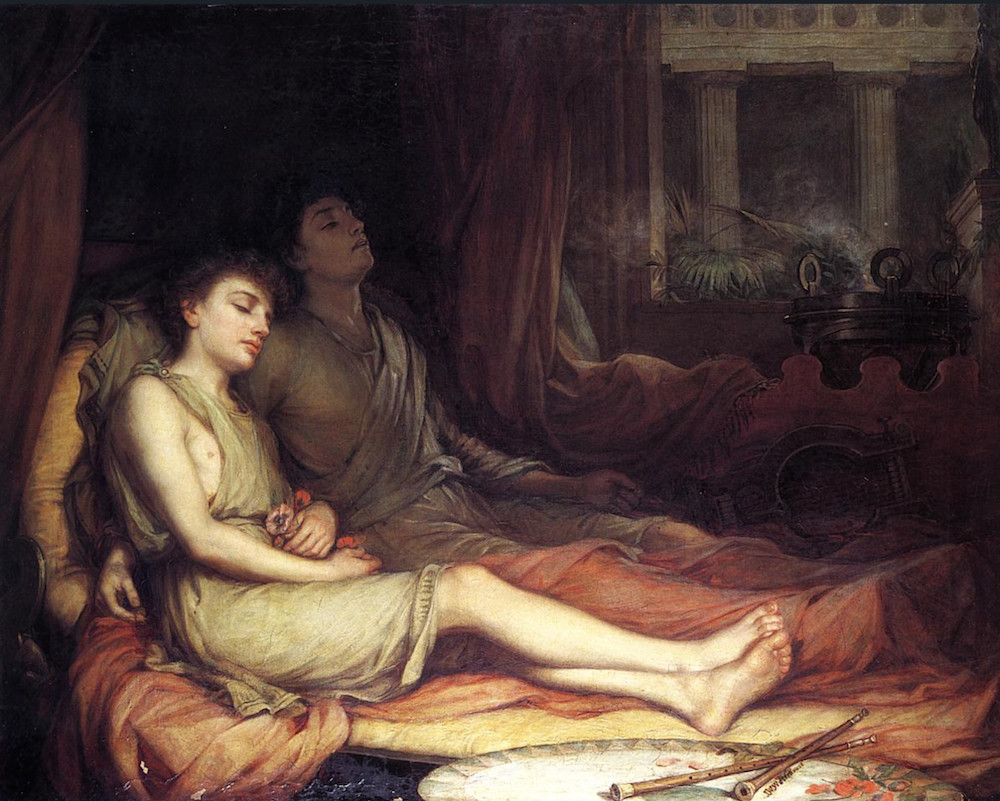 Sleep and His Half-Brother Death by John William Waterhouse, 1849-1917. 1874. Oil on canvas. H 28 x W 36in. (70 x 91 cm). Source: Wikimedia Commons, where it is described as being in the public domain. Commentary by Jacqueline Banerjee.
This painting has a sad story behind it: Waterhouse, still in his early twenties, had lost two brothers to tuberculosis. One of his early, smaller works, the painting marked an important and very positive stage in his development, though. With its sure handling of colour, and light and shade, it made a propitious first exhibit for him at the Royal Academy's Summer Exhibition that year. At first glance, it seems much in tune with the contemporary preoccupation with death and dying, and the border between unconsciousness and the end of consciousness (think of Sir Francis Chantrey's marble effigies at Lichfield Cathedral, of Sleeping Children). But art critic Dani Cavallaro looks to the following decades, and sees in the work "two important aspects of Aestheticism: the fascination with an ephebic, ineffably genderless, type of beauty, and the pursuit of intense sensuous experiences conducive to intoxication and psychotropic excess" (37). Perhaps Cavellero has in mind also the growing interest in Spiritualism, because she finds that the colours and shadows evoke "ghostly shapes.... Cloud, dove, flint, and koala grays merge with dusky beiges and fading greens in a hypnotic dance of vaporous trails.... more alive than the human characters themselves, whose poses suggest total lassitude and inertia" (37).
Bibliography
Cavallero, Dani. J. W. Waterhouse and the Magic of Colour. Jefferson, N. Carolina: McFarland & Co., 2017.
---
Created 22 August 2021